How to Fix Netflix Download Error
Netflix landed the download feature in its app back in 2016, letting subscribers cache tens of thousands of TV episodes and movies to watch offline. The feature really comes in handy when you're on a plane or anywhere else away from a Wi-Fi connection.
However, while Netflix says that the majority of its catalog is eligible to be downloaded, you actually can't grab everything that's on the service as you prefer. Worse yet, there are many other limits set in the download feature. If you're a heavy user who downloads plenty of movies or TV shows regularly, then you might have already experienced some download errors on Netflix. How can we get around these errors?
Well, move on, below we cover all common download errors on Netflix and provide you the easiest workaround to get rid of them.
1. Fix Error "Download Feature Not Supported"

The first one is the error "Download Feature Not Supported". The download feature has been in the works at Netflix for a long time, but is still not supported on most devices. According to a Netflix support page on the matter, you must use a device that meets the requirements below to access the download feature:
- An iPhone, iPad, or iPod touch running iOS 9.0 or later, or
- A phone or tablet running Android 4.4.2 or later, or
- An Amazon Fire tablet running Fire OS 4.0 or later, or
- A tablet or computer running Windows 10 Version 1607 (Anniversary Update) or later, and
So, to resolve this error, please change another device that meets those requirements. For Windows 7 or 8 users, you can also go to Part 7 of this article to get an easy way to download Netflix video on Windows 7 or 8.
2. Fix Error "Download Failed"
The error "Download Failed" indicates that there was a problem with one or more of your downloads. It might be caused by the network performance or its instability. So, you are advised to download videos under a stable internet connection.
3. Fix Error "… Yearly Download Limit"

When you get an error that says "You have reached the yearly download limit for this video", it points out that you've hit the maximum number of downloads for a specific video. Aside from its original movies and shows, Netflix also cooperates with some content creators. The limits of download numbers for some specific titles are controlled by their license holder; maybe four times or 20 times. You'll never know when you'll hit it. But once reached the limits, all you can do is wait an extended period of time to download the title again.
4. Fix Error "Too Many Downloaded Videos"

Netflix allows you to store up to 100 titles on a single device at any given time. Plus, Netflix states, their content is typically licensed in bundles of titles from individual studios and distributors. There may be limits to the number of titles from the same agreement that you can download at the same time. So, the error will show up mostly when you attempt to download more than 100 titles, or store more videos than permitted from the same license agreement. In which case, deleting one or all downloads you are done watching is often enough to resolve it. Here are the steps:
Step 1 Tap the Downloads icon. If you do not see the Downloads icon, tap the Menu icon, then My Downloads.
Step 2 Tap the Edit icon in the upper right corner of your screen.
Step 3 Tap the checkbox next to each title you'd like to remove from your device.
Step 4 Tap the Delete icon in the upper right corner of your screen.
Step 5 Attempt to download your desired TV show or movie again.
5. Fix Error "…Too Many Devices"

Usually, you'll receive this notice or error "Too Many Devices" when you have downloaded titles on multiple devices or profiles. The full text should be "You have downloads on too many devices. Please remove downloads from another device, or go to netflix.com/changeplan for plan options (NQL.23000)", or something similar. It means that you have exceeded the maximum number of devices that can store downloaded titles at the same time.
Netflix allows you to download content on one, two, or four devices at a time, the number differs based on your Netflix subscription plans. If you try to download any more titles, you will be alerted by this error. To continue downloading videos on a new device, you can either remove all older downloads from another device or upgrade your streaming plan to download titles on more devices.
6. Fix Error "Download Expired"

This error is related to the expiration date placed on Netflix downloads. You are not able to keep the downloaded content on your device forever. Each Netflix download has a different expiration time, which varies from title to title according to the licensing agreement between Netflix and the content creators. Some videos might expire 48 hours after you start watching them. You can go to the Download page to check the exact amount of time you have left.
Once the video expires, you will need to renew it to watch offline again. The renew process varies from device to device, but the basic steps are all the same:
Step 1 From the Netflix app, select the Menu icon, then click on My Downloads.
Step 2 Next to an expired download, tap the "!" icon.
Step 3 Select Renew Download to renew the title.
Note: Some titles may only be renewed a certain number of times, and will be no longer able to watch on Netflix after their leaving the service.
7. Fix "Unable to Download Netflix Videos on Windows 7 or 8"
The download feature is not available on Windows 7 or 8, but this doesn't follow that you can't get any chance to stream Netflix videos on Windows 7 or 8 computer offline. No matter you are running Windows 7 or 8 on your PC, all you need is FlixiCam to watch Netflix video offline. It is a professional video downloader exclusively for Netflix, capable of downloading any movies and TV shows from Netflix video as HD MP4 or MKV files. Below is the detailed step on how to download Netflix videos on Windows 7 or 8 computers with FlixiCam. Please download the program first before getting started.
Step 1. Launch FlixiCam on Windows 7 or 8 PC and enter any word in the search box to open the Netflix login window for logging into your Netflix account.
Step 2. Click the Setting button on the upper right corner to adjust the basic parameters, including output format (MP4 or MKV), output quality (High, Medium, Low), output path, audio and subtitles language, etc.
Step 3. You can add video by entering the video's name or copying and pasting the link of videos from Netflix Web Player to FlixiCam. After entering, simply press "Enter" button on your keyboard, the program will list the video or all of the related videos for your choice. You are able to download one video or a whole season.
Step 4. FlixiCam added advanced download settings to allow you to select the audio track and subtitle as needed. If you are trying to download a TV show, simply click the Download icon, followed that a window will pop up allowing you to select titles as well as seasons, and to choose audio track and subtitles by clicking "Advanced Download" in the bottom left corner. If you try to download a movie, please click the "Advanced Download" icon beside "Download" to open the window.
Step 5. Tap on the Download icon, the program will start downloading the Netflix videos. After downloading, you can click on Library to find the well-downloaded Netflix videos on local drive.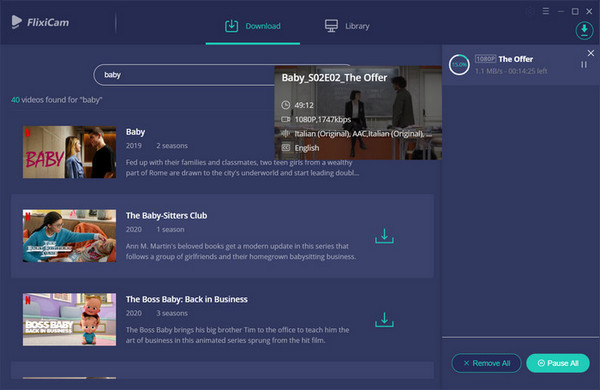 8. Fix "Unable to Share Netflix Downloads with Friends"
You are not able to share Netflix videos with friends unless you can share them by allowing them to use your Netflix name and password. Because each Netflix video is encoded in a proprietary format and can be visible on Netflix app only. Thus, those downloaded files are not playable once you copy them to a USB or external hard drive and share them with your friends or family. In which case, downloading Netflix videos in shareable MP4 or MKV format with FlixiCam would be the easiest way for most users to share their favorite videos with friends. Simply follow the same steps on Part 7, you can download any video from Netflix as MP4 or MKV files and share them with others without any restriction.
Conclusion
Armed with all the aforementioned workarounds, you can fix all regular errors you encountered when downloading videos on Netflix for offline playback. However, you'll still need to be careful about the expiration date of the downloaded title. If you want to extend the date so as to keep Netflix videos on your devices forever, you are advised to try FlixiCam. It is capable of downloading any video from Netflix as an HD MP4 or MKV file. And FlixiCam provides the free trial version. If you don't believe it, simply give it a try. Of course, the trial version only allows you to download the first 5 mins of each video in HD quality. To get the full video, please purchase a license.
---