How to Manage Devices on Netflix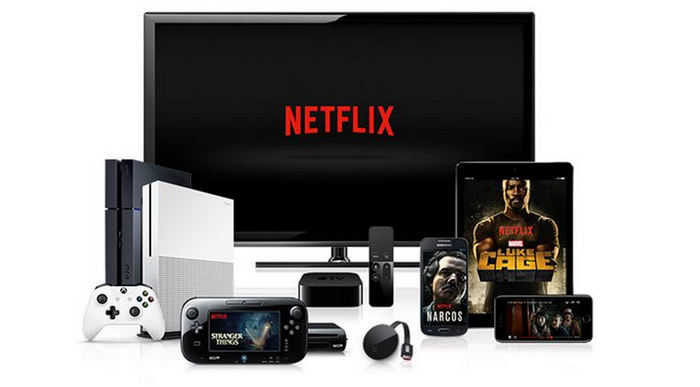 You might have shared your account with your family and friends to help cut down on costs. Netflix allows up to five individual profiles on a single account. You can create profiles for members in your household, allowing them to have their own personalized Netflix experience. However, note that only one to four devices can stream from the same account simultaneously, depending on your streaming Plan.
If you always share your account with many, you might see a message like: Too many people are using your account right now. That means the maximum number of people watching on your account is already reached. In this case, you can ask them to stop or manage your sign-in devices (remove some devices) to have a normal streaming experience. Read on, below we will show you how to manage your devices on Netflix and offer an amazing way to stream Netflix content on more than four screens at the same time.
Part One: Remove Devices on Netflix
Step 1. Sign into Netflix with a web browser and choose your profile, then click the inverted-triangle icon on the upper-right corner and choose "Account". Please note that the account settings can't be changed from the Netflix app on your phone or TV.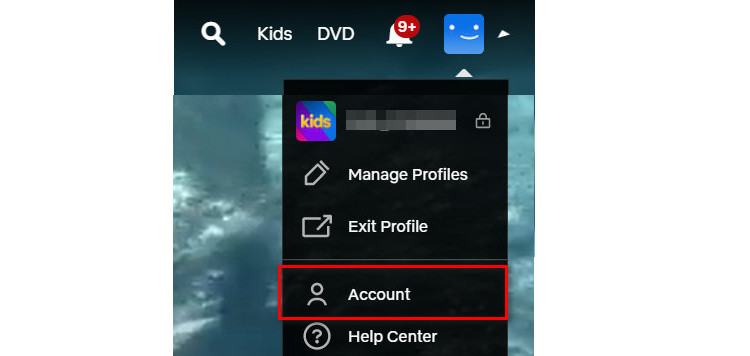 Step 2.In your Netflix account settings, scroll to find the Settings section. Click Manage Download Devices to view the list of enabled devices on your account with offline viewing enabled.

Step 3.Then, press the Remove device button under one of the device listings to remove one of the linked devices.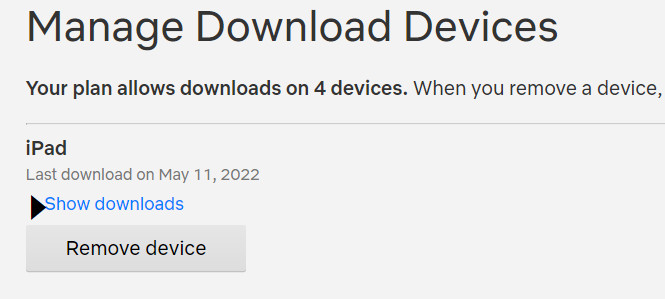 Plus, in the "Recent device streaming activity screen", you can see the locations from which your account has streamed content, and a rough description of what device was used. Reviewing this activity log can help you see if someone has accessed your account without authorization. The "Sign Out of All Devices" page, allows you to sign every device out of your account, by clicking the "Sign out" button.
Part Two: Play Netflix on More Devices
Depending on the kind of Netflix plan you have, you can stream video on one device (Basic and Basic with Ads), two devices (Standard), or four devices (Premium) at a time. If you want to play content on more devices, please turn to a third-party video downloader to download them to MP4 format, therefore you're free to transfer and watch them on other devices. Here you are recommended to try FlixiCam. It is a professional Netflix video downloader dedicated to downloading movies, shows, documentaries from Netflix in MP4 or MKV format on Windows and Mac computers. Multilingual audio tracks (including 5.1 audio), subtitles, and video metadata info can be well preserved. Below is how it works. You can also download the program and follow the guide to have a try:
Step 1. Sign in with Netflix Account
First, please open FlixiCam and log into your Netflix account by entering any word in the search box to open the Netflix login window.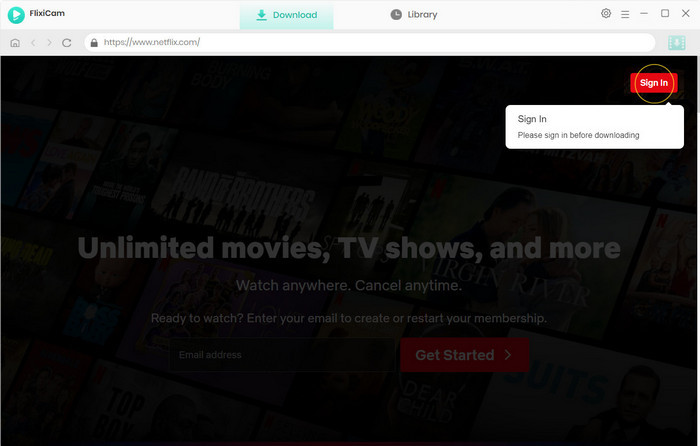 Step 2. Customize the Output Settings
Now, it's time to customize the output settings. Tap on the setting icon on the top-right corner to access the setting window. There you can customize the output format (MP4 or MKV), output quality (High, Medium, Low), output path, and more.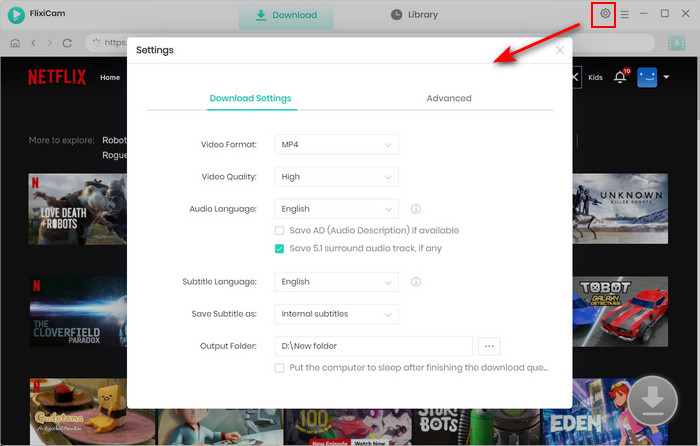 Step 3. Search Videos on FlixiCam
You can add video by entering the video's name or copying and pasting the link of videos from Netflix Web Player to FlixiCam. After entering, the program will list the video or all of the related videos for your choice. You are able to download one video or a whole season.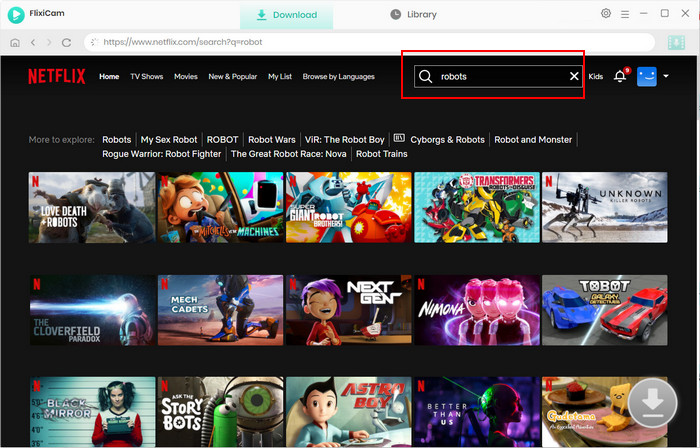 Step 4. Select Audio Track and Subtitle
Now, please go to the advanced download window to select the audio track and subtitle as needed. For downloading a TV show, please click the Download icon, a window will pop up that allows you to select titles as well as seasons, and then you can click "Advanced Download" in the bottom left corner to select specific audio tracks, subtitles and more. If you try to download a movie, please click the "Advanced Download" icon beside "Download" to open the window.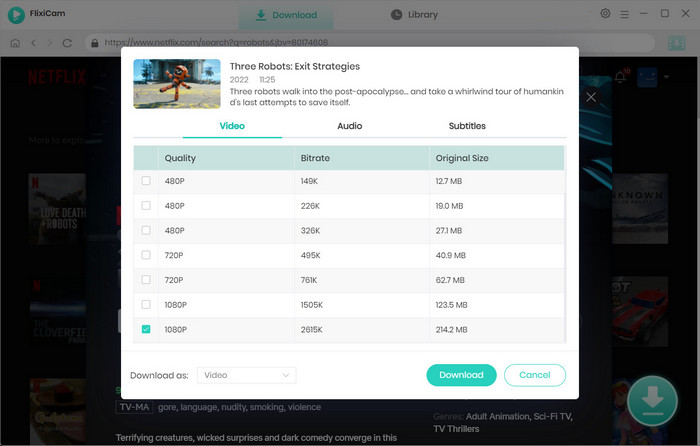 Step 5. Download Netflix Videos
Finally, please tap on the Download button and wait for some time. Once done, you can click on Library to find the well-downloaded Netflix videos. Now you can save them on your computer and transfer to any device for enjoying as needed.
Conclusion
Any other tips about how to stream Netflix more smoothly, please go to the Guide Center. The smart downloader - FlixiCam can help you download any Netflix content and watch them offline on more devices. If you have any interest in that, simply give it a shot!