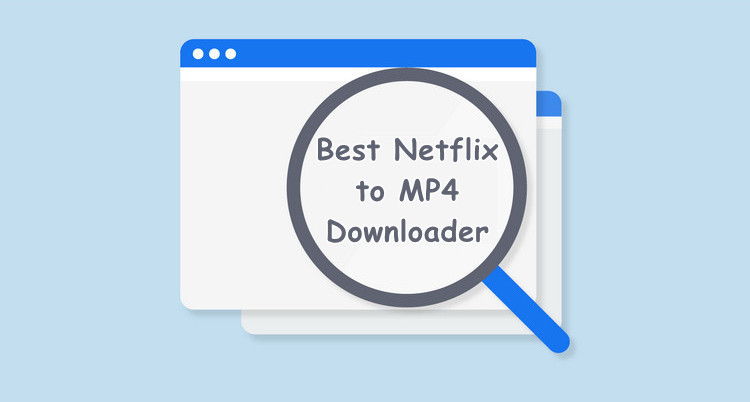 Best Netflix to MP4 Downloader
It can be pretty simple to play Netflix videos on any devices freely if those videos could be saved in MP4 format, as MP4 format is the most commonly used format and widely accepted by almost all devices and media players. However, sadly, Netflix encodes all its media content in its native format, the downloaded files will be stored as cache files and can be visible within the Netflix app only.
In such a case, to get Netflix videos in MP4 format, you need the best and most powerful Netflix to MP4 downloader for the job. Based on numerous tests and users' feedback, that honor belongs to FlixiCam right now, which can not only download any videos from Netflix but also save them as MP4 files so that you can play all your favorite videos anywhere anytime. Next, we will dig into the Flixiam program and show you how it works.
Benefits of Playing Netflix in MP4 Format
Almost all digital devices and media players support this file format. It is compatible with both Windows and iOS. Despite their small size, MP4 files provide excellent video quality. And the compression of files results in just a minor loss of quality. You can also attach metadata to your files by using MP4. If you're a video editor, this format is best for you.
Best Netflix to MP4 Downloader - FlixiCam
FlixiCam, is the nakesame program of FlixiCam company, specially designed for Netflix users to download any videos from Netflix. All the videos will be stored on your computer in MP4 format. Plus, this tool also supports downloading Netflix video in MKV format, and it works on both Windows and Mac computers. So although there is no Netflix app on Windows 7 or Mac computer, you can still play Netflix movies offline on these PCs with FlixiCam. What's more, the smart tool supports to keep 5.1 surround sound, HD video quality (up to 1080P) , and multiple-language audio track & subtitles.
Highlights of FlixiCam:
Download any movie, TV shows, documentaries from Netflix..
Output videos in MP4 or MKV format.
Support downloading HD videos (up to 1080P).
Pinpoint videos by entering keywords or video link.
Keep multi-language audio track & subtitles and 5.1 surround sound.
Works on Windows 11/10/8/7 and macOS 10.15 or above.
The best Netflix video downloader that does a great job in downloading Netflix videos on Windows and Mac computers.

Learn more about FlixiCam >>
Tips: FlixiCam needs to work with a valid Netflix account, so please do make sure your Netflix subscription is still within the validity period. Plus, bear in mind that only Standard and Premium subscription is able to get 1080P video.
Now, let's follow the detailed tutorial to download Netflix video in MP4 format with FlixiCam. Please download FlixiCam program first before getting started.
Tutorial: Download Netflix Video in MP4 with FlixiCam
Step 1. Log into Netflix Account
The first step is to log into your Netflix account by entering any word in the search box to open the Netflix login window.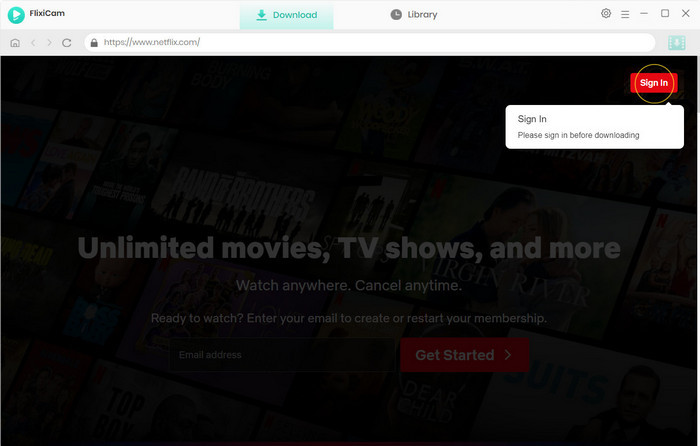 Step 2. Customize the Output Settings
Tap the Setting icon on the upper right corner and customize the output settings, including the output format (MP4 or MKV), output quality (High, Medium, Low), output path and so on. You can select "MP4" as the output format here.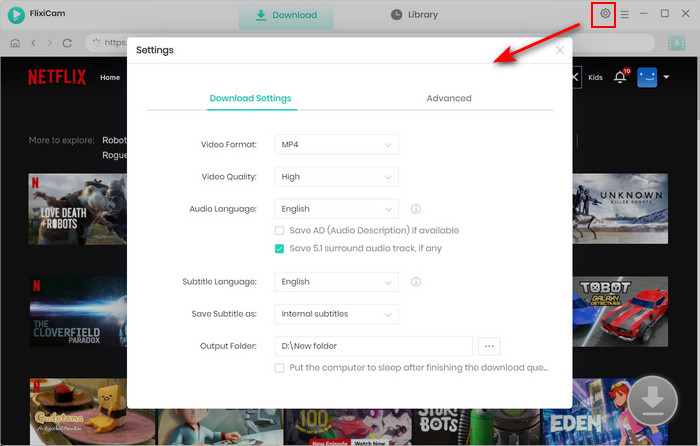 Step 3. Add Netflix Videos
Enter any words or copy & paste the video's link from Netflix web player to FlixiCam search box, the program will list the video or all of the related videos. Then you can choose your desired videos for downloading.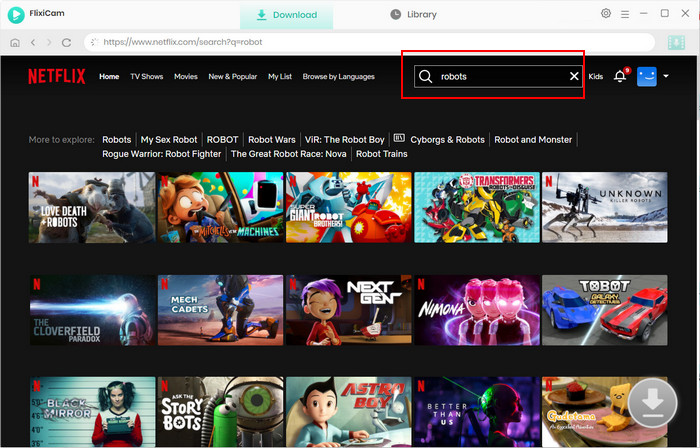 Step 4. Select Audio Track and Subtitle
Before downloading, you can access the Advanced Download window to select audio track and subtitles. If you are trying to download a TV show, simply click the Download icon, followed that a window will pop up allowing you to select titles as well as seasons, and to choose audio track and subtitles by clicking "Advanced Download" in the bottom left corner. If you try to download a movie, please click the "Advanced Download" icon beside "Download" to open the window.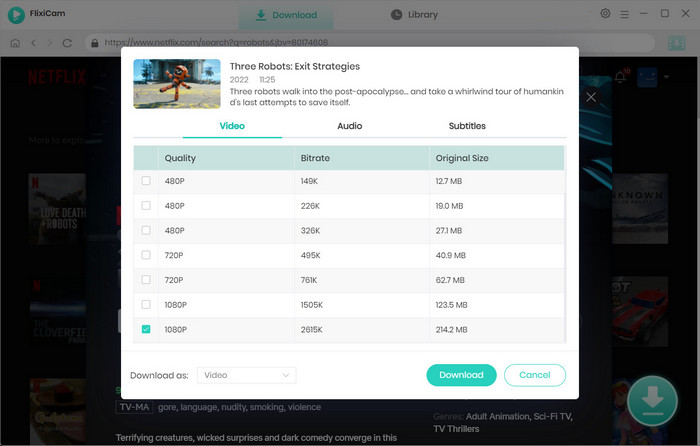 Step 5. Start to Download Netflix Videos
Now hit "Download", then the program will start downloading the Netflix videos to the output folder.
Afterward, you can click on Library to find the well-downloaded Netflix videos on local drive. Now all those videos are stored in MP4 format, you can freely play them on Windows Media Player.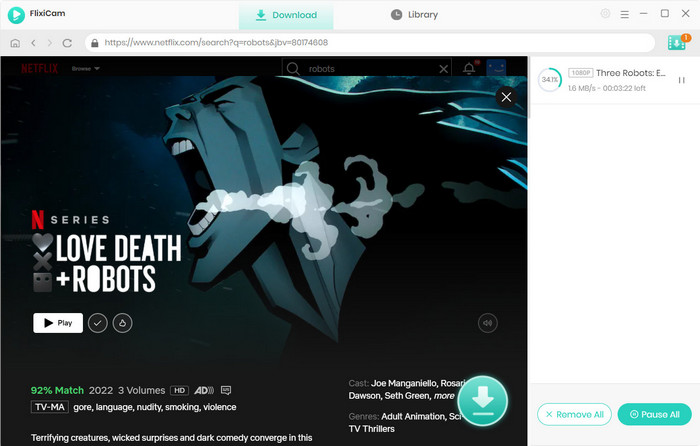 Conclusion
FlixiCam, performing perfectly in downloading and converting Netflix videos to MP4 format, is no doubt the best Netlfix to MP4 Downloader. After downloading, you can keep the downloaded videos on your computer so as to enjoy them after canceling the subscription, or share them with your best friends. And it's available to transfer to any other device for offline watching, Of course, the trial version only allows you to download the first 5 mins of each video in HD quality. To get the full video, please purchase a license.