How to Burn Netflix Video to DVD
Netflix has an extensive library of movies and TV shows, but what if you want to enjoy your favorite content on a DVD player or share it with others? While Netflix does not provide a direct option to burn videos to DVD, there are alternative methods to achieve this. In this article, we will guide you through the process of burning Netflix videos to DVD.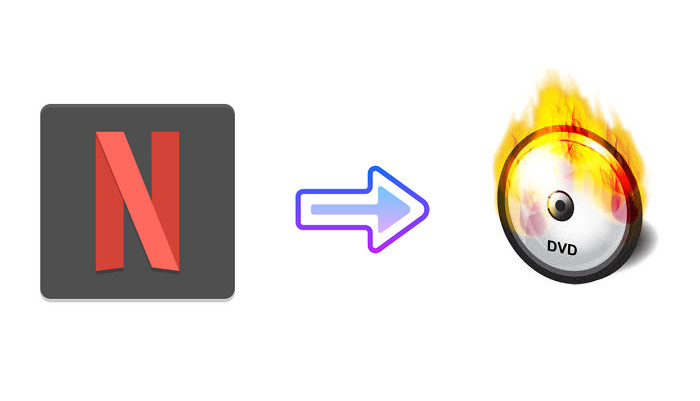 Tools You Need to Burn Disc from Netflix
To burn a disc from Netflix, you will need the following tools:
Video Downloading Software: You will need video recording software to capture and save the Netflix video content on your computer. Here you can try FlixiCam to save your favorite titles in MP4 or MKV format.
DVD Burning Software: Once you have downloaded the Netflix video and saved it as a file on your computer, you will need DVD burning software to create a DVD from the downloaded video file. There are various DVD burning programs available, such as Any Video Converter, Nero Burning ROM, or Windows Media Player (for Windows users). These software tools enable you to create a DVD with the downloaded video content.
Blank DVDs: To burn the Netflix video onto a DVD, you will need blank DVDs. Make sure to use DVD-R or DVD+R discs, as they are compatible with most DVD players. Ensure that the DVDs have sufficient storage capacity to accommodate the recorded video file.
DVD Burner: Your computer will need a DVD burner, either built-in or external, to write the recorded video file onto the blank DVD. Most modern computers come with built-in DVD burners, but if your computer doesn't have one, you can use an external DVD burner connected via USB.
Tutorial on How to Burn Netflix to DVD
Part 1: Download Netflix Video in MP4 Format
FlixiCam is a convenient application designed for individuals seeking greater flexibility in enjoying downloaded Netflix videos. It offers extensive compatibility with Windows systems, allowing users to effortlessly download any video from Netflix with remarkable efficiency and speed.
Whether you're using Windows 7, 8, 10, or 11, FlixiCam ensures a seamless downloading experience. Moreover, FlixiCam stands out by delivering exceptional HD video quality. It's important to note that the downloaded video quality is dependent on your Netflix subscription plan. Users with Netflix Standard and Premium plans can enjoy videos in 1080P quality.
A decent video downloader that helps millions of users to save Netflix videos forever!

Learn more about FlixiCam >>
The following is the detailed tutorial to guide you to download Netflix videos and burn to DVD with FlixiCam. Please download FlixiCam program first before getting started.
Step 1. Run FlixiCam on Windows and Log in to Netflix Account
Open FlixiCam on your computer, and you'll encounter a clean and concise interface as shown below. Click on the "Sign in" button, and a login window will appear and prompt you to log into your Netflix account.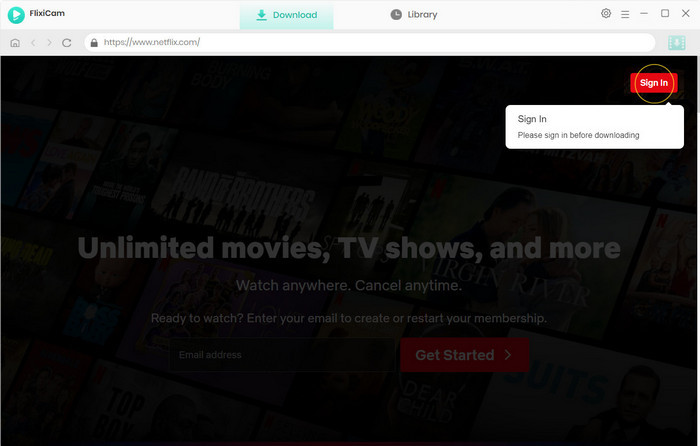 Step 2. Customize the Output Settings
Open the General Setting window by hitting the Setting button on the upper right corner, in which you can customize the output format (MP4 or MKV), output quality (High, Medium, Low), output path, audio and subtitles language, etc.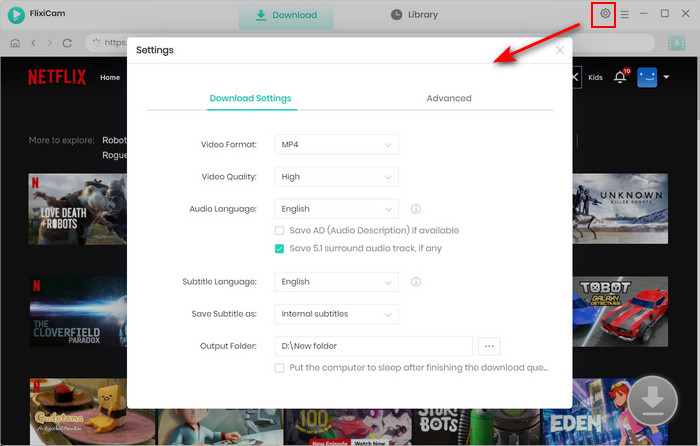 Step 3. Search Videos on FlixiCam
FlixiCam is designed to work harmoniously with the Netflix web player. By entering the name of the video, the program will promptly display all the related videos.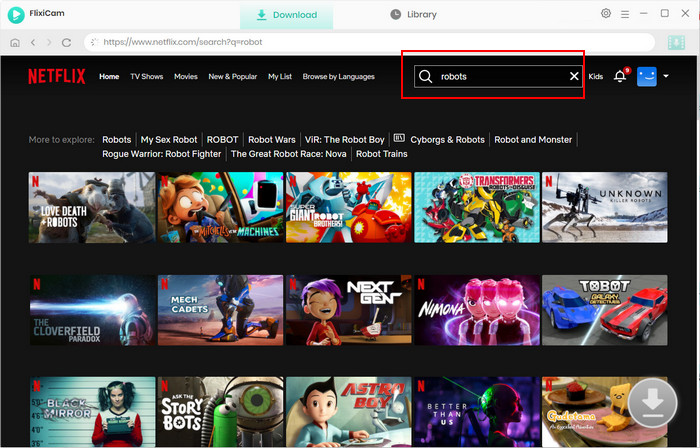 Step 4. Select Audio Track and Subtitle
Next, you can access the Advanced Download window to select specific audio tracks and subtitles. For downloading TV shows, please click the Download icon to select season and episode, then hit "Advanced Download" to open the windows. To download movies, just click the green Download to access the window.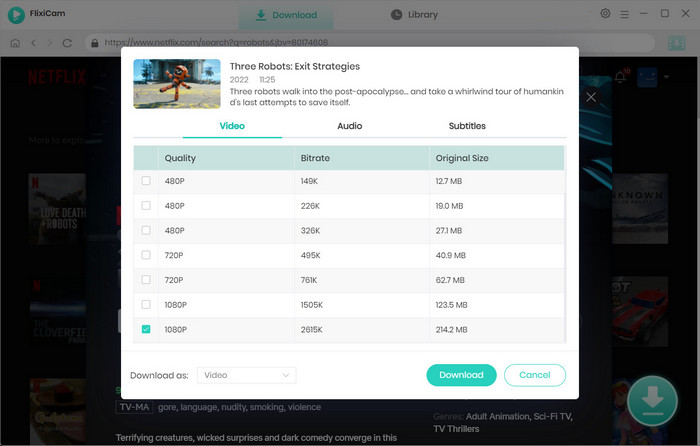 Step 5. Start to Download Netflix Videos
Hit the Download button, all your selected video will be downloaded to the output folder you've chosen in the previous step. After downloading, you can click on Library to find the well-downloaded Netflix videos on local drive.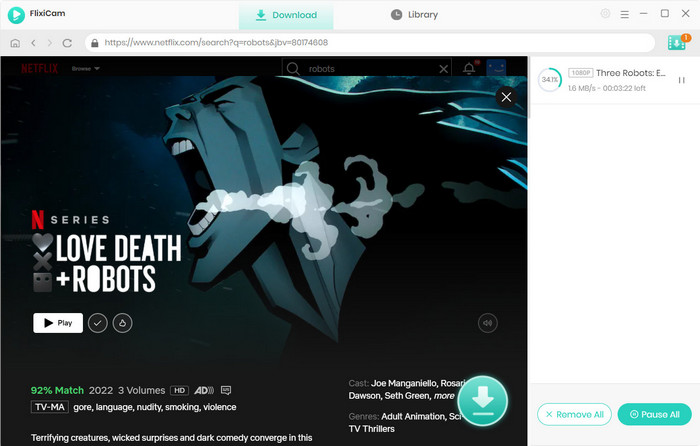 Part 2: Burn Downloaded Netflix Video to DVD
Now, you can burn the downloaded video to DVD without restrictions. Here we take Any Video Converter Free as an example to show you how to burn those videos to DVD.
Step 1. Add the Downloaded Netflix Video
First, please put a blank DVD (DVD-RAM, DVD+R, DVD+RW, DVD+R Dual Layer, DVD-R, DVD-RW, DVD-R Dual Layer) or Blu-ray Disc to drive. Click on "Burn DVD" tab, then click "Add Video(s)" button. Press Ctrl or Shift to select more than one Netflix video at one time in file folder.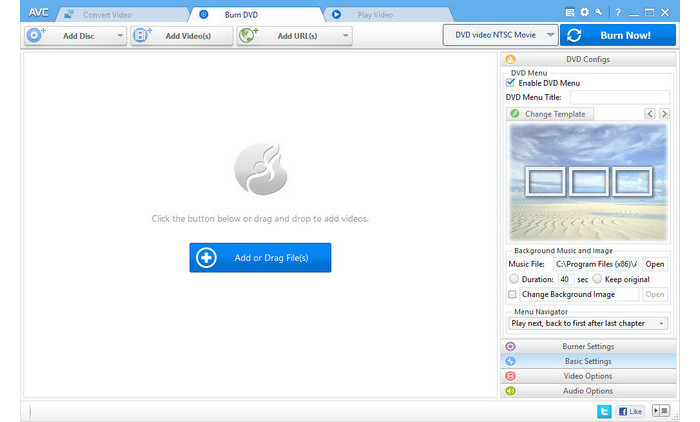 Step 2. Choose the Output Format
Unfold Output Profile, choose Burning to DVD from the list, and then choose from the output format according to your TV system. AVCHD DVD can be only played on Blu-ray player or DVD player that supports AVCHD DVD playback.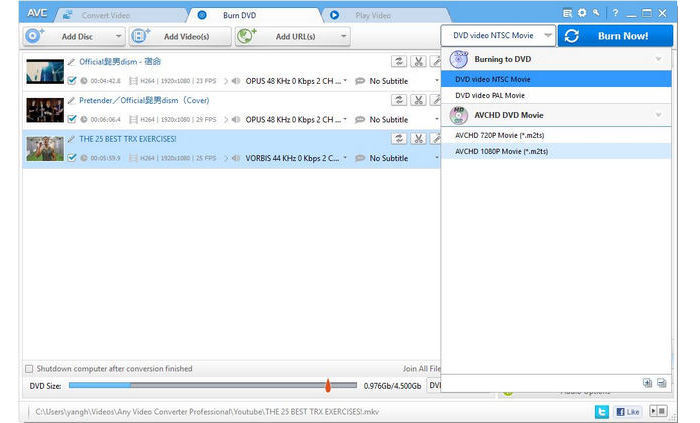 Step 3. Start Burning Netflix Videos to DVD
Click on "Burn Now!" button to start burning videos to DVD. Once completed, you can click "OK" button, then the drive will automatically eject the disc.
Conclusion
While Netflix does not offer a direct option to burn videos to DVD, you can use FlixiCam to capture and save Netflix content on your computer. By following the step-by-step guide outlined above, you can record Netflix videos and then use DVD burning software to create a DVD for playback on a DVD player. Please note that the recording and burning of Netflix content should be for personal use only and in compliance with copyright laws.
---