Download Netflix with Ad-supported Plan
Netflix launched a new ad-supported tier-- "Basic with ads" in November costs $6.99 per month, aiming to attract as many new users as possible while reducing the number of consumers who switch from more expensive ones.
Currently, Netflix is seeing slow subscriber growth from the new ad-based plan. According to the data from the subscription analytics business, Netflix has a much higher percentage of people downgrading from other plans to the ad-based plan than other streaming platforms like HBO Max. The first month of ad-supported subscription disappoints the firm, which is probably related to the limitations of this plan. For example, the ad-based plan does not support downloading, which cannot recruit those who need this feature. 
But don't worry, if you still want to enjoy the download feature with the lowest price, this article will provide a solution to download Netflix titles with the ad-supported plan.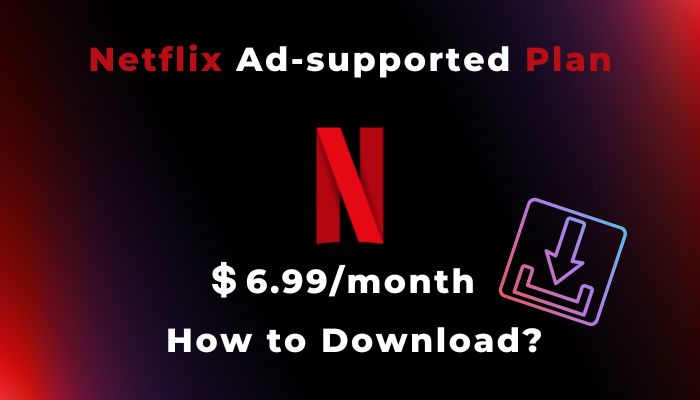 What are the Features of the Ad-Supported Plan?
Ad-supported plan costs $6.99 per month, and it's the cheapest way to watch Netflix content. The other 3 plans are basic, standard, and premium plans. You need to pay $9.99/month, $15.49/month, and $19.99/month respectively, and all of them support HD playback. The ad's length may be the question that consumers are most concerned about. The Basic with ads plan includes 15 to 30 second long advertisements that play before and during shows and movies, and there will be 4-5 minutes ads every hour, which will cost more time to stream videos than before. Does the ad-based tier has a download feature? The answer is sadly no, which means you couldn't play them offline when there's no internet connection. 
Why do you need FlixiCam?
Basic with ads plan does not have a download feature as mentioned before, however, FlixiCam can provide a solution for you. FlixiCam can help you download Netflix titles and series as MP4/MKV files, which will be stored on your device. Plus, downloading with FlixiCam has another advantage that these downloads will not expire like the downloads on Netflix's app. In case you don't know, downloads on Netflix will expire 48 hours after you start watching them, and they will disappear as well if you stop paying for subscriptions.
Additionally, all videos downloaded through FlixiCam are ad-free, so you don't need to waste your time watching ads. Please note, the downloaded video quality is based on your Netflix plan, meaning you can get 720P video if you subscribe to Netflix's Basic with Ads plan. Netflix Standard and Premium plans can get 1080P quality. FlixiCam, as a smart tool, allows you to download audio tracks and subtitles in multiple languages. This program not only does it make up for the features that Netflix's ad-based tier lacks, but it also adds many other useful features that are worth a try.
Watch Netflix titles offline on more devices by using FlixiCam to download them in a widely-accepted format - MP4!

Learn more about FlixiCam >>
The following is a step-by-step guide to downloading Netflix videos with the ad-supported plan. Read on and try by yourself.
Tutorial: How to download Netflix videos with the ad-supported plan?
Step 1.  Open FlixiCam and Log into Netflix Account
First of all, you need to sign in to your Netflix account. Clicking "Sign In" will bring up the Netflix login window, and input your account information. Note: FlixiCam will protect your privacy, and the program will never record your personal information.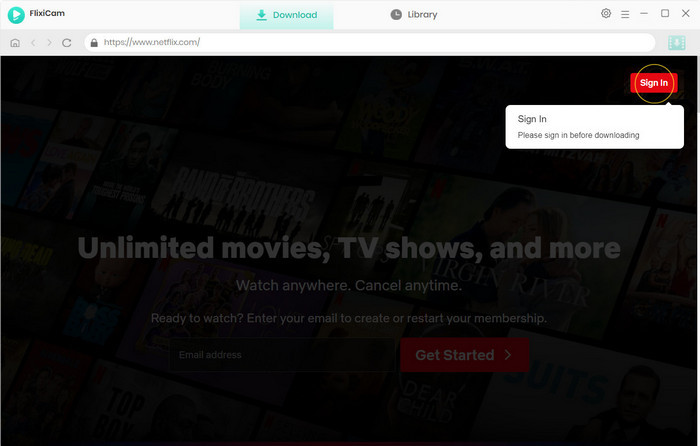 Step 2. Customize the Output Settings
Then, tap the gear icon in the upper-right corner. Here you can adjust parameters including the video output format, output quality, and output path. The audio language, subtitle language, subtitle encoding mode, and other settings are also available in this step.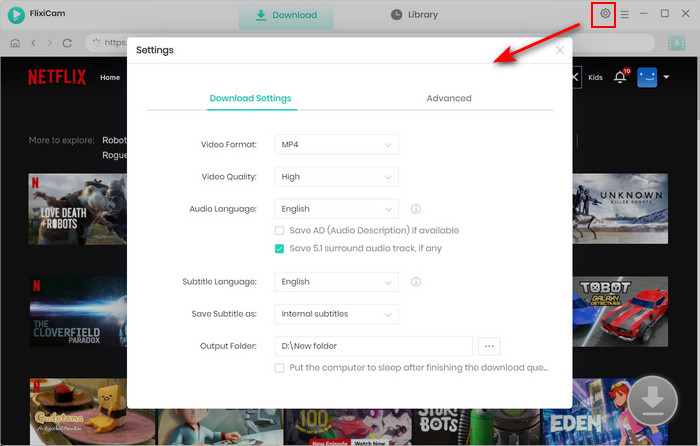 Step 3. Add Videos on FlixiCam
You can type the video name or keywords of it in the search box to add the video. All related titles will show as search results soon.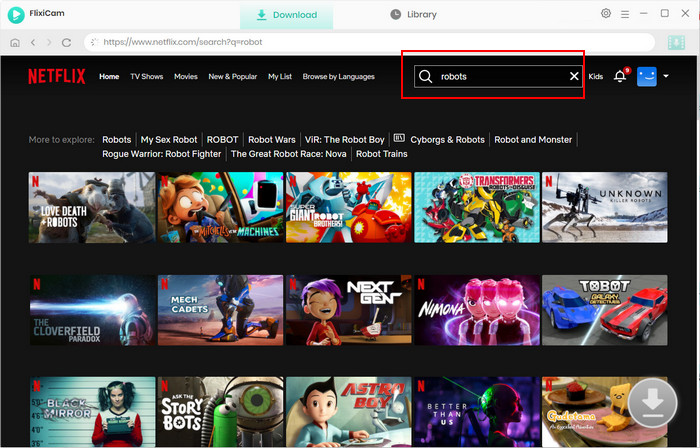 Step 4. Select Audio Track and Subtitle
In this step, you can select some advanced settings for specific videos if you need to change the default settings for certain videos. For downloading TV shows, click the Download icon to select titles and seasons. You can choose the audio track and subtitles by pressing "Advanced Download". If you want to download movies, clicking the green Download icon is enough.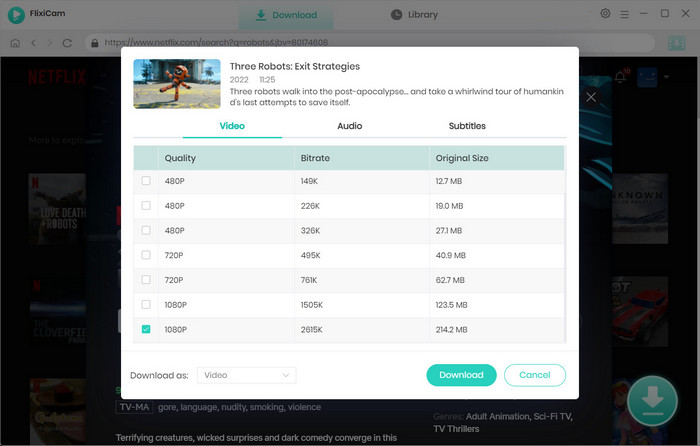 Step 5. Start to Download Netflix Videos
All you need to do is hit the Download button to start downloading. Once the download is completed, you can find the MP4/NKV files in Library. Or you can find the videos in the output folder you set before. It's time to enjoy!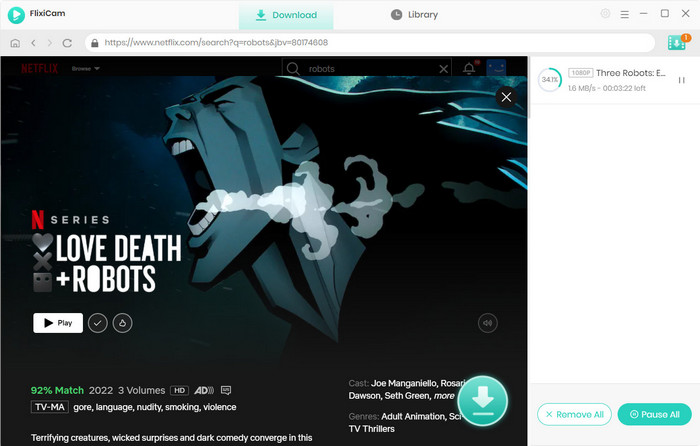 Conclusion
FlixiCam offers a wonderful solution to download Netflix videos with the ad-supported plan, thus you can enjoy watching Netflix videos offline. And most importantly, the videos downloaded by FlixiCam will not expire even if you cancel your Netflix subscriptions. For those who don't want to pay too much on subscribing to streaming services, this program is your best choice to keep your favorite videos forever.