Best Way to Watch Disney+ Movies Offline on Mac
Watching movies on Disney+ can be a great way to spend an evening, but having the ability to take those movies offline makes it even better. Whether you want to watch a movie during a long flight without worrying about internet connections or just want the freedom to enjoy them on your own terms, being able to download the movie ahead of time is invaluable.
The best way to watch Disney Plus movies offline should be to download them directly by using the Disney Plus app. However, Mac users cannot access this convenience, for the download feature of Disney Plus is only available on mobile devices and Windows 10 & 11 computers. This disparity presents an obstacle for people who rely on having their content available offline or don't have a sufficient data plan or access to a strong internet signal.
If you are one of them, fret not, below we will delve deeper into everything you need to know about Disney Plus movie downloading on Mac.
1. Best Disney Plus Movie Downloader on Mac
First, there are actually many Disney Plus downloaders available on the market for your choice. Downloaders vary in speed, capabilities, and even the types of files they can recognize. A reliable video downloader should be able to quickly and accurately capture different file types with minimal effort, allowing users to have access to content whenever they need it.
Based on numerous tests, we picked up one professional Disney Plus Video Downloader - DispCam to help you out. It is the perfect choice for Disney Plus fans who want to easily download movies and shows in MP4 or MKV format. Thanks to its intuitive interface, it's incredibly easy to use. With just a few clicks, you're able to start downloading your favorite Disney Plus content. During the process, you can choose your desired audio tracks and subtitles to download. The download speed is impressive, too.
Not only that, but DispCam also grants users the ability to save most of the information of the video, which can be beneficial for managing your video collection. Overall, it's an impressive tool and definitely one worth considering if you're looking for a convenient way to download shows from Disney Plus.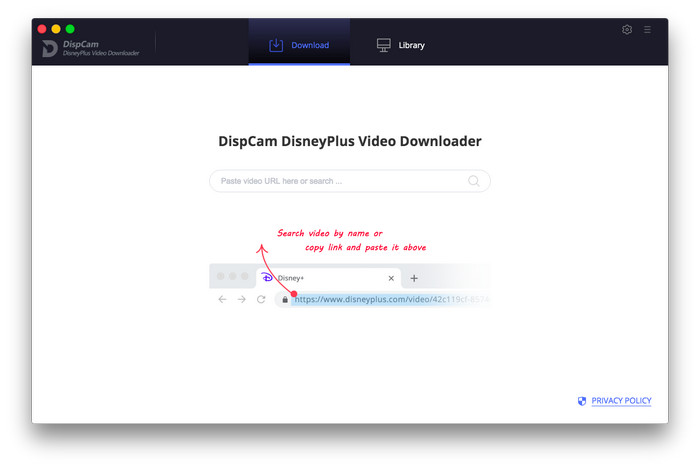 2. Tutorial: How to Download Disney+ Videos on Mac with DispCam?
The process is pretty easy to download Disney Plus movies with DispCam. Please simply download DispCam and follow the steps to download videos on PC to watch offline.
Step 1. Sign in with Amazon Prime
First of all, launch DispCam on your Mac. The app is compatible with computers running macOS 10.15 or later. Then enter any word into the search box to open the login window and sign in with your DispCam account. It requires a valid Disney+ subscription to download videos.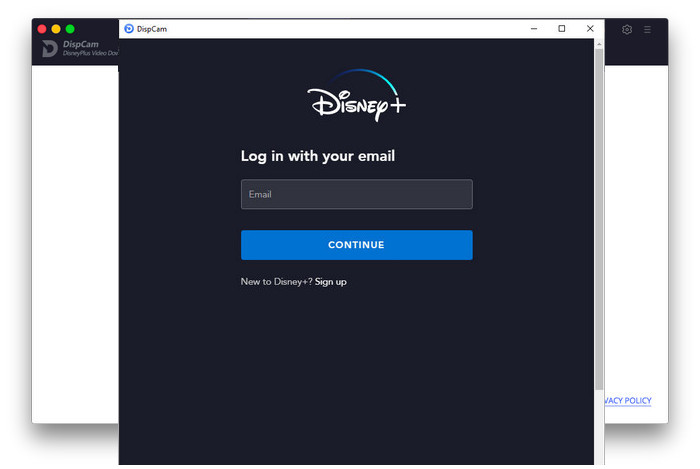 Step 2. Customize the Output Settings
Next, go to the general setting window by clicking the gear icon on the top right. Here you can select output format, change output path and choose audio & subtitles language, etc.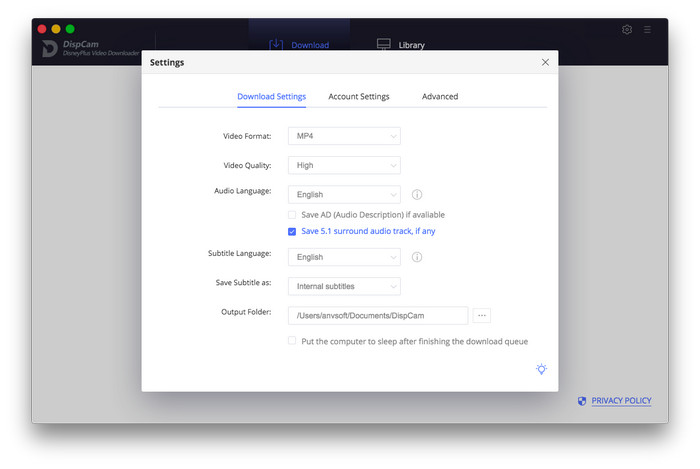 Step 3. Search Disney Plus Videos
Enter the video name or paste the video link copied from Disney Plus official website into the search box, then DispCam will list the download options soon.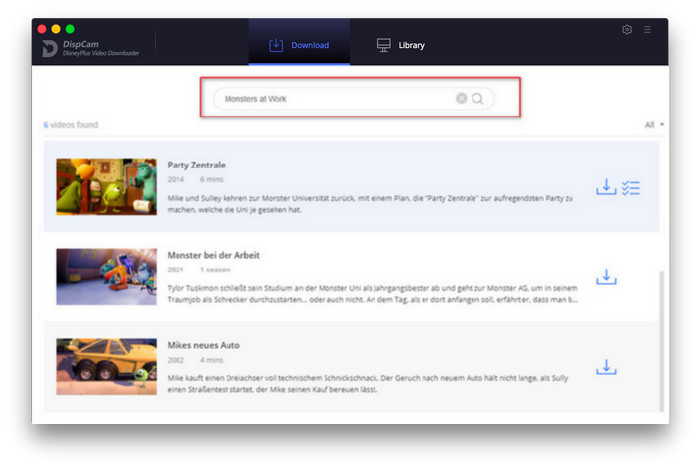 Step 4. Select Audio Track and Subtitle
Go to the Advanced Download window to select different quality options, and specific audio tracks and subtitles in different languages. If you are trying to download a TV show, hit the Download icon to select titles as well as seasons, and then tap on Advanced Download" in the bottom left corner to access it. If you try to download a movie, please click the "Advanced Download" icon beside "Download" to open the window.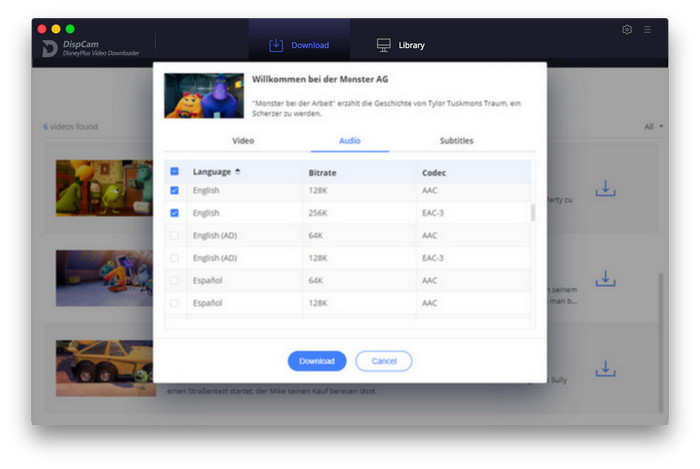 Step 5. Start to Download Disney Plus Videos
When everything is ready, hit the Download button, the program will start downloading the videos to your computer. Once completed, you can click on Library to find the well-downloaded videos on your Mac computers and watch them with freedom.
3. FAQ: Can I Keep the Downloads? Move Them to Other Devices?
As known, all downloads that you make on the Disney Plus app come with a seven-day validity period, after which they will automatically expire from your device, unless you refresh the download before then. So you may wonder if the DispCam downloads will also expire. Absolutely not, all the downloads you got by using DispCam will be stored as .mp4 or .mkv files, meaning that they all are lock-free, you actually own the files. After downloading, you can enjoy them anytime and transfer them to other devices like USB drive, SD Card as you wish.
Conclusion
Some prioritize quality, while others are more concerned with speed — it really depends on what kind of user you are and what experience you're looking for in a downloader. Even though DispCam is highly recommended on our side, before making your choice, we still suggest you download it for testing and to know about its performance capabilities.