How to Watch Netflix 4K Video Offline
If you have a Netflix subscription and a 4K device, there's no reason not to take advantage of the service's ultra-high-definition content. However, what a pity is that the maximum quality of Netflix downloads is 1080P, and not all videos are available to download. In general, you are only allowed to stream Netflix 4K videos online.
However, fortunately, this is not the end of our story. To watch them offline, you can turn to some tools. Read more to get more details about how to download and watch 4K videos from Netflix offline. Sit back, relax, and get ready for a truly cinematic experience at your fingertips.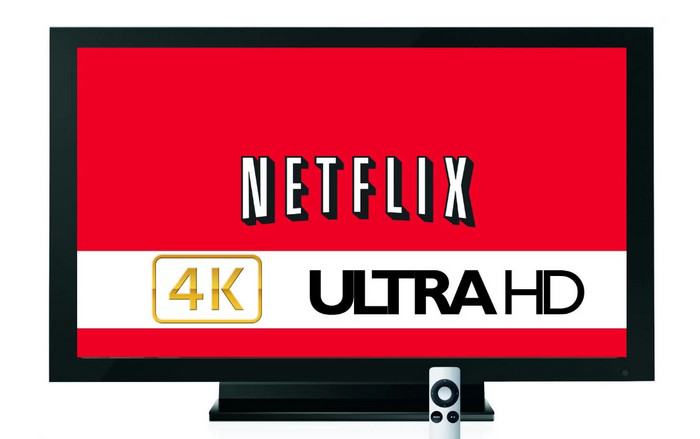 1. Download Netflix Movies or Shows in MP4 Format
First, as we all know, not all titles can be downloaded for offline viewing. But as long as it can be played on Netflix, FlixiCam can help you download it locally. This great software lets you download any movie or series from Netflix in MP4 or MKV format, and you can also keep audio tracks and subtitles in many languages. Whether you're using a Windows or Mac computer, FlixiCam is the perfect solution for anyone who wants to watch their favorite Netflix content offline.
The process of downloading Netflix videos in MP4 or MKV format with FlixiCam is pretty easy. All you need is to download the latest version of FlixiCam and follow us.
Step 1. Run FlixiCam and Log in to Netflix Account
First of all, please open FlixiCam and log into your Netflix account. The Netflix login window needs to be opened by entering any word in the search box and clicking "Enter". Simply follow the indicates to enter your account info, which is only for accessing the Netflix library, the program will never record it.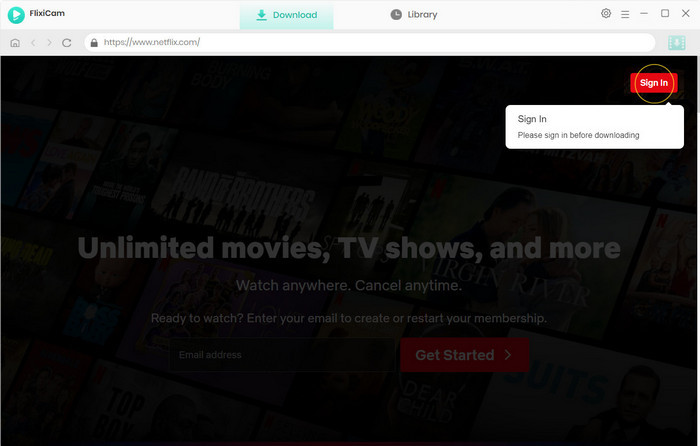 Step 2. Customize the Output Settings
Then tap on the gear icon on the upper right corner to customize the output format. Select your desired format as well as the audio language, subtitle language. It also enables you to change the output path.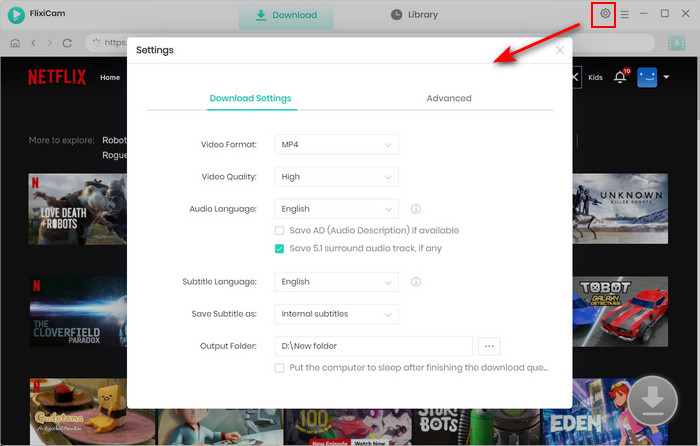 Step 3. Add Netflix Videos
The program enables you to import videos by entering the name of movies & TV shows or copying and pasting the link of videos from Netflix Web Player to it. After inputting, simply press "Enter" button on your keyboard, then the program will list the video or all of the related videos.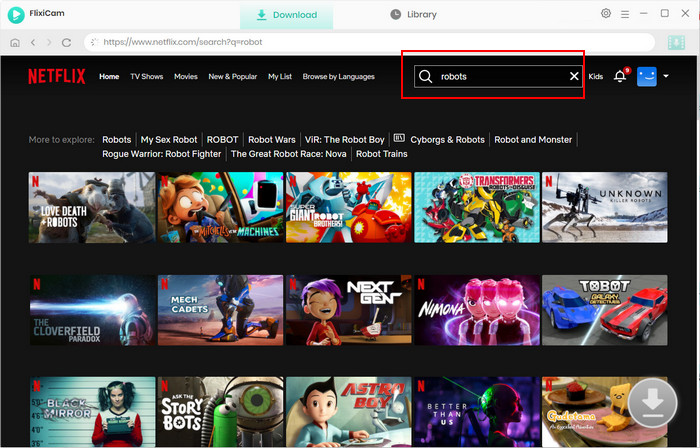 Step 4. Select Audio Track and Subtitle
There is an advanced download option to allow you to select specific audio tracks and subtitles as needed. When downloading TV shows, the window can be accessed by clicking the Download icon > "Advanced Download". If you are downloading movies, please click the "Advanced Download" icon next to "Download" to open the window.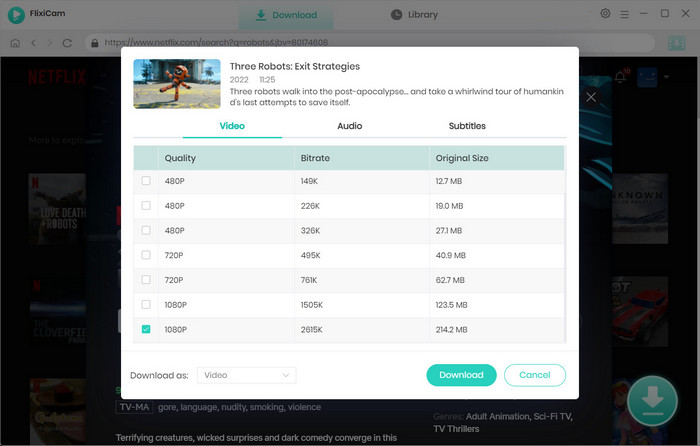 Step 5. Start to Download Netflix Videos
Finally, just hit the Download icon to download the Netflix videos to the output folder. After downloading, you can click on Library to find the well-downloaded Netflix videos on local drive. All the downloads will be saved in MP4 or MKV file format now, you can feel free to watch them offline without limits.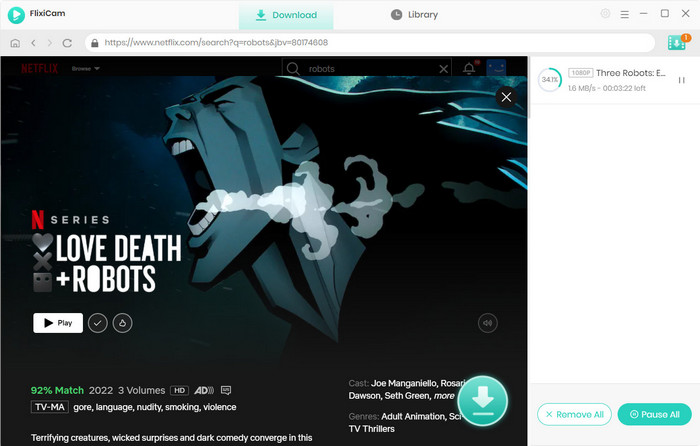 2. Upscale the Video Quality of Netflix Downloads to 4K
The maximum quality of Netflix video downloaded by FlixiCam is 1080P. If you want to experience all of your favourite entertainment in stunning, ultra-high definition, you can upscale your Netflix downloads to 4K resolution, which is four times the resolution of 1080P. The only tool you need to make the switch to 4K is AVCLabs Video Enhancer AI.
AVCLabs Video Enhancer AI is an artificial intelligence tool that improves video quality by enhancing resolution, stabilizing shaky footage, and eliminating noise. With just a few simple clicks, this AI can transform low-quality videos into stunning, high-definition masterpieces. Whether it's for personal use or professional projects, AVCLabs Video Enhancer AI is the ultimate solution for all your video enhancement needs.
Step 1. Run Video Enhancer AI and Add Video
Launch AVCLabs Video Enhancer AI and then click the "Browse" button to open a file pop-up window and select a video file or drag-drop the video directly.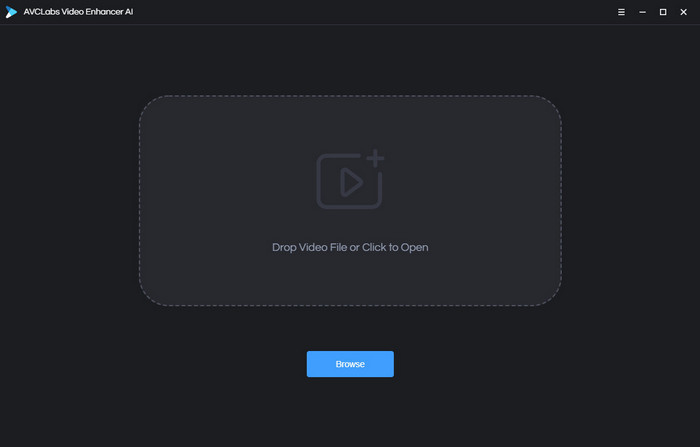 Step 2. Customize Settings
On the right panel of AVCLabs Video Enhancer AI, you can choose the AI Model by choosing from the list. In addition, you can choose the video resolution to 720p, 1080p, 2K, QXGA, Quad HD, WQXGA, UHD, 4K, or 8K.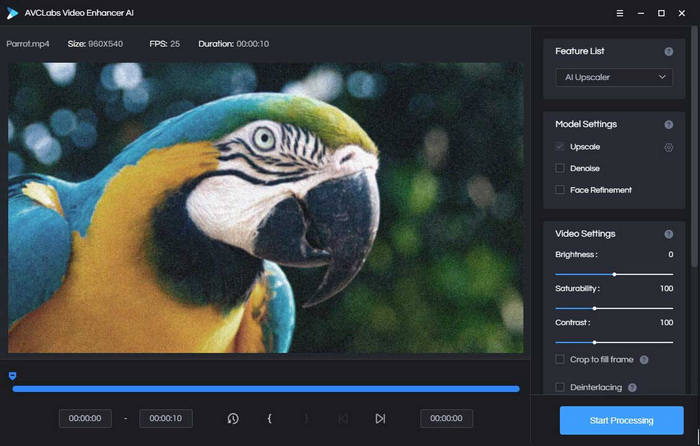 Step 3. Start Processing Video
After everything is ready, you can go to click the "Start Processing" button to render the videos. To process your video in high efficiency, please make sure your computer has a powerful CPU and NVIDIA Graphics cards (NVIDIA RTX series is recommended).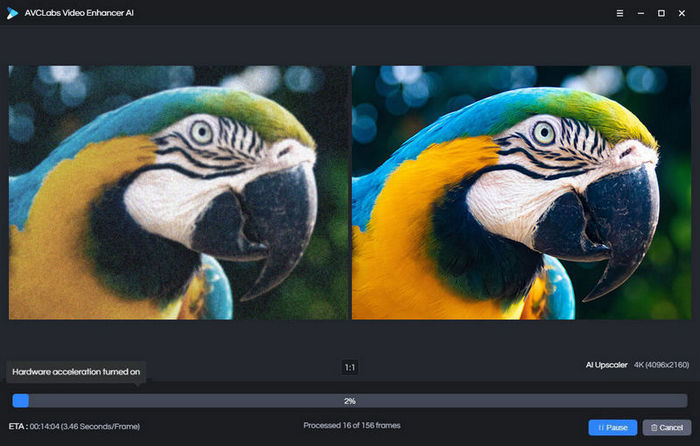 Conclusion
The guide grants you the ability to watch Netflix's 4K videos offline, your entertainment options just got endless. No more worrying about poor internet connection or limited data – now you can download and upscale Netflix movies and TV shows into stunning 4K resolution and watch them wherever, whenever.