Which One is Better: Netflix or Amazon Prime Video?
So basically, I had Netflix a while back and we decided to cancel it because weren't really using it too much. But now I'm looking to either get it or Amazon Prime and was just wondering which one you recommend with regards to the series?
Do you also have the same question? If so, then you've come to the right place. Below we are going to dig a little deeper into Netflix vs Amazon Prime Video to help you see which is the right video streaming service for you. Read on.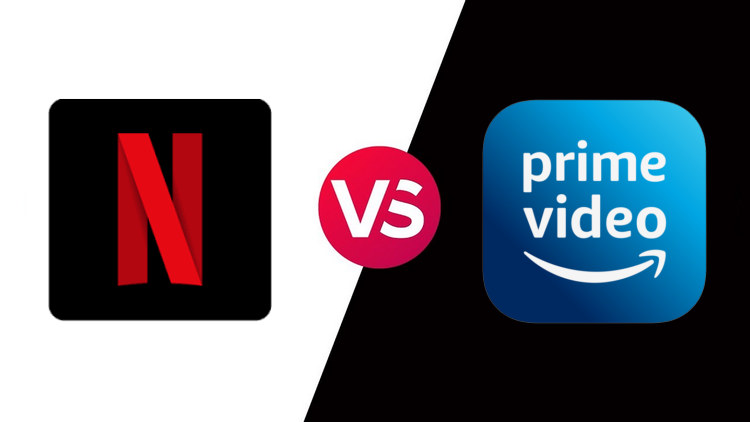 1. Netflix vs Amazon Prime Video: Price and Plan
Netflix no longer offers a free trial, but Amazon Prime Video still provides a 30-day free trial for new users. Netflix now offers three different subscription plans: Standard with Ads, Standard, and Premium. Standard with Ads is available in select countries and costs $6.99 per month. It includes advertisements and offers High definition (HD) streaming. Priced at $15.49 per month, the Standard plan provides high definition streaming and allows you to watch content on two screens simultaneously. The Premium plan, priced at $22.99 per month, is ideal for families or those who want the best picture quality. It enables you to watch videos in HD or even 4K Ultra HD on up to four screens at the same time. Remember that these prices are subject to change and may vary depending on your location.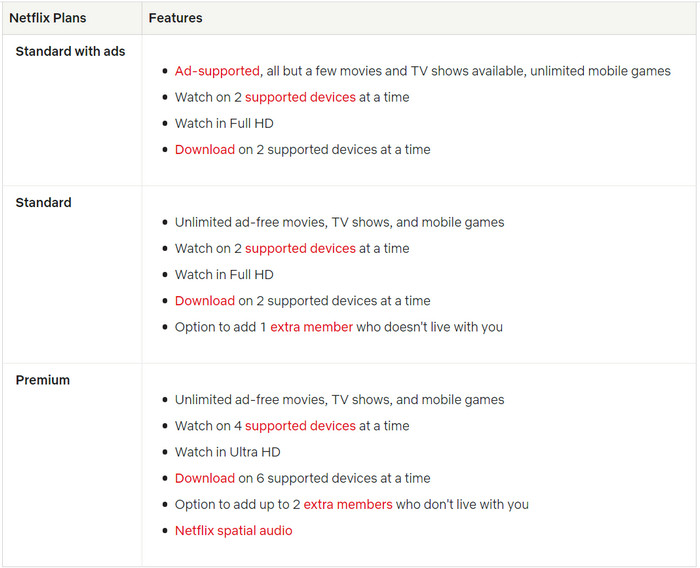 There are also three options to enjoy Amazon Prime Video service: Prime Video, Prime Monthly, and Prime Annual plan. If you just want to get access to Amazon Prime Video content and don't care about the other features included in Amazon Prime, Prime Video plan, costing $8.99 per month, is the best option for you. But when you also want to get free two-day shipping, unlimited Prime Music streaming and more, please choose Prime Monthly or Prime Annual plan. The monthly plan costs $14.99/month, the annual costs $139/year.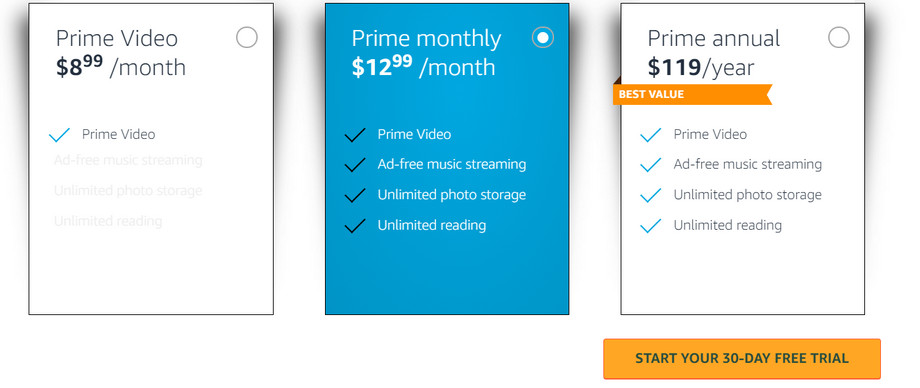 2. Netflix vs Amazon Prime Video: Content
When it comes to content, the first that comes to mind is Netflix originals. Netflix has a huge range of exclusives, originals and classics. It produced and distributed plenty of original programming since the House of Cards days, include Orange Is The New Black, Bojack Horseman, Stranger Things, Daredevil, Maniac and more, which consume the world's attention. So, if you want to watch those videos, Netflix is the only option, as the original content is exclusive to its platform.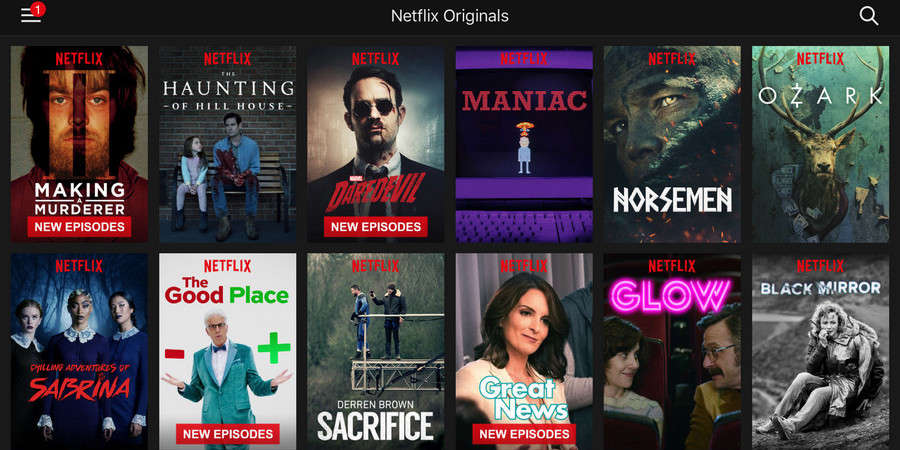 Amazon Prime Video also boasts a huge library of content, numbering about 18,000 movies and 4,500 TV shows. By comparison, its movie library is more extensive than that of Netflix, as Netflix has only 11,000 movies. And the most important one is that Amazon often gets the rights to new releases much quicker than Netflix, which makes it a good bet if you enjoy watching hard-to-find shows and movies. However, of particular note that, most of these newer videos aren't actually included as part of the Prime Video subscription, meaning that you have to either rent or buy these titles to stream right away.
3: Netflix vs Amazon Prime Video: Video Quality
Obviously, Amazon Prime Video has a big win on video quality. Both video services support 4K and HDR technologies. Netflix users are required to have the Premium plan ($15.99/month) to access 4K HDR content, whereas all plans provided by Amazon give access to the entire range of SD, HD, and 4K HDR content. You can watch Amazon videos in more high resolution at $8.99/month, don't need to pay any extra charge as the Netflix users do.
| | Netflix Standard with Ad | Netflix Standard | Netflix Premium | Amazon Prime |
| --- | --- | --- | --- | --- |
| Video Quality | 1080 Max | 1080p Max | 4K Max | 4K Max |
| Free Trial | / | / | / | 30 Days |
| Simultaneous Watch | Two Screen | Two Screens | Four Screens | Three Screens |
| Monthly Price | $6.99 | $15.49 | $22.99 | $8.99 or $14.99 |
| Annual Price | $83.88 | $156 | $275.88 | $119 |
4. Netflix vs Amazon Prime Video: Device Compatibility
Both services are available in web browser, you can navigate to their official websites and stream videos without installing the apps. Plus, you can also stream on a wide variety of devices that offers the Netflix or Prime Video app, including smart TVs, game consoles, streaming media players, smartphones, and tablets. For more details, please find the tables below:
| | Netflix | Amazon Prime |
| --- | --- | --- |
| Support Devices | Amazon devices, Android devices, Blu-ray players, iOS devices, PlayStation 3 and 4 consoles, Set-top boxes, Smart TVs, Xbox One and One X consoles. (Learn More) | Amazon Fire TV, Smart TVs, Game consoles, Streaming media players, Set-top boxes, Smartphones, and tablets, Google Chromecast. (Learn More) |
5. Netflix vs Amazon Prime Video: Download Feature
Both services offer a limited download feature to save videos for offline viewing. For Netflix users, they can download Netflix videos on iPhone, iPad, iPod touch, Android phone or tablet, Amazon Fire tablet, and Windows 10 tablet or computer. But it requires users to have iOS 9.0 or later, Android 4.4.2 or later, Fire OS 4.0 or later, Windows 10 version 1607 (Anniversary Update) or later. You are allowed to download a maximum of 100 titles on a single device at any given time. Worse yet, not all titles can be downloaded, and each downloaded title has a set expiration time. Some videos may last for 48 hours and some may last for 7 days, after you first press play, which is dependent on your subscription and also varied by title.
Amazon Prime Video subscribers are also enabled to download content on Amazon Fire tablet, Android & iOS devices as well as Windows 10 computer. Prime Video titles also have a limited viewing period that varies between different titles. In general, you have 30 days to start watching the downloaded content, and you have to finish watching within 48 hours after your first pressing play. Plus, you can store up to 25 titles on a single device at a time, up to your location.
6. Tips: How to Download Netflix Videos on Windows 7 or 8
For Netflix users, if you want to download Netflix movies or TV shows on Windows 7 or 8 computer, you can turn to some Netflix video downloader. Here you are recommended to use FlixiCam. It is a professional video downloader exclusively for Netflix, capable of downloading any movies and TV shows from Netflix video as HD MP4 or MKV files. Below is the detailed step on how to download Netflix videos on Windows 7 or 8 computers with FlixiCam. Please download the program first before getting started.
Step 1. Run FlixiCam on Windows 7 or 8 PC and click "Sign In" to open the Netflix login window for logging into your Netflix account.
Step 2. Click the Setting button on the upper right corner to adjust the output settings.
Step 3. Just enter the video's name to the search box, then the program will accordingly list all of the related videos.
Step 4. Click on the video to access the video details page or start playing the video. The download button in the bottom right corner will turn green. Click on it to initiate the download process and enter the advanced download window where you can select the desired video quality, file size, audio tracks, and subtitles.
Step 5. Finally, please click the Download icon, the program will start downloading the Netflix videos to the output folder. After downloading, you can click on Library to find the well-downloaded Netflix videos on local drive.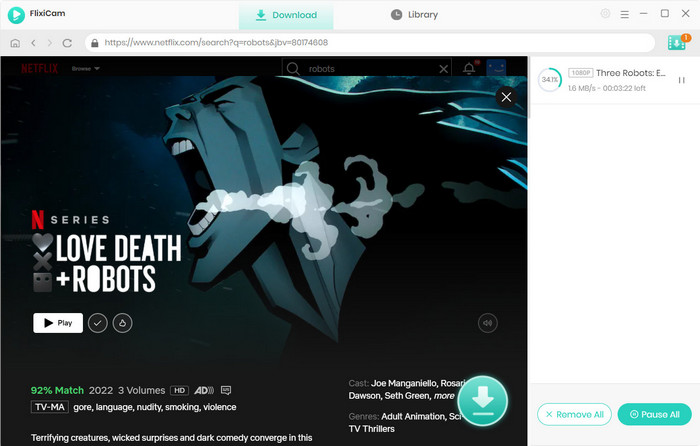 Now all the videos from Netflix are stored as common MP4 or MKV files, you can save them on your computer or transfer to other devices for playback.
7. Final Words:
Overall, both services come with their pros and cons. Amazon Prime Video provides a huge video library with many hard-to-find videos and a comparative cost-effective subscription option, allowing you to spend less money to stream video in 4K resolution. Netflix stands out when it comes to original series, it offers numerous wonderful and famous originals movies and TV shows for you to enjoy the time. If you are a fan of House of Cards, Orange Is The New Black, Bojack Horseman, Stranger Things or more, Netflix should be your go-to service. Both services offer a 30-day free trial period. So, if you are new to these two services, we suggest you give both a try to decide which is best for your needs.