How to Cancel Netflix Plan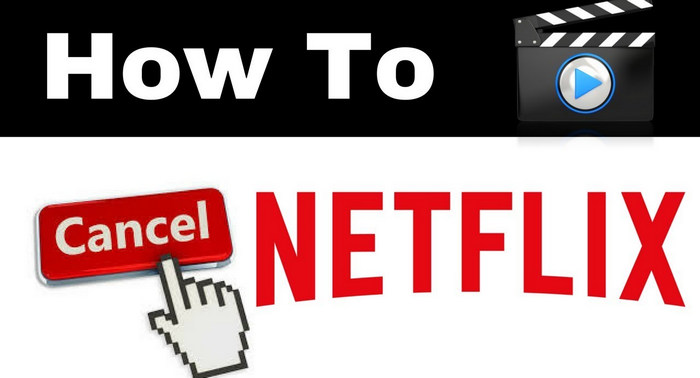 After subscribing to the online service - whether it's cloud transfer, backup service, or music streaming service - it always will be hard to remember their cancellation procedures clearly. Thankfully, Netflix makes cancelling a subscription to its streaming service relatively simple. You can cancel the Netflix subscription at any time, but the process will depend on how you have been billed — directly through Netflix, via iTunes, or through another third-party. Meanwhile, what calls for special attention is that uninstalling any of the Netflix apps or deleting your Netflix profile will not cancel your subscription and you will be still billed. If you're ready to ditch Netflix, here's how to do it:
---
1. Cancel Netflix Subscription on a Web Browser
Step 1. Launch a web browser, go to Netflix.com and sign in your Netflix account.
Step 2. Click the "drop-down" button beside your head portrait at the upper right corner, then please click "Account".
Step 3. Near the top of the page, under Membership and Billing, you can click "Cancel Membership". And please also confirm your decision to cancel.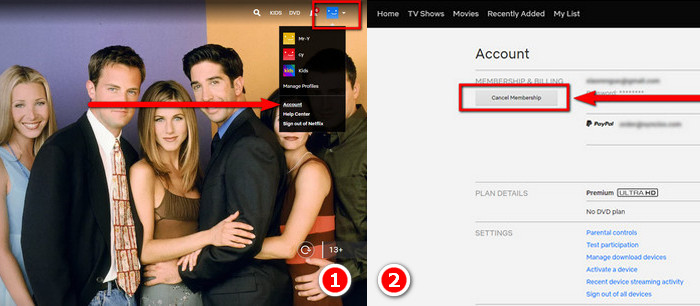 Step 4. If you have a DVD plan, please also click "Cancel your DVD plan" and confirm that you want to do this.
Note: If you don't see the option as above to cancel your account here, you are enrolled in Netflix through a third-party. You should check the information on this page and find out who is billing your Netflix.
---
2. Cancel Netflix Plan through iTunes
Most of the subscriptions can be canceled via the Netflix web page, but if you subscribed through iTunes, you could cancel on your iPhone or iPad. Here are the detailed steps:
Step 1. After starting your iPhone or iPad, click the "Setting" icon.
Step 2. Tap "iTunes & App Store".
Step 3. Tap your Apple ID at the top of the screen, and then tap "View Apple ID" in the window that appears.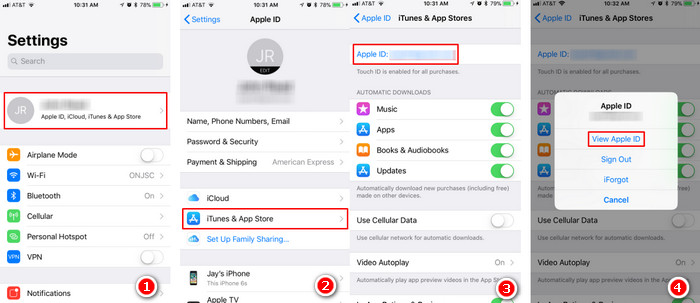 Step 4. Tap "Subscriptions".
Step 5. You will see Netflix in the list of active subscriptions, please tap it.
Step 6. Tap "Cancel Subscription", and then tap "Confirm".
Now, you've succeeded in cancelling Netflix plan through iTunes. Your subscription will remain active through the current pay period.
---
3. Cancel Netflix via Google Play
Step 1. Go to play.google.com/store/account/subscriptions, and please log in to your Google account.
Step 2. Find Netflix in the list of subscriptions, and click the cancel link.
Tips: If you prefer to cancel the Netflix plan on Google Play from your Android device, please follow the same steps.
---
Extra Tips: How to Keep Netflix Videos Playable after Cancelling Subscription
At the end of your current billing period, any of your Netflix downloaded titles will be unavailable to watch. It's extremely depressing that we didn't really own any of the Netflix videos even we've paid for it. Plus, the downloaded videos are also restricted to Netflix app, making us inconvenience if we prefer to enjoy them on other video players. So, what on earth can we do to keep Netflix videos playable after cancelling the plan? Here's an excellent answer to this question: use FlixiCam to download all of your Netflix titles to the common MP4 or MKV format and backup them on your local drive forever.
What is FlixiCam?
An excellent video downloader, especially developed to help users to download Netflix movies & TV shows for backup.

Learn more about FlixiCam >>
FlixiCam is born for those who require more freedom when enjoying videos from Netflix and need to keep videos playable even if cancelling the subscription. With the best video downloading technology, FlixiCam empowers users to download all Netflix videos at high speed with several audio tracks and subtitles saved. Plus, FlixiCam surprises people with a great HD output quality. Anyway, it will be the video downloader you can't miss.
Please give it a trial by clicking the below Download button.
Note: The free trial of FlixiCam allows you to download the first 5 mins of each video in HD quality. You can get different subscription plans (one-month, one year and lifetime) to download the HD videos.