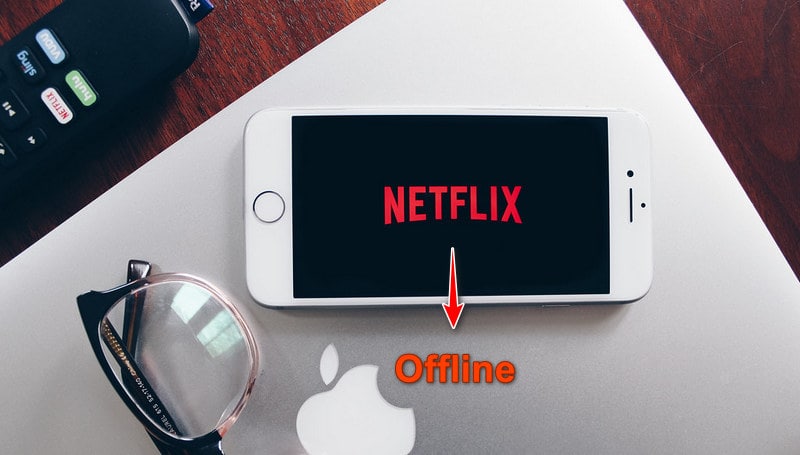 Everything about Watching Netflix Video Offline
The download feature helps you keep your stored files offline, which really comes in handy when you don't have access to a Wi-Fi or cellular connection, like on an underground train, on an airplane or out in the woods on a camping trip.
Of note that, some videos aren't available to be downloaded, and there are some limits set in the downloaded titles. Read on to get everything you need to know about playing Netflix videos offline, and a professional tool to help you download Netflix videos.
Q1: What do I need to download TV shows and movies on Netflix?
The download feature is not available on all devices. The device you use to download video must meet the requirements noted below.
- An internet connection, and
- An active Netflix streaming account, and
- An iPhone, iPad, or iPod touch running iOS 9.0 or later, or
- A phone or tablet running Android 4.4.2 or later, or
- An Amazon Fire tablet running Fire OS 4.0 or later, or
- A tablet or computer running Windows 10 (version 1709 or later) or Windows 11, and
- Chromebook and Chromebox computers using the Netflix app from the Google Play Store.
Q2: How to download Netflix videos?
Step 1 Launch Netflix and log in using your Netflix account. Go into Settings and select between Standard and High, you can change the quality of the videos you download.
Step 2 And then choose the video you want and click the Download icon. You will see a notification at the bottom of the screen letting you know it's downloading.
Step 3 Once the title has completed downloading, please go to the Netflix Menu again and click My Downloads to see all of the content you've downloaded. And now you can enjoy them offline.
Q3: How many titles can I download?
You can download no more than 100 titles to your device at a time, following which you will be greeted by an error when attempting to download any more content.
Q4: How many devices can I download videos on?
The maximum number of devices you can download titles on is all up to your subscription plan. Netflix offers four streaming plans to meet users' needs: Basic with Ads, Basic, Standard, and Premium. The Basic Plan lets you download titles to one phone or tablet, the Standard Plan to two, the Premium Plan to six.
If you have downloads on the maximum number of devices allowed for your plan, you will need to delete all downloads from at least one device before you can download onto a new device.
Q5: Will the downloads expire?
Yes, the download title has an expiration time. Some videos may last for 48 hours and some may last for 7 days, after your first pressing play, which is dependent on your subscription and also varied by title. You can check how many hours you have left on the Downloads page.
Q6: Can I download it again after it expires?
Yes, you can re-download it, but remember that some titles can only be downloaded a certain number of times per year. There is no clear figure for the limit. Netflix partners with content providers to license streaming rights for a variety of TV shows and movies. Thus, the exact amount is up to Netflix's licensing rights for those titles.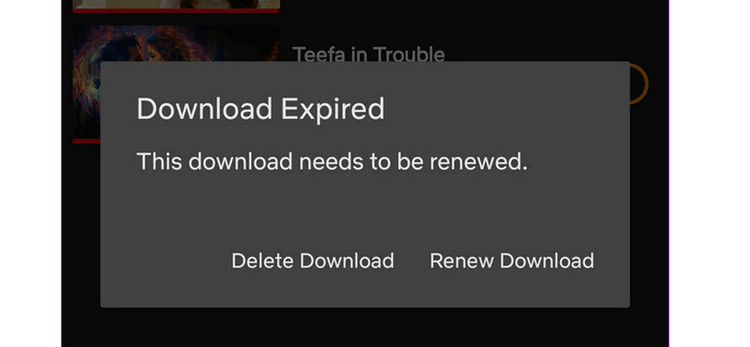 Q7: Where to find Netflix downloads folder?
Step 1. First, open File Explorer from the Task Bar. Because the Netflix folder is a hidden folder, you are required to change the property of the folder if you want to open it.
Step 2. At the top of the File Explorer interface, please select "View" tab and then click on the Option menu button.
Step 3. In Folder Options, select the View tab and scroll to the Files and Folders settings. If it's not checked, please select the Show Hidden files, folders, and drives setting to enable it. Make sure to select OK and the menu will close out.
Step 4. From the File Explorer, you can navigate to the Netflix download folder by directly copying and pasting the path into the explore box. The full path is: C:\Users\[USERNAME]\AppData\Local\Packages\4DF9E0F8.Netflix_mcm4njqhnhss8\LocalState\offlineInfo\downloads.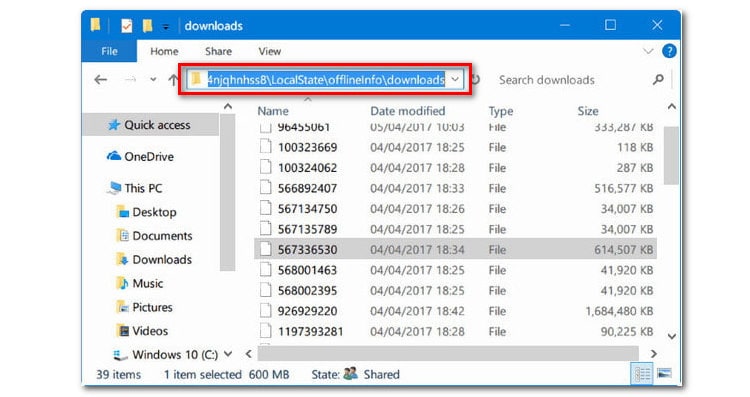 Here [USERNAME] is the Windows folder with your current username.
Q8: Can I watch Netflix downloads after the subscription ends?
No. All these titles will be no longer available to access once your subscription is over, regardless of when they were downloaded. If you need to download them for saving forever, please follow this guide: How to Keep Netflix Downloads Playable After the Subscription is Over.
Q9: Can I download Netflix video on Windows 7 or 8?
The download feature is not available on Windows 7 or 8 computer. Therefore, you need to turn to some tools to download Netflix videos for playing on Windows 7 or 8 computers offline. Here you are strongly recommended to use FlixiCam. It is a professional video downloader exclusively for Netflix, capable of downloading any movies and TV shows from Netflix as HD MP4 or MKV files. Below is the detailed step on how to download Netflix videos on Windows 7 or 8 computers with FlixiCam. Please download the program first before getting started.
Step 1. Run FlixiCam and enter any word in the search box to open the Netflix login window for logging into your Netflix account.
Step 2. Tap the Setting icon on the upper right corner. The settings window will pop up to allow you to customize the output format (MP4 or MKV), output quality (High, Medium, Low), output path, and so forth.
Step 3. Then you can add Netflix videos by entering the name of movies & TV shows or copying and pasting the link of videos from Netflix Web Player to it. After inputting the video's name or link, simply press "Enter" button on your keyboard, and the program will list the video or all of the related videos soon.
Step 4. FlixiCam added advanced download settings to allow you to select the audio track and subtitle as needed. When downloading TV shows, the windows can be accessed by clicking the Download icon > "Advanced Download". If you try to download a movie, please click the "Advanced Download" icon beside "Download" to open the window.
Step 5. The final step is hitting "Download", the program will start downloading the Netflix videos to the output folder. After downloading, you can click on Library to find the well-downloaded Netflix videos on local drive.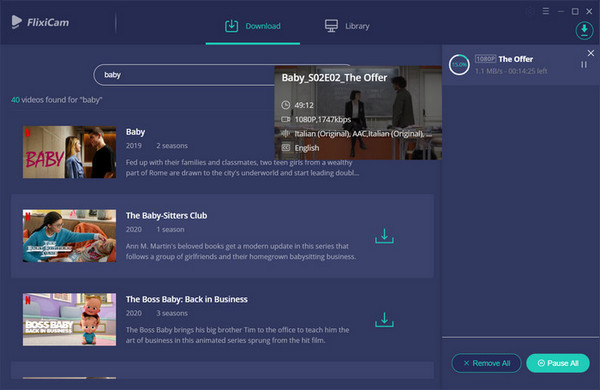 Now all the videos from Netflix are stored as common MP4 or MKV files, you can save them on your computer or transfer to other devices for playback.
Conclusion
How many titles can I download? How many devices can I download videos on? Any questions about watching Netflix offline, please read the article to get the best answer. Furthermore, if you expect to download Netflix video on Windows 7 or 8, FlixiCam will give a hand. It is capable of downloading any video from Netflix as an HD MP4 or MKV file. And FlixiCam provides the free trial version. If you don't believe it, simply give it a try. Of course, the trial version only allows you to download the first 5 mins of each video in HD quality. To get the full video, please purchase a license.