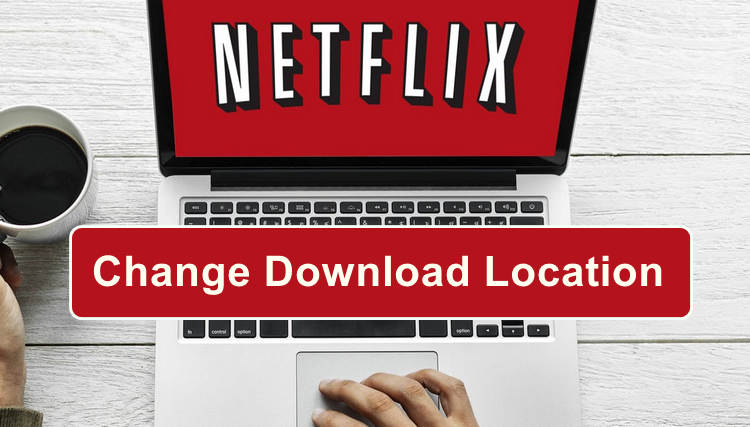 How to Change Netflix Download Location in Windows 10
Netflix offers the ability to download TV shows, movies, documentaries, and more on Windows 10 computers for offline watching. By default, the downloaded titles will be saved on the drive where the app is installed, generally the main drive (C:). For some movie lovers, if you download plenty of videos from Netflix regularly, then you might run out of storage space soon, and will experience some serious performance issues on the computer, such as lag, freezing programs.
It's time to free up your space by moving those Netflix downloads to another drive or external hard drive. Do not worry if you've never done it before, because here we are going to show you where are Netflix downloads saved on Windows 10 and how to change the download location of Netflix video. Plus, you will also get an easy workaround to download Netflix videos without installing the Netflix app.
Part 1: Where are Netflix Downloads Saved in Windows 10?
You can also follow these steps to locate Netflix downloads. Typically, the full path of Netflix downloads location is:
C:\Users\[USERNAME]\AppData\Local\Packages\4DF9E0F8.Netflix_mcm4njqhnhss8\LocalState\offlineInfo\downloads
Step 1. First, open File Explorer from the Task Bar. Because the Netflix folder is a hidden folder, you are required to change the property of the folder if you want to open it.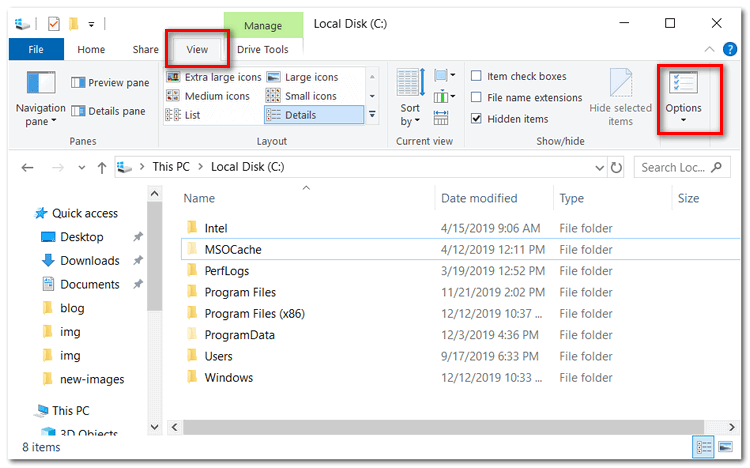 Step 2. At the top of the File Explorer interface, please select the "View" tab and then click on the Option menu button.
Step 3. In Folder Options, select the View tab and scroll to the Files and Folders settings. If it's not checked, please select the Show Hidden files, folders, and drives setting to enable it. Make sure to select OK and the menu will close out.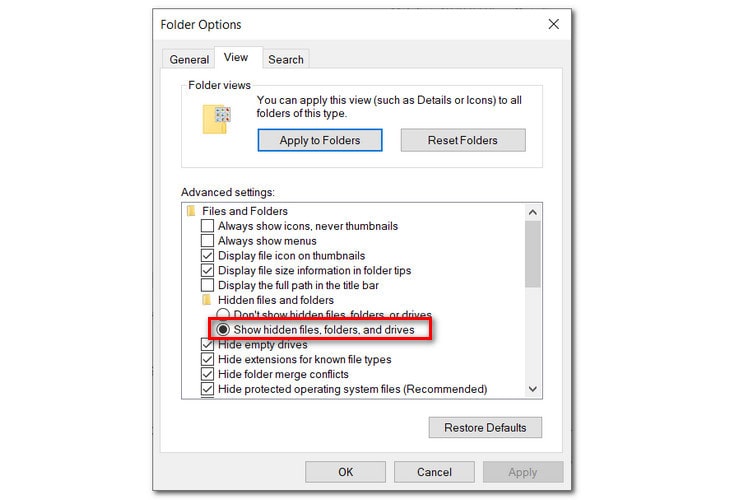 Step 4. From the File Explorer, you can navigate to the Netflix download folder by directly copying and pasting the path into the explore box. Remember, the full path is: C:\Users\[USERNAME]\AppData\Local\Packages\4DF9E0F8.Netflix_mcm4njqhnhss8\LocalState\offlineInfo\downloads.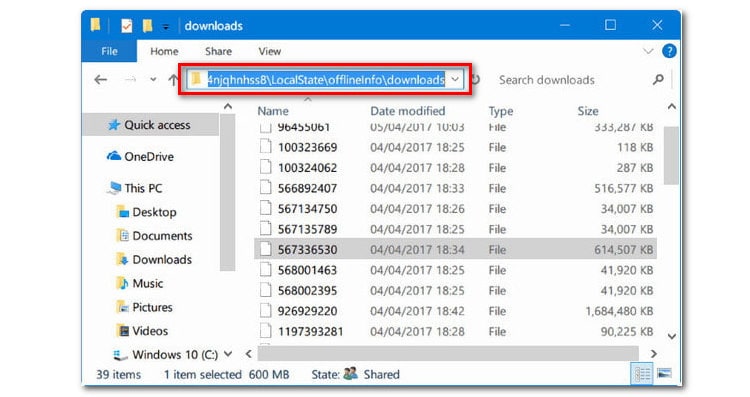 Here [USERNAME] is the Windows folder with your current username.
Now the folder is opened, but please note, there are no file names that can help you identify the movie or show. All files in that folder are unknown data files, and cannot be recognized by any media players except the Netflix app.
Part 2: How to Change Netflix Download Location in Windows 10?
As known, the Netflix app for Windows 10 offers no way to change the download location. Worse yet, all the downloads will be invisible and unplayable once you move them to another driver. In which case, if you want to change the download location while keeping the downloads playable as normal, the only way is to move the installed Netflix app. After you move the Netflix app to the new drive, Netflix will save all videos into the new location. Let's see how to change the location of the Netflix app.
Step 1. Go to the Windows Start Menu and open Settings, then navigate to Apps > Apps & features.
Step 2. Scroll down and find the Netflix app. Click on Netflix to see Move and Uninstall buttons.
Step 3. Click the Move button and then select your desired drive to save the Netflix app and Netflix downloads. Please make sure that the drive has enough free space.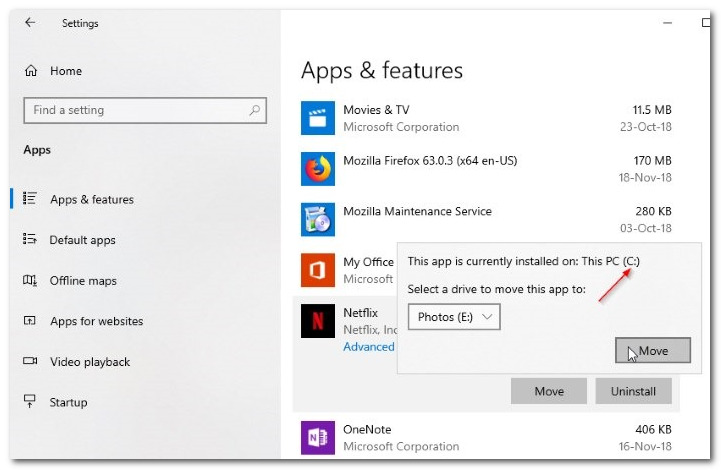 Step 4. Then, tap the Move button again to move the Netflix app.
Please do remember that if you set the USB drive or external drive as the new download location, you are required to have it plugged in every time you stream Netflix.
Part 3: Download Netflix Video without Installing Netflix App?
If you expect to download Netflix video without caring about the space, or without installing Netflix app, then be sure not to miss this workaround. Here all you need is FlixiCam. The program is a truly professional Netflix video downloader, capable of downloading any video from Netflix in MP4 format with multiple audio tracks & subtitles and HD video quality persevered. With its help, you can store all your favorite Netflix videos onto the computer and transfer them to any of your devices for playback.
A powerful video downloader, dedicated to helping users download any movie and TV shows from Netflix, so as to enjoy Netflix video freely.

Learn more about FlixiCam >>
The following is the detailed tutorial to guide you to download Netflix videos with FlixiCam. Please download FlixiCam program first before getting started.
Tutorial: Download Netflix Video with FlixiCam
Step 1. Run FlixiCam on PC and Log into Netflix Account
Run FlixiCam on Windows PC and enter any word in the search box to open the Netflix login window for logging into your Netflix account.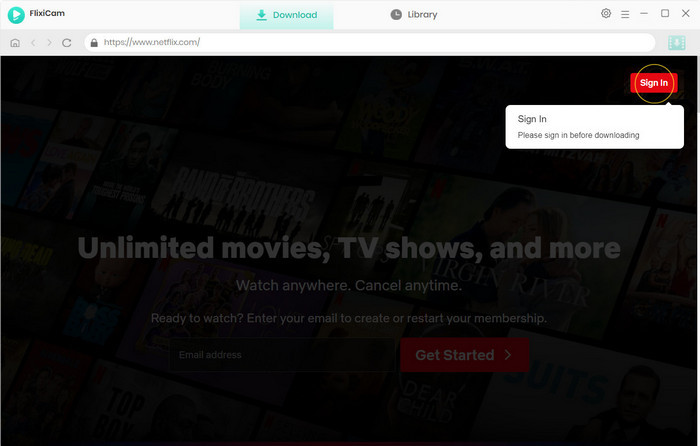 Step 2. Customize the Output Settings
Click the Setting button on the upper right corner to customize the output quality (High, Medium, Low), output path, audio and subtitles language, etc.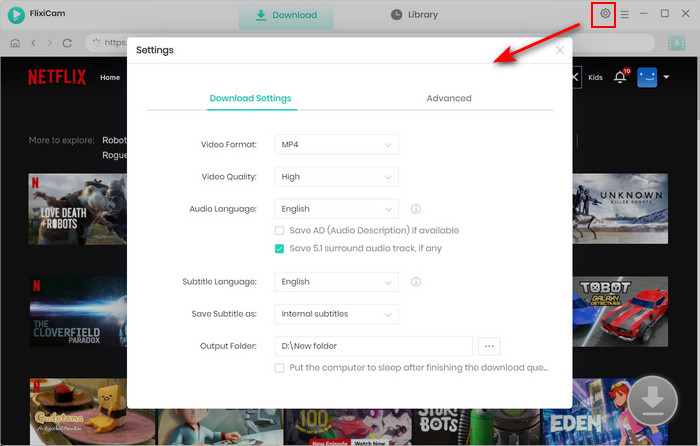 Step 3. Search Videos on FlixiCam
FlixiCam enables you to import videos by entering the name of movies & TV shows or copying and pasting the link of videos from Netflix Web Player to it. After inputting the video's name or link, simply press "Enter" button on your keyboard, followed that the program will list the video or all of the related videos.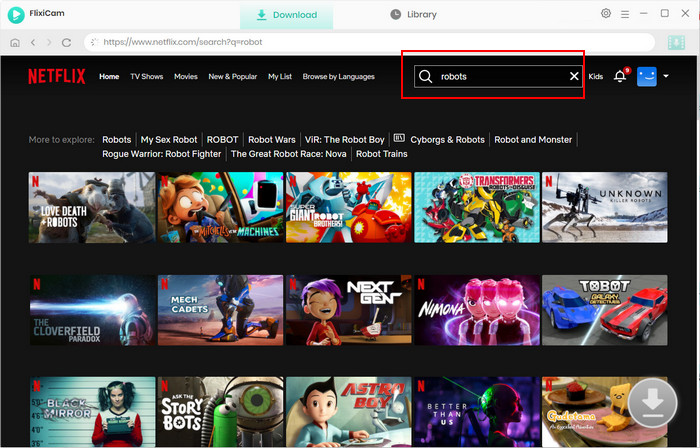 Step 4. Select Audio Track and Language
FlixiCam added advanced download settings to allow you to select the audio track and subtitle as needed. If you are trying to download a TV show, simply click the Download icon, following that a window will pop up allowing you to select titles as well as seasons, and to choose audio track and subtitles by clicking "Advanced Download" in the bottom left corner. If you try to download a movie, please click the "Advanced Download" icon beside "Download" to open the window.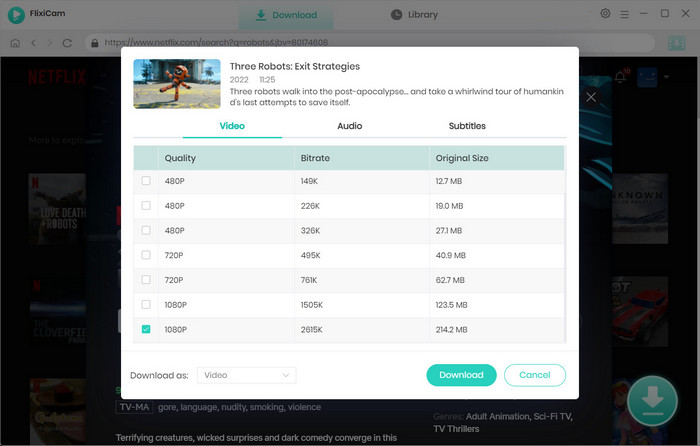 Step 5. Start to Download Netflix Videos
Simply click the Download icon, the program will start downloading the Netflix videos to the output folder. After downloading, all the videos from Netflix will be stored on your flash drive as common MP4 files.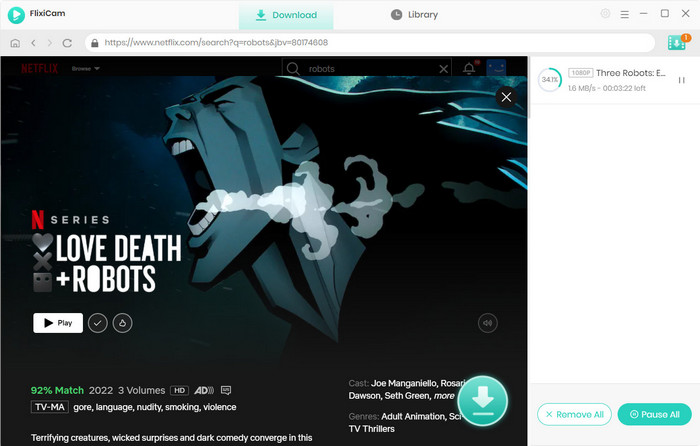 Conclusion
You can find all answers here, whether you want to locate the Netflix downloads, or change the Netflix download location on Windows, or download Netflix video without installing Netflix app. Besides, it's worth mentioning that FlixiCam is capable of downloading any video from Netflix as an HD MP4 file, and it offers the free trial version. If you don't believe it, simply give it a try. Of course, the trial version only allows you to download videos in lower quality (480p) with one audio track and subtitle kept. To enable all its features, please purchase a license.