Netflix Review: Which Netflix Plan is Best for You?
The streaming giant, Netflix, has a lot of great shows that attract people to subscribe to Netflix plans, including many original series and movies. Since the ad tier was added to your Netflix subscription, your options have expanded, allowing you to stream Netflix at lower costs. Many potential customers who want to subscribe to Netflix are confused about these plans, and don't know which one has more features. At the same time, many old users are faced with the question of whether to change their original subscriptions.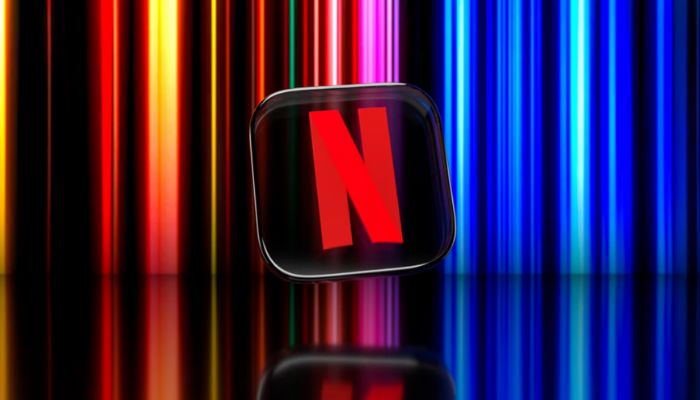 This article will take you through the differences between Netflix's existing four subscription plans (three in some countries). At the same time, in this article, you will know which plan is suitable for which group of people, features of each subscription, and some frequently asked questions, including whether Netflix has a free trial, compatible devices, subscription prices, and how to download and share Netflix.
Scroll down for more information.
Part 1: Netflix Plan Tiers
Basic with Ads Plan
As its name implies, this plan is the ad-tier of Netflix plan, and there will be ads when you're watching Netflix videos. There may be a few pre-roll ads and one or two ad breaks during the videos, depending on what you are watching. The advertisements can run for 30 to 75 seconds. If you watch 1-hour long Netflix videos, there will be 4-5 minutes ads.
Except for ads, a major downside is the limited video library. Some third-party content (5% to 10%) will be missing, but fortunately, Netflix originals such as Stranger Things will be kept.
Basic with Ads plan is best for you if you don't have a need of watching all Netflix content. And if you want to download Netflix content, this plan is not for you because you can't download videos with this plan. But there is another way to download Netflix videos, please check out the tutorial below.
Basic Plan
The Netflix Basic plan is a budget-friendly option. You can access all of the Netflix movies and TV shows available on the other subscriptions for just $9.99 per month, but there are some limitations. You can only stream and download on 1 supported device at a time. You can't enjoy watching in Full HD either. For those who live alone, and have no need for streaming or downloading on multiple devices, this plan is best for you.
Standard Plan
The Standard plan, which offers a variety of features, is Netflix's most popular plan. Two simultaneous streams and two devices for downloads are available if you subscribe to this plan. Besides, the video resolution is upgraded to 1080p (Full HD). If you have a high standard of video quality, and have a need for watching on multiple screens, this plan is for you. And standard plan is also suitable for small families or people living in the same household.
Premium Plan
The Premium plan, which costs $19.99 a month and is a step above the other three, is the most expensive of the four. You will also enjoy the best watching experience because more features are provided including 4K (UHD) video quality, more simultaneous screens, and spatial audio. If you want to share with your family and friends, this plan is best for you.
You can take this plan into consideration if the cost is not a concern for you. However, please note that not every video on Netflix is available in 4K, and your hardware is the most crucial component to stream 4K videos. If your screen doesn't support 4K playback, then you can't stream in 4K, instead, the content will be streamed in 1080p or below. To see if the titles you want to watch are available or not, type "4K" in the search bar directly.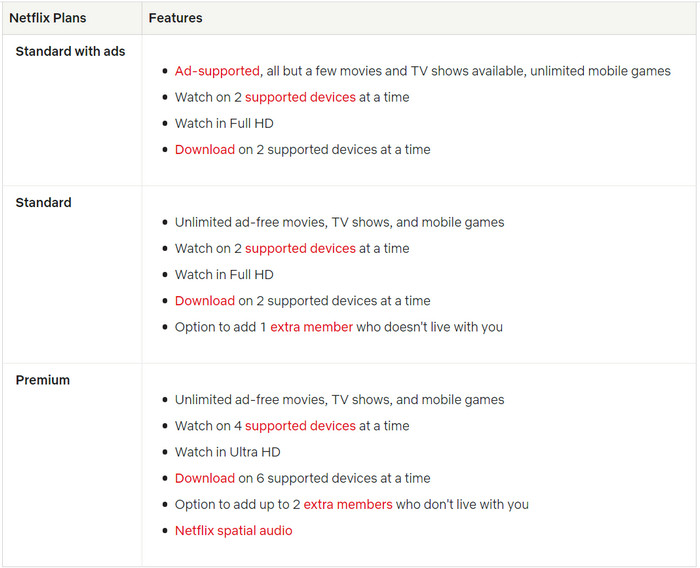 1. Does Netflix have free trial?
Unfortunately, Netflix does not offer free trials anymore, but you can change your plan or cancel online at any time if you decide Netflix isn't for you. There are no contracts, no cancellation fees, and no commitments.
2. How much does a Netflix subscription cost?
Take the price of Netflix plans in the US as an example, Basic with ads costs $6.99/month, Basic plan costs $9.99/month, Standard $15.49/month, and Premium $19.99/month. Subscription fees may vary in different areas. To know Netflix's prices in different countries, please go to Netflix, choose your country, and see the price for each plan.
3. Which devices are compatible with Netflix?
You can stream Netflix videos on almost all devices, and they are streaming media players, smart TVs, game consoles, set-top boxes, Blu-ray players, smart phones & tablets, PC & laptops. But devices you can download Netflix content on are limited. You can only download Netflix on Amazon Fire tablets (Fire OS 4.0 or later), Android (Android 4.4.2 or later) & iOS (iOS 9.0 or later) devices, Windows 10 & 11 tablets or computers, and Chromebook and Chromebox computers. To learn more detail about this, please go to Netflix and see if your device is compatible with Netflix.
4. Does Netflix have ads?
It depends on which plan you subscribe to. There are ads when you're watching Netflix movies or series if you're subscribing to Basic with Ads plan. If your subscription plan is Basic/Standard/Premium Plan, no ads will interrupt you while watching Netflix content. Please note that Basic with Ads plan is available in the U.S., the U.K., France, Germany, Italy, Australia, Japan, Korea and Brazil currently. Users in other countries can only select their plans among Basic, Standard, or Premium plan.

5. How to share Netflix with your family or friends?
You can share your account with your family and friends in countries that haven't launched the password crackdown yet. Users in Canada, New Zealand, Portugal, and Spain are not allowed to share their passwords with others. A Netflix account is meant to be shared in one household (people who live in the same location as the account owner). If people you want to share an account with don't live in the same household as you, they need to create a separate account for streaming Netflix. However, only 2 sub-accounts can be created. Or you can pay more to add extra users. To learn more detailed information about the password crackdown, please click here.
Here comes the problem: How can you share Netflix with others easily? You just need a powerful Netflix video downloader—FlixiCam.
Part 3: Download and Share Netflix Videos with FlixiCam
This is a video downloader that can help you download Netflix videos with all Netflix plans including Basic with Ads plan, share Netflix videos with an unlimited number of people. By downloading Netflix videos in MP4/MKV files, you can share them with anyone (only for personal use). As downloaded files will not expire, you can keep the videos forever locally. You can download up to 1080P resolution videos by using FlixiCam, and Dolby 5.1 surround sound will be preserved, thus significantly improving your viewing experience. To satisfy various needs, multilingual subtitles are provided. You can get our app for free on both Windows and Mac computers from the links below.
Watch Netflix titles offline on more devices by using FlixiCam to download them in a widely-accepted format - MP4!

Learn more about FlixiCam >>
Below is a tutorial for downloading Netflix videos. Continue reading and try it on your own.
Tutorial: How to Download Netflix videos with FlixiCam?
Before sharing without restrictions, you can download the videos you want by using FlixiCam first.
Step 1.  Open FlixiCam and Log into Netflix Account
On your PC, download and launch FlixiCam, then click "Sign In". In the pop-up window, you can log into your Netflix account.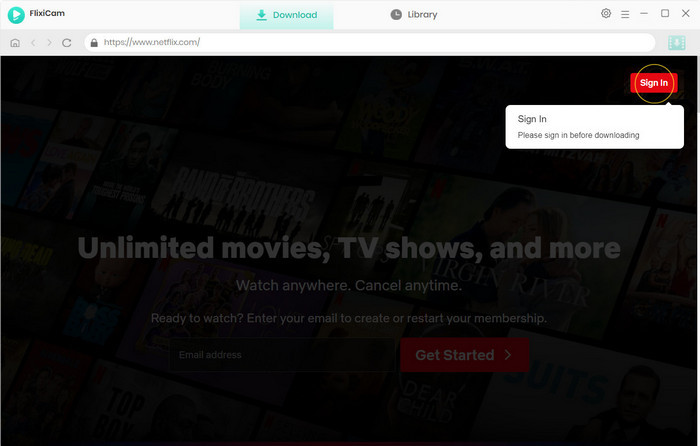 To use FlixiCam's services, you need a Netflix account. Fret not, FlixiCam won't collect any information other than the videos. Your privacy can be guaranteed to the greatest extent.
Step 2. Customize the Output Settings
To access the settings window, click the Gear icon. The output format (MP4 or MKV), output quality, output folder, and the audio and subtitle languages are all selectable. You can also choose to download 5.1 audio tracks if needed.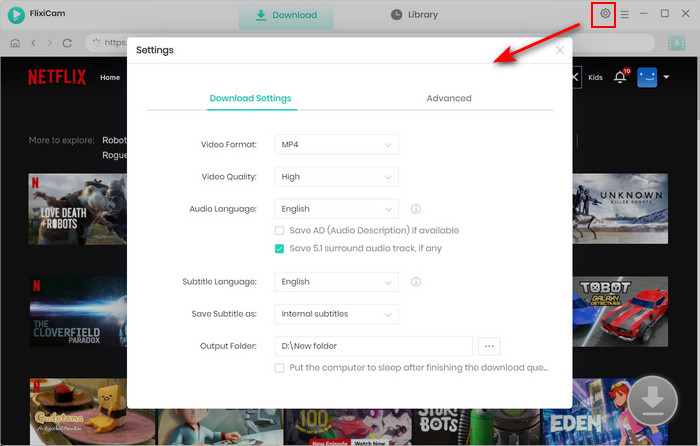 Step 3. Add Videos on FlixiCam
In this step, you can add videos you want to download easily. Just enter the video name or keywords to the search bar, the outcomes will be displayed right away.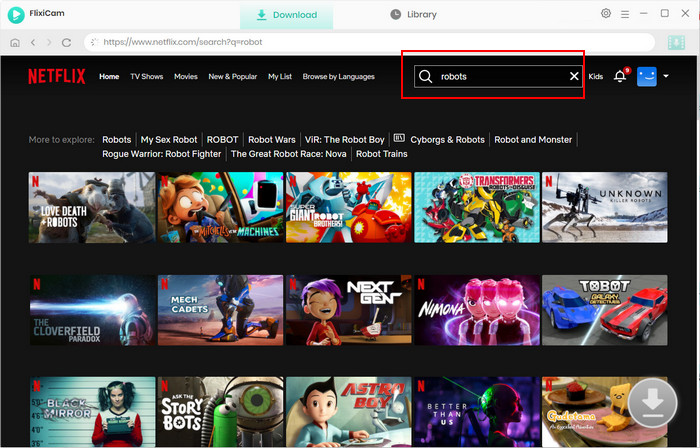 Step 4. Select Audio Track and Subtitle
In this step, you can modify the download preferences for specific videos if needed.
If the title you want to download is a movie, simply click the green Download icon, and you can choose the video quality, audio tracks, and subtitles.
If you want to download TV series, click the download button, and you can choose which season and episode you want to download. You can download a whole season, or just a few episodes.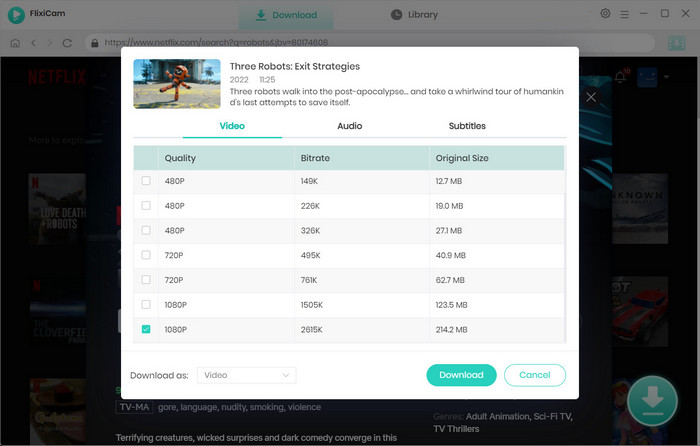 Step 5. Start to Download Netflix Videos
The videos you've added to the download list will be downloaded at very speed once you click the download button.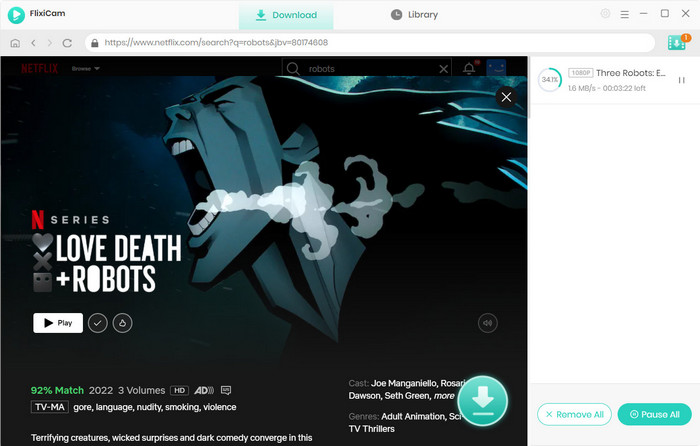 These videos will be saved as MP4/MKV files after you finish downloading videos on your computer. You can choose to transfer them to any device that is compatible with these two formats, or share them with others. All videos downloaded by FlixiCam will not expire. Now you can enjoy your downloads!
Recap
Here is a table of all Netflix subscription plans and their features. Now you can choose one plan according to your needs and budget after the previously detailed introduction.
| | Basic with Ads | Basic | Standard | Premium |
| --- | --- | --- | --- | --- |
| Free Trial | No | No | No | No |
| Monthly Price | $6.99 | $9.99 | $15.49 | $19.99 |
| No Ads | No | Yes | Yes | Yes |
| Video Quality | HD (720p) | HD (720p) | Full HD (1080p) | Ultra HD (4K) |
| Simultaneous Watch | 1 Screen | 1 Screens | 2 Screens | 4 Screens |
| Download Feature | No | 1 Device at a time | 2 Devices at a time | 6 Devices at a time |
| Download with FlixiCam | Yes | Yes | Yes | Yes |
Is Netflix worth it? This problem can be answered only after you try it. Hope this article will help you if you want to figure out the differences between these four subscription plans. Of course, there is always no perfect choice, and every plan has its backward. For example, you can't download Netflix with Basic with Ads plan, and all videos downloaded by Netflix app will expire. Don't worry, FlixiCam is a handy tool to help you download Netflix videos. By using it, you can enjoy downloading with Basic with Ads plan. Moreover, you can keep them forever, or share videos with others easily! Don't hesitate to try FlixiCam, and start your free trial now!