All about '365 Days: This Day' (Stream and Download)
Welcome to the world of "365 Days: This Day," a mesmerizing film that takes viewers on an unforgettable rollercoaster ride of passion, desire, and suspense. In this article, we will delve into the captivating storyline, talented cast, and some frequently asked question about it.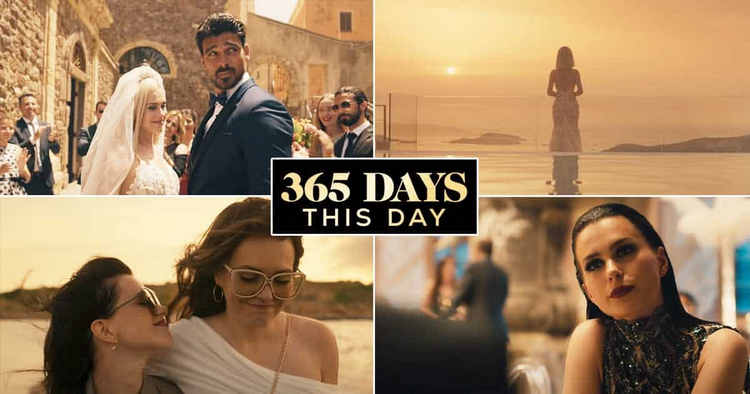 1. What is 365 Days: This Day about?
'365 Days: This Day' is the sequel to the Polish erotic romantic drama film "365 Days," continuing the story of Laura and Massimo. Their reunion after a lengthy separation proves to be tumultuous as they face the complexities of Massimo's family connections and the disruptive influence of a mysterious man named Nacho, who is determined to win Laura's affection and trust at any cost.
2. Where to watch '365 Days: This Day'?
All the trilogy including 365 Days (2020), 365 Days: This Day(2022) and The Next 365 Days(2022) are available on Netflix. Simply subscribe to it, you can watch them online and offline.
3. Is 365 Days: This Day the last movie?
No, currently the last movie is The Next 365 Days, which was released on August 19, 2022. Will there be a fourth? 365 Days 4 has yet to be confirmed by Netflix so there isn't an official release date. And it's always a good idea to keep an eye on official announcements from the filmmakers or production companies for any updates about future installments in the series.
4. Did Massimo and Laura actually do it in 365 Days: This Day?
The movie sparked extensive discussions regarding its incredibly lifelike sex scenes, which were executed with such skill and authenticity that numerous viewers believed the actors were genuinely engaging in sexual activity on screen. However, in an interview with Variety, Cierlica emphasized that despite the convincing portrayal, the sex scenes were entirely staged.
5. What does The Next 365 Days tell about?
After surviving the attack by Massimo's late twin brother, Adriano, Laura struggles with her feelings for both men. Despite being married to Massimo, she finds herself drawn to Nacho, leading to a secret affair. Meanwhile, Massimo grapples with his own issues, including controlling behavior and unresolved grief over the loss of their baby.
As the story unfolds, Laura seeks solace in her career and faces the dilemma of choosing between the two men. Her internal conflict is further complicated by external pressures, including concerns about her safety and the looming threat of divorce.
6. How to download 365 Days: This Day in 1080P?
If you want to permanently collect this hot hit, or want to watch it offline on your Mac, or share it with your friend, then a professional Netflix movie downloader is needed for you to download hot Netflix movies in MP4 format. After exporting this popular film 365 Days: This Day as MP4 files, you can keep it forever or share it with your friend with freedom.
To download Netflix movies, you are recommended to use FlixiCam. It is a top-ranking downloader for Netflix users to download hot films or shows in MP4 or MKV format and save them locally for watching anytime anywhere.
The maximum quality of output video is 1080P. What's more, this smart downloader is capable of preserving 5.1 surround sound and several audio tracks & subtitles. It works on both Windows and Mac computers. No matter you are running Windows 7, 8 or Mac computer, you can use it to save 365 Days to your devices and watch it offline. In a word, this Netflix Video Downloader must be the top tool you can't miss.
Fully compatible with Windows 7, 8, 10, 11, and Mac computers, FlixiCam grants you the ability to watch Netflix offline anywhere anytime!

Learn more about FlixiCam >>
Tips: FlixiCam needs to work with a valid Netflix account, so please do make sure your Netflix subscription is still within the validity period. Plus, please note that FlixiCam doesn't support to get 1080P video while working with Netflix's Basic and Basic with Ads plan.
Tutorial: Download '365 Days: This Day' with FlixiCam
Next, follow us to learn how to download '365 Days: This Day' with FlixiCam. Please download FlixiCam program first before getting started.
Step 1. Run FlixiCam and Log into Netflix Account
First, you need to sign in with your Netflix account by entering any word in the search box to open the Netflix login window.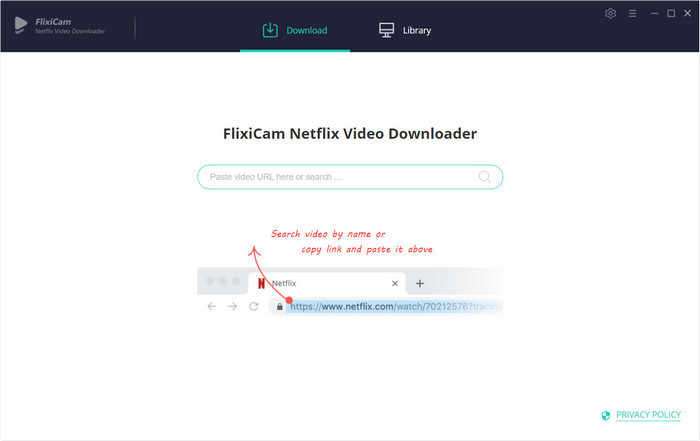 Step 2. Customize the Output Settings
Now tap on the Gear icon to open the General Settings window and customize output settings. Here you can select the output format (MP4 or MKV), output quality (High, Medium, Low), change output path, and more.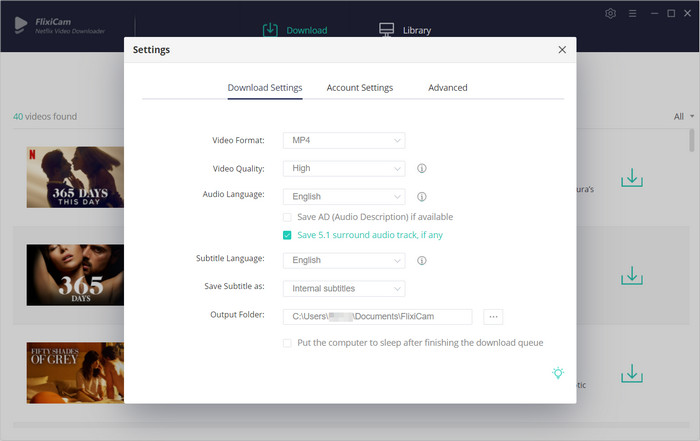 Step 3. Add Videos on FlixiCam
Then you can add video for downloading. Enter "365 Days" or the video's link copied from Netflix web player, and then the program will list the movie or all the related videos.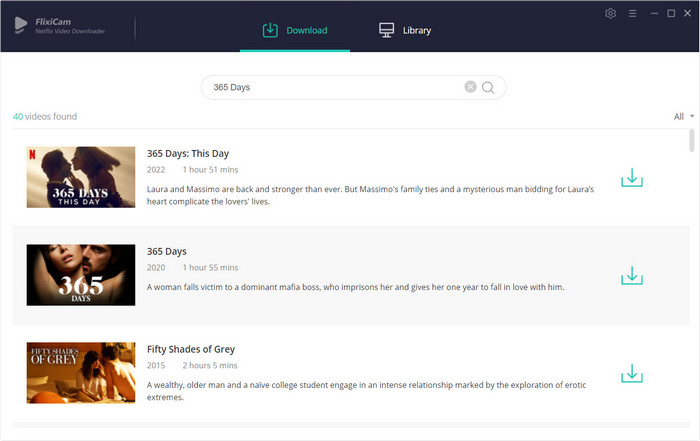 Step 4. Select Audio Track and Subtitle
Simply click the Download icon, followed that a window will pop up allowing you to select titles as well as seasons, and to choose audio track and subtitles by clicking "Advanced Download" in the bottom left corner.
Step 5. Start to Download Netflix Movie
Finally, click the "Download" icon, then the program will start downloading '365 Days: This Day' in MP4 format.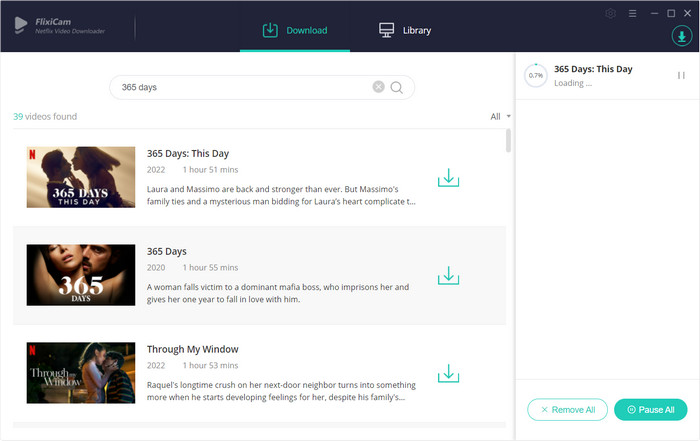 Then, you can click on Library to find the well-downloaded videos on local drive. Now you can play the hot film on your devices freely.
Conclusion
If you want to add some hot films to your collection, do hesitate to use FlixiCam to download them in MP4 format. FlixiCam does a great job in downloading Netflix movies and shows in MP4 or MKV format with HD quality kept. With it, you can keep all your favorite movies or TV shows on your devices and watch them anytime. If you don't believe it, simply give it a try.