Orange Is The New Black Full Download in MP4 (HD 1080P)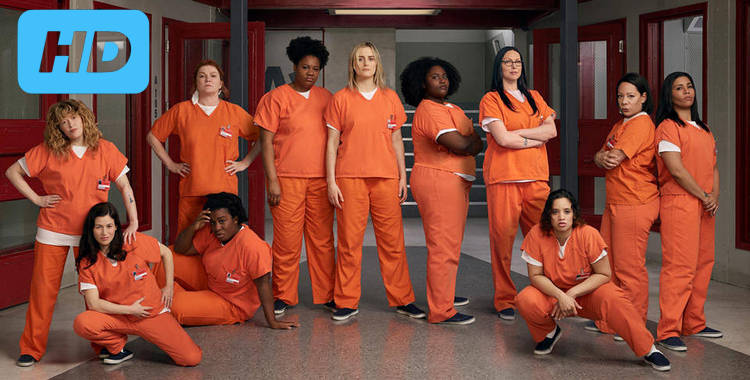 When the first episode of Orange Is The New Black landed on July 11, 2013, nobody could have predicted it can be the most-watched as well as the longest-running original series on Netflix. It was widely and highly praised for a host of compelling characters and an intriguing flashback structure and has received many awards.
While Netflix allows you to download this show on Fire tablets, iOS, Android and Windows 10 devices for watching offline, there are many limits placed on the download feature. If you are wondering how to save all seasons of Orange Is The New Black and watch them on more devices without limits, however, we can help. Here is how you can download Orange Is The New Black from Netflix in MP4 format with HD quality kept so that you can keep them on devices and watch without restrictions. The tutorial also works on other Netflix movies and TV shows.
Best Netflix Video Downloader - FlixiCam
The titles downloaded within the Netflix app are not transferrable across devices and will be no longer playable once your subscription runs out. So, the key to keeping your favorite Netflix series forever is using a professional Netflix downloader and downloading Netflix videos in MP4 format.
Whether you have a Windows 7, 8, or Mac computer, you can use FlixiCam to store Netflix movies and TV shows as MP4/MKV files. It is a pretty handy video downloader for Netflix – supports downloading any TV shows, movies, documentaries, or more from Netflix with HD quality as well as multi-language audio tracks and subtitles preserved. It comes with an intelligent information processing core, which enables you to locate your desired videos for download by using keywords or video links. Batch Mode is also available. Simply add all titles to the download queue, the smart tool will download them automatically one by one.
The preferred choice for those who expect to download Netflix videos and transfer them to USB drive!

Learn more about FlixiCam >>
Tips: FlixiCam needs to work with a valid Netflix account, so please do make sure your Netflix subscription is still within the validity period. Plus, please note that FlixiCam doesn't support to get 1080P video while working with Netflix's Basic and Basic with Ads plan.
Tutorial: Download Orange Is The New Black Season 1-7 with FlixiCam
The process is effortless to download Orange Is The New Black with FlixiCam. Before you start, please make sure you've installed the latest version of FlixiCam program.
Step 1. Run FlixiCam and Log into Netflix Account
After opening FlixiCam on your computer, simply follow the provided instructions and click on the "Sign in" option to log in to your Netflix account.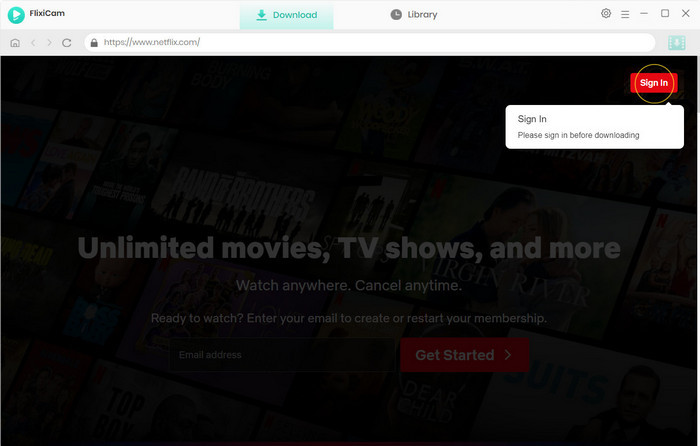 Step 2. Customize the Output Settings
Tap on the Gear icon to open the General Settings window and customize output settings. Here you can select the output format (MP4 or MKV), output quality (High, Medium, Low), change output path, and more.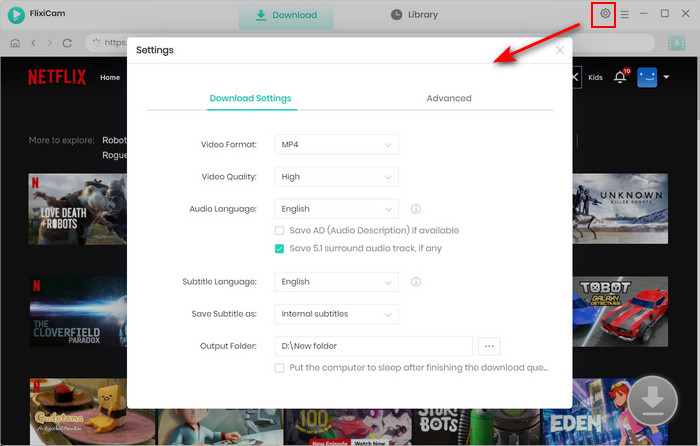 Step 3. Add Videos on FlixiCam
Then you can add video for downloading. Enter "Orange Is The New Black", and then the program will list the show.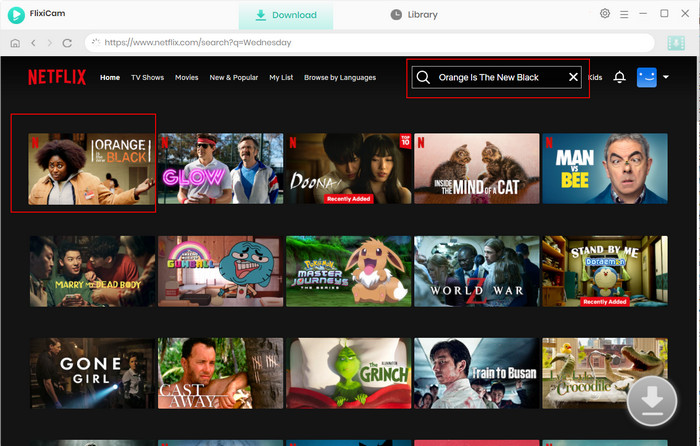 Step 4. Select Audio Track and Subtitle
To initiate the video download, just click on the desired video. Watch as the gray Download icon located at the bottom right transforms into a green color. Tap on the green icon and you'll gain access to options such as selecting the season, titles, video quality, audio track, and subtitles.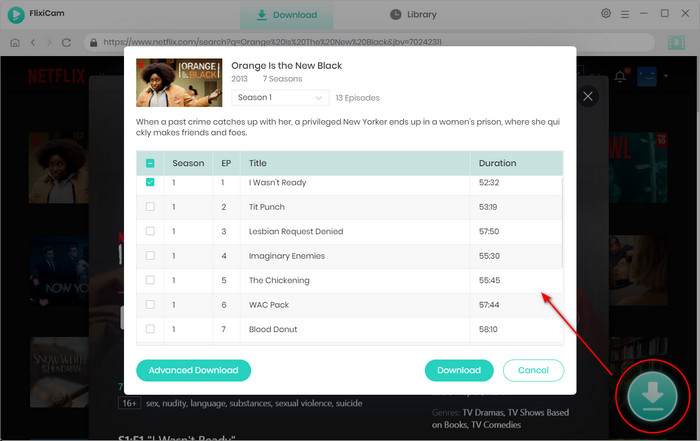 Step 5. Start to Download Netflix Videos
Finally, please click the "Download" icon to start downloading episodes of Orange Is The New Black in MP4 format.
Afterward, you can click on Library to find the well-downloaded videos on local drive. Now all those videos are stored in MP4 format, you can play them on your devices freely.
Conclusion
It is pretty easy to download Orange Is The New Black from Netflix in MP4 format, right? All you need is FlixiCam. Once downloaded, the show will be stored on your devices forever. You can watch them anywhere anytime.