[Solved] How Can I Cast Netflix to My TV without WiFi?
Consider a scenario where your TV is located in a room with weak or no Wi-Fi signal, or perhaps your TV lacks built-in Wi-Fi connectivity altogether. In such cases, you may wonder how to cast Netflix videos to that TV.
Fortunately, there are several methods available to watch Netflix on your TV without relying on Wi-Fi. For instance, you can turn your smartphone into a wireless router and utilize Google Chromecast to cast videos onto the big screen. Another option involves using an Ethernet connection, HDMI cable, or Google Chromecast's Guest Mode.
However, these approaches often involve complex configurations and settings. In this situation, the most convenient and straightforward solution is to pre-load your favorite Netflix movies or series onto a USB flash drive and directly plug it into the TV, allowing you to enjoy your content without a network connection.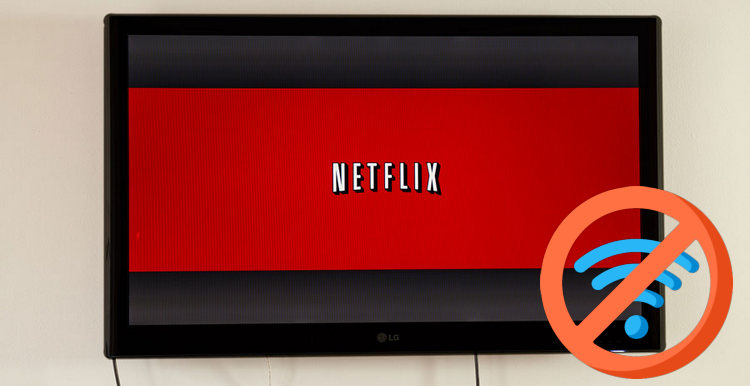 Make Netflix Video Transferrable across Devices
To accomplish this, you'll need a dedicated Netflix video downloader, and we highly recommend FlixiCam. FlixiCam offers broad cross-platform compatibility, supporting both Windows and Mac computers. It allows you to download any Netflix titles in MP4 or MKV format at 5X faster speed.
With FlixiCam, you can save your preferred Netflix videos on your devices and transfer them to other devices for offline viewing, even without the Netflix app or an internet connection. The downloaded videos can be up to 1080P in quality, and you don't need to worry about audio tracks as FlixiCam preserves 5.1 surround sound, multi-language audio, and subtitles according to your preferences.
The most top-leading downloader that can help you store Netflix videos locally forever!

Learn more about FlixiCam >>
In the following steps, we will guide you through the process of downloading Netflix videos using FlixiCam and casting them to your TV without Wi-Fi. Make sure you have the latest version of the FlixiCam program installed before proceeding.
How to Download Netflix Video with FlixiCam
Step 1. Launch FlixiCam and Log into Netflix Account
When you launch FlixiCam on your computer, you'll be greeted with a clean and minimalistic interface as displayed below. Just follow the indicated instructions and click on the "Sign in" button, which will prompt a login window to appear.
This login window will ask you to log into your Netflix account, but rest assured, FlixiCam does not collect any of your personal information. Its sole purpose is to provide access to the Netflix library.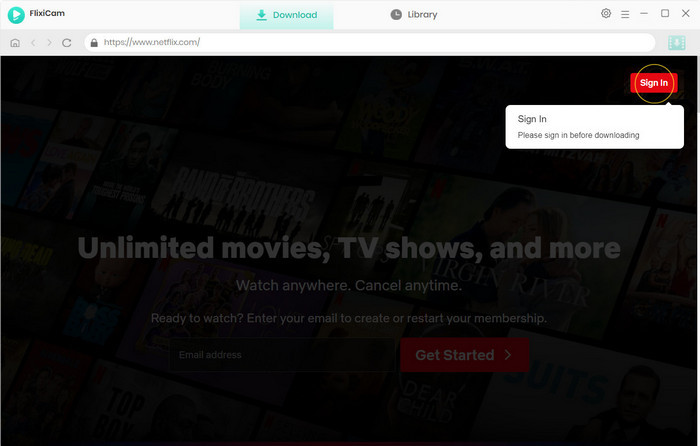 Step 2. Customize the Output Settings
Then, please tap on the Setting button (looks like a gear) to open the General Settings window. From there, you can change output format (MP4 or MKV), output quality (High, Medium, Low), output path, and more.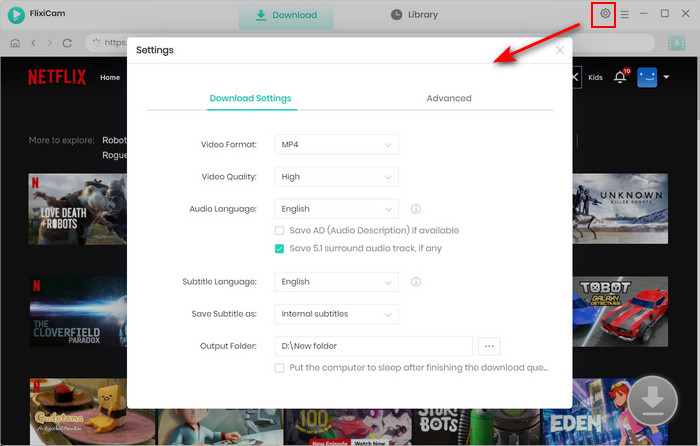 Step 3. Search Videos on FlixiCam
Built-in the Netflix website, FlixiCam allows for easy video searches. Just enter the video name, and the program will generate a list of either that specific video or all the related videos.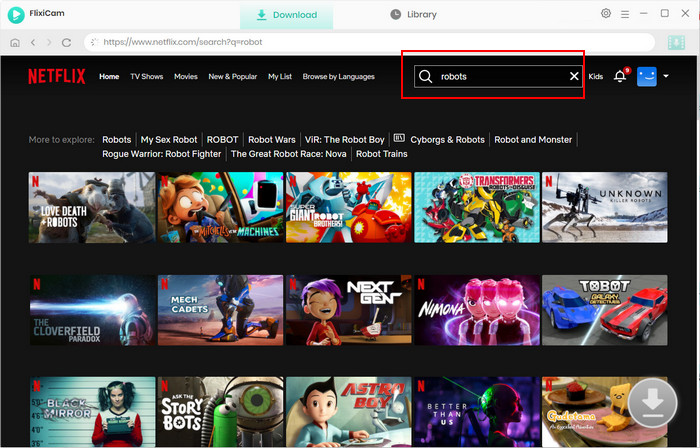 Step 4. Select Audio Track and Subtitle
Initiating the video download is a breeze – just click on the video you want. In response, the gray Download icon at the bottom right will convert to green. Tap on the green icon and you'll have the freedom to choose the season, titles, video quality, audio track, and subtitles.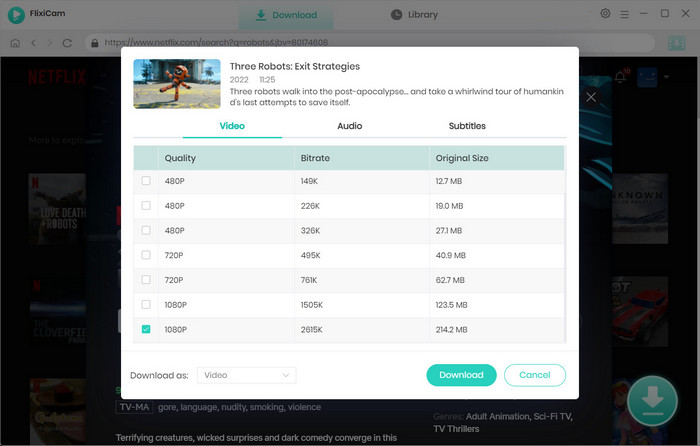 Step 5. Start to Download Netflix Videos
Finally, simply tap on "Download", the program will start downloading videos to the pre-set output path. Once finished, you can click on Library to find the well-downloaded Netflix videos on local drive.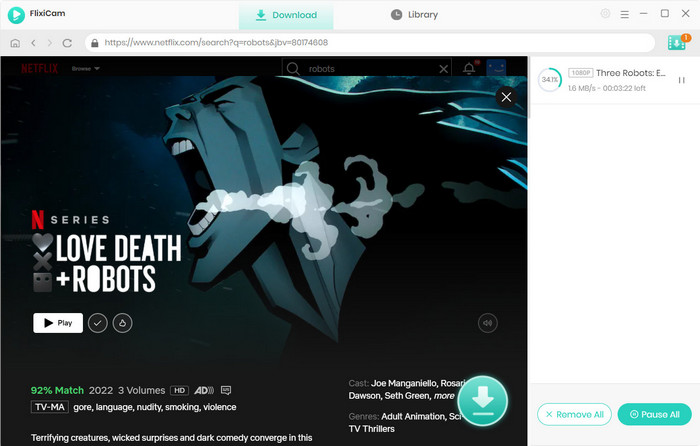 Step 6. Enjoy Netflix Downloads on Your TV
To enjoy the downloaded Netflix videos on your TV without Wi-Fi, connect your USB drive to your computer and transfer the downloaded videos onto it. Insert the USB flash drive into your TV when you want to watch the videos.
Regular Way to Cast Netflix Video to TV
To cast a Netflix video to your TV, you will need a device that supports the Chromecast feature. Here are the steps to follow:
Step 1.Make sure your TV is turned on and set to the correct input source.
Step 2. Open the Netflix app on your smartphone or tablet.
Step 3.Tap on the "Cast" icon located at the top or bottom of the screen.
Step 4.Select the name of your Chromecast device from the list of available devices.
Step 5.Choose the movie or TV show you want to watch.
Step 6.Start playing the video and it should start playing on your TV as well.
If you don't see the "Cast" icon in your Netflix app, make sure that your Chromecast device is properly connected to your Wi-Fi network. Also, ensure that both the casting device (smartphone or tablet) and the Chromecast device are connected to the same Wi-Fi network.
You may also want to know: Six Ways to Watch Netflix on TV.
Final Words
By following the steps provided in this article, you can easily download Netflix videos using FlixiCam and transfer them to a USB drive for viewing on your TV without Wi-Fi. Additionally, we have also included the regular method to cast Netflix videos to your TV using Chromecast for those with Wi-Fi connectivity. Just follow it.