How to Extend the Expiration Date of Netflix Downloads
Will Netflix downloads expire? How can I extend the download expiration date on Netflix?
We've written an article before about the expiration date of Netflix downloads, and most users know the limits of Netflix downloads, but we think it's worth repeating in this context. Yes, each download title from Netflix has an expiration time. Some videos may last for 48 hours and some may 7 days, after your first pressing play, which is varied by title and also up to your subscription. The exact expiration date can be checked on the Downloads page.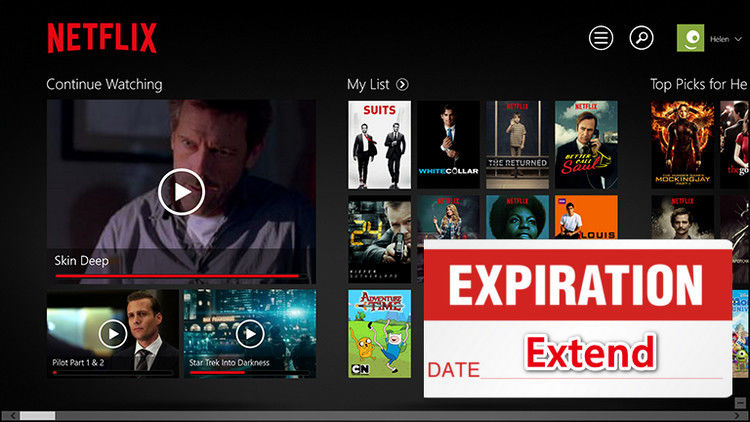 As for how to extend the date, Netflix allows you to re-download the expired videos. So, if a title has expired, you can renew it on Netflix to extend the expiration date. But bear in mind that some titles can only be downloaded a certain number of times per year, which relies on Netflix's licensing rights for those titles. Here comes the question: Is it possible to get a permanent extension?
In general, the answer is no. But things will change after you finish reading this article, as the following text will introduce a powerful Netflix video downloader to help you download videos from Netflix as local MP4 or MKV files so that you can keep them forever.
Best Netflix Video Downloader - FlixiCam
There is a variety of recorders online that allow you to record Netflix videos for free. But if you are more focused on video quality and subtitles, FlixiCam is the best tool not to be missed. It comes with a new type of download core, capable of quickly and easily downloading all your Netflix videos to MP4 or MKV files without installing the Netflix app. Furthermore, the best part is that HD video quality and 5.1 surround sound will be well-preserved. With this tool, you can download and store any of your favorite Netflix videos on your computer and enjoy anywhere anytime.
A magic tool that is committed to recording and downloading films or series from Netflix with HD quality kept.

Learn more about FlixiCam >>
The following is the detailed tutorial to guide you to download movies and TV shows from Netflix with FlixiCam. Please download FlixiCam program first before getting started.
Tutorial: Download Netflix Video with FlixiCam
Step 1. Log into Netflix Account
Open FlixiCam and enter any words to the search box to open the login window and log into your Netflix account.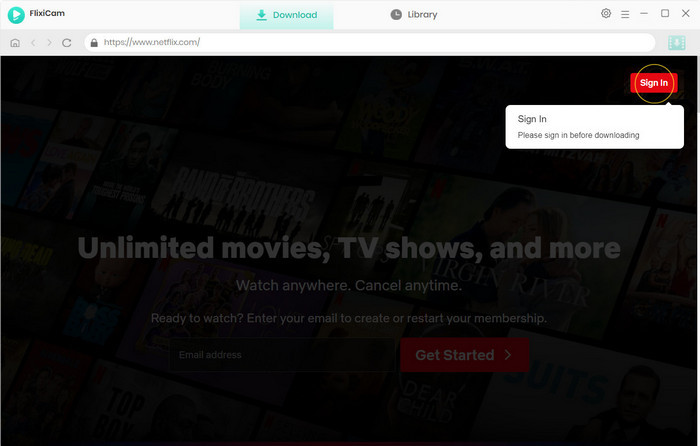 Step 2. Customize the Output Settings
The second step is to open the General Setting window by clicking the Gear icon on the upper-right. Here you can adjust the output settings, including output quality, output path and more.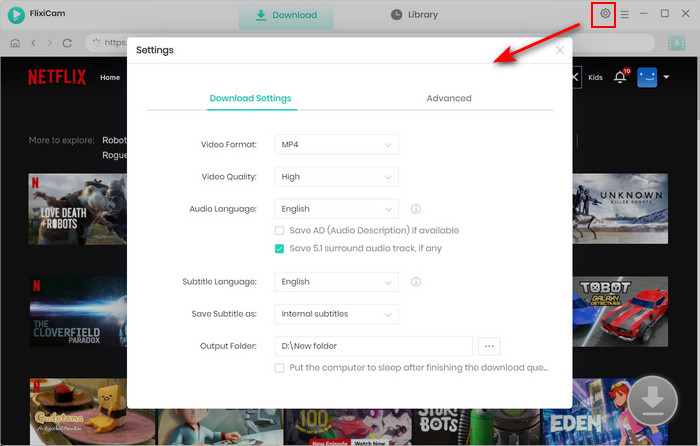 Step 3. Search Videos on FlixiCam
Please enter the video's name or the video's link copied from Netflix web player to the search box, the program will list the video or all of the related videos for your downloading.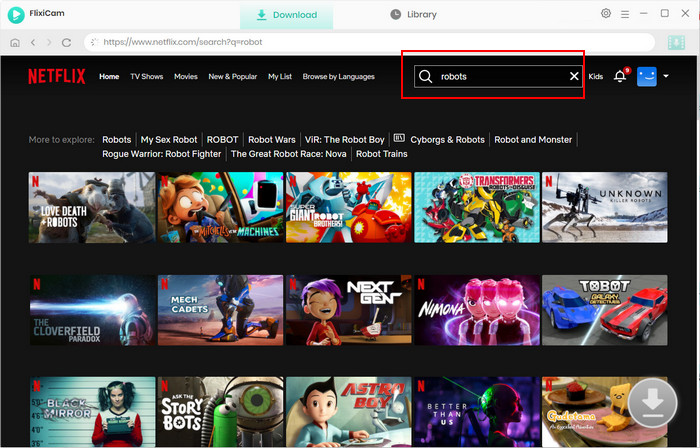 Step 4. Select Audio Track and Subtitle
Before downloading, you need to access the Advanced Download window to select audio track and subtitles. If you are trying to download a TV show, simply click the Download icon, followed that a window will pop up allowing you to select titles as well as seasons, and to choose audio track and subtitles by clicking "Advanced Download" in the bottom left corner. If you try to download a movie, please click the "Advanced Download" icon beside "Download" to open the window.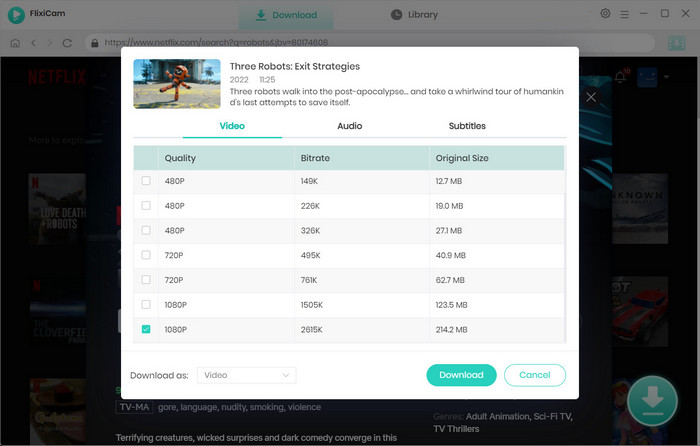 Step 5. Download Netflix Videos
Now hit "Download", then the program will start downloading the Netflix videos to the output folder. After downloading, you can click on Library to find the well-downloaded Netflix videos on local drive. Now you can save them on your computer and transfer to any devices for enjoying as needs.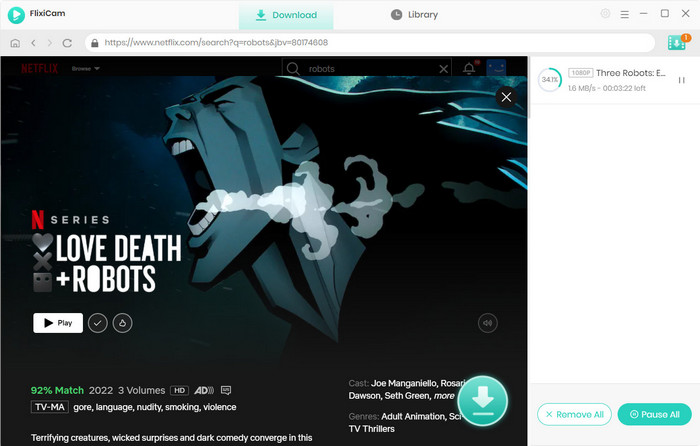 Conclusion
In short, FlixiCam comes with numerous amazing features, which makes it easy for you to download any video from Netflix in MP4 format, without install any extra app. In which case, whether you expect to extend the expiration date of Netflix downloads or store them in MP4 format for playing on more devices, FlixiCam can always be helpful. Now, simply give the program a shot!
---