How to Extend the Expiration Date of Netflix Downloads
Will Netflix downloads expire? How can I extend the download expiration date on Netflix?
We've written an article before about the expiration date of Netflix downloads, and most users know the limits of Netflix downloads, but we think it's worth repeating in this context. Yes, each download title from Netflix has an expiration time. The availability of downloaded videos can vary, with some lasting for 48 hours and others for 7 days, depending on the specific title and your subscription plan. You can verify the exact expiration date for each download on the Downloads page within the app.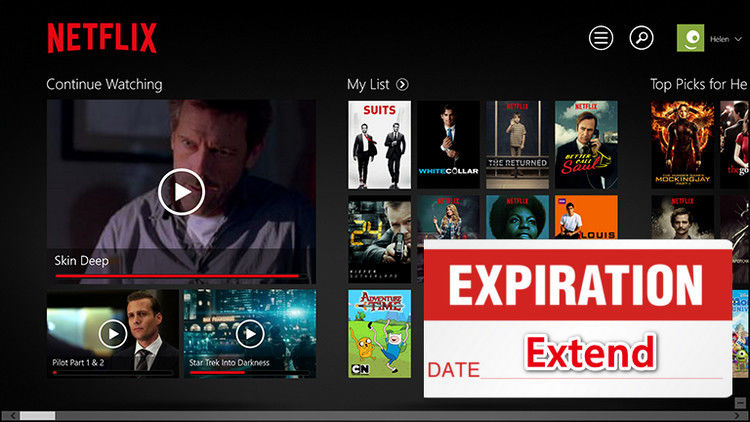 Regarding extending the expiration date, Netflix allows you to re-download expired videos. If a title has expired, you can renew it on Netflix to extend the expiration date. However, it's important to note that some titles can only be downloaded a certain number of times per year, based on Netflix's licensing rights for those specific titles.
Now, you might be wondering if it's possible to achieve a permanent extension. In general, the answer is no. However, after reading this article, you'll be introduced to a powerful Netflix video downloader that enables you to download videos from Netflix as local MP4 or MKV files, allowing you to keep them indefinitely.
Best Netflix Video Downloader - FlixiCam
While there are numerous online recorders available for capturing Netflix videos for free, if your priority is video quality, speed, audio quality, and subtitle support, FlixiCam Netflix Video Downloader stands out as an essential tool.
Utilizing an advanced download core, FlixiCam enables efficient and high-quality downloads of all your Netflix videos to MP4 or MKV files without requiring the Netflix app to be installed. FlixiCam ensures a maximum video quality of 1080p, making it an indispensable solution for Netflix video enthusiasts.
A magic tool that is committed to recording and downloading films or series from Netflix with HD quality kept.

Learn more about FlixiCam >>
Below is a comprehensive tutorial to assist you in downloading movies and TV shows from Netflix using FlixiCam. Befor that, ensure that you have downloaded the FlixiCam program.
Tutorial: Download Netflix Video with FlixiCam
Step 1. Log into Netflix Account
Click on the logo and run it on your PC, then click "Sign in" to log into your Netflix account.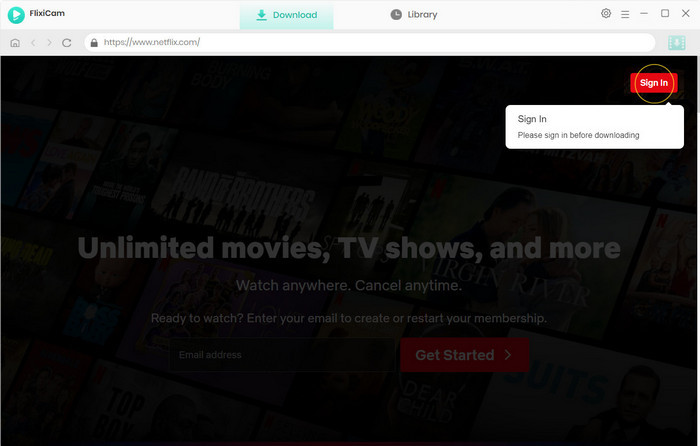 Step 2. Adjust the Output Settings
There is a Gear icon located at the top-right; click on it to access the settings window and adjust the download settings, including output format, quality, language, etc.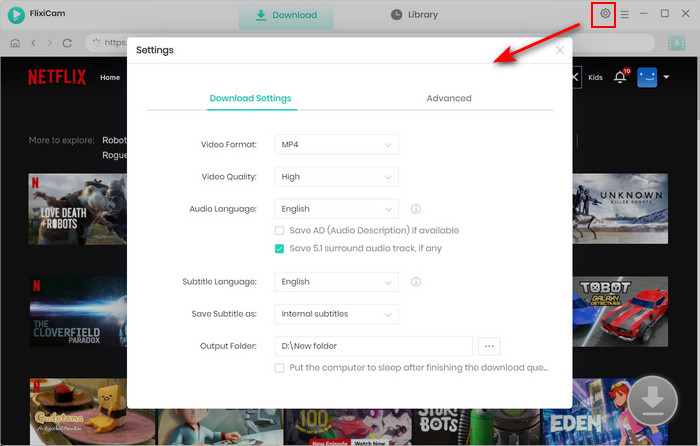 Step 3. Search Videos on FlixiCam
Use the built-in Netflix website to find videos by typing their names and keywords.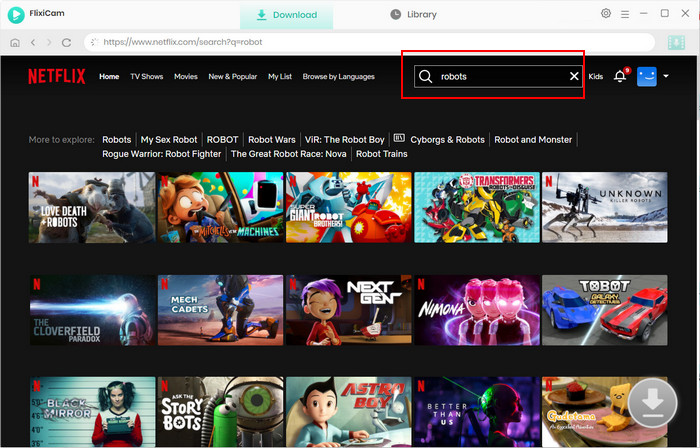 Step 4. Open Adanced Download Window
To download a video, simply click on the desired video. The gray Download icon at the bottom right will then change to green. Click on it, and you will be able to select the season, titles, video quality, file size, audio track, and subtitles according to your preference.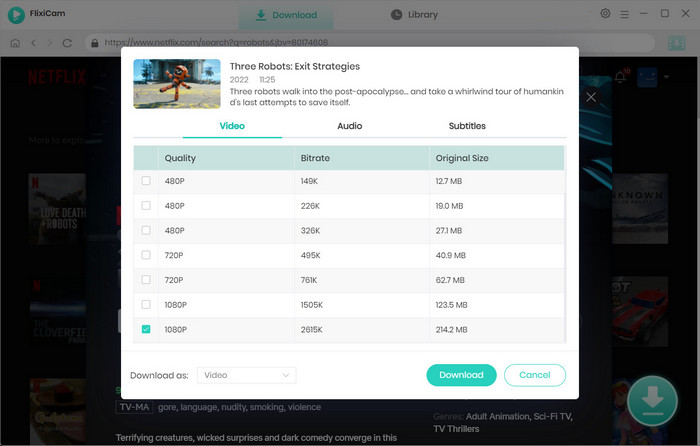 Step 5. Download Videos to Get Infinite Access
Now click "Download", then the program will start downloading the Netflix videos to the output folder. Once finished, you will have long-term access to your downloads, with no need to worry about their expiration time.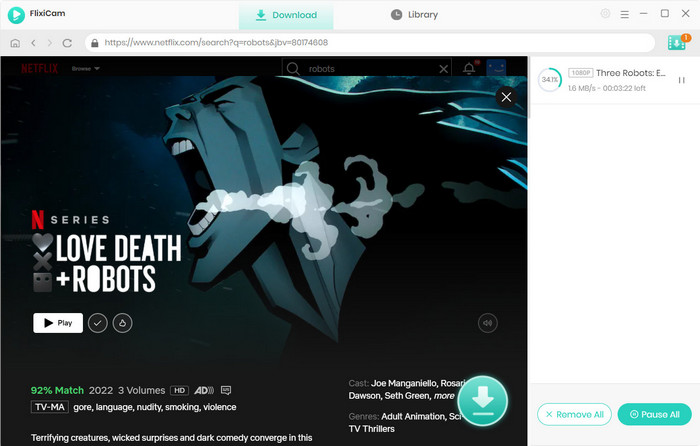 Conclusion
In short, FlixiCam comes with numerous amazing features, which makes it easy for you to download any video from Netflix in MP4 format, without install any extra app. In which case, whether you expect to extend the expiration date of Netflix downloads or store them in MP4 format for playing on more devices, FlixiCam can always be helpful. Now, simply give the program a shot!
---