How to Record Netflix Videos [PC, Mac, Linux, iOS, Android]
Netflix is the world's leading streaming entertainment platform with over 200 million paid memberships. However, its users are confined to enjoying amazing movies and TV Shows during the subscription. Once the account is closed, any content including the downloaded titles will no longer be available to watch. So, in general, it is impossible to download videos from Netflix to your devices and keep them forever.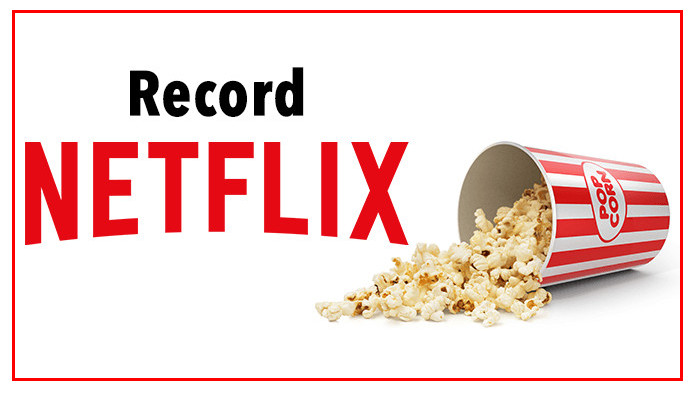 For copyright holders, their desire to protect the work is understandable, but it really frustrates Netflix users because they don't really own what they've paid for. In which case, some users might be seeking help from some video recording tools. But the quality of the video from those recording tools is always poor, and the speed is unbearably slow. Is there any video recording tool that can give a hand?
Yes, here we are. Read on, below we are going to show you 5 ways to record Netflix on PC, Mac, Linux, iOS, Android devices. Free and paid, just pick one for your need.
1. Using Windows Game Bar (For Windows)
It is extremely to record Netflix on Windows. You have no need to intall any app or plugin. All you need to do is:
Step 1. If you are using Google Chrome to watch Netflix, the most important step is to go to the Settings of your browser and turn off hardware acceleration, otherwise you will get a black screen recording.
Simply click "┇" > "Settings" > "System" and disable the option - "Use hardware acceleration when available", then relaunch your browser.
If you are using Firefox, then just ignore this step.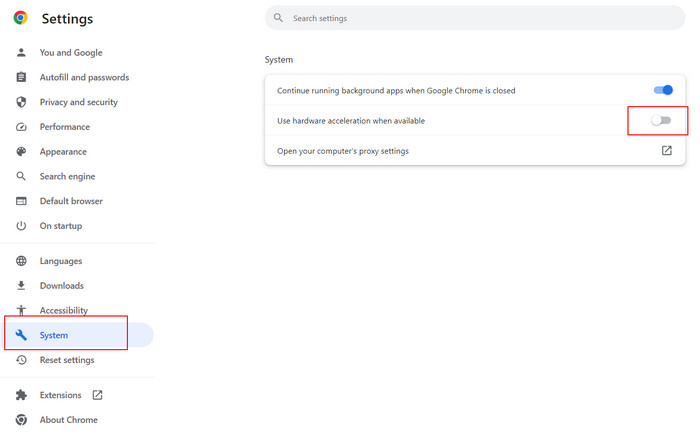 Step 2. Go to www.netflix.com and sign in to your account. Then, select the video you wish to record.
Step 3. Press the Windows key + Alt + R to initiate screen recording using the Windows Game Bar. A small bar will appear in the upper-right corner of the screen, displaying the recording time and a Stop button.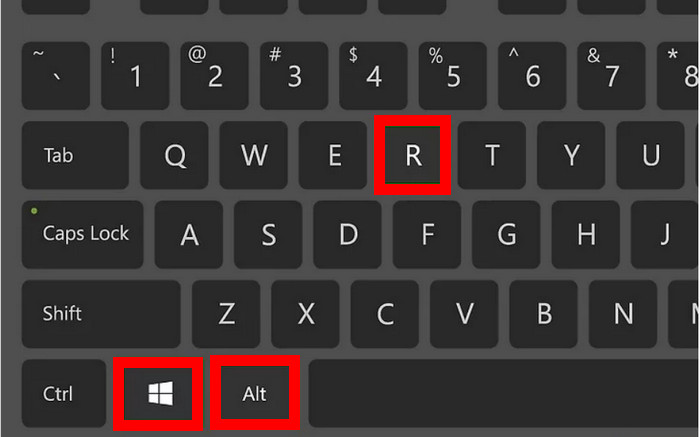 Step 4. Allow the video playback to conclude, then click the Stop button. A window will then appear to confirm the completion of the recording.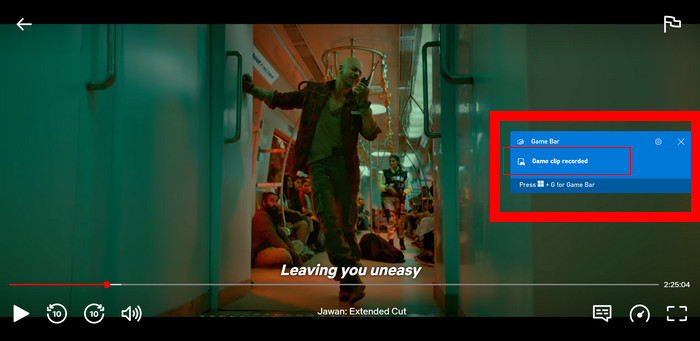 Step 5. Click "Game clip recorded" > "Open File Location" to locate your recordings.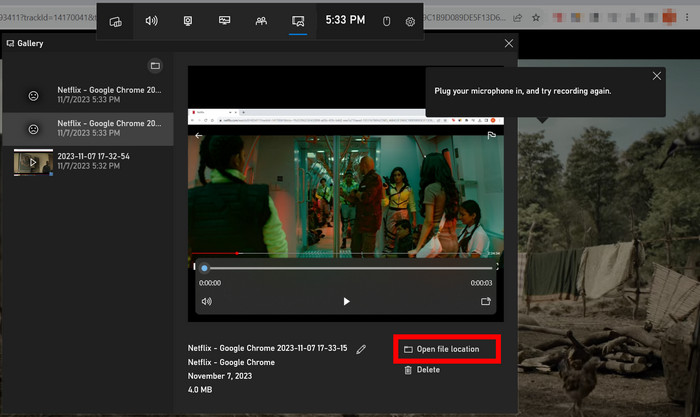 2. Using QuickTime Player (For Mac)
The most commonly used free audio recorder for Mac is QuickTime Player. Below are the steps on how to use it:
Step 1. Find QuickTime Player in your Applications folder or use Spotlight search to locate and open it.
Step 2. Once QuickTime Player is open, click on "File" in the menu bar at the top of the screen, then select "New Screen Recording."

Step 3. After selecting "New Screen Recording," a small recording window will appear. Click on the small arrow next to the record button to configure recording options such as microphone input and whether to show mouse clicks.
Step 4. Click on the red record button to start recording. After stopping the recording, you'll be prompted to save the recorded video. Choose a location on your Mac and give the file a name.
3. Using OBS Studio (Windows, Mac, and Linux)
Beside Windows Game Bar, you can also use OBS Studio to screen record Netflix. It is a free and open-source tool for video recording and live streaming. Below is how to use it. Before we get started, please make sure you have turn off the hardware acceleration setting of Google Chorme.
Step 1. Download and install OBS Studio from the official website (https://obsproject.com/download). OBS Studio is available for Windows, Mac, and Linux. Once installed, launch the application.
Step 2. In OBS Studio, click on the "+" button under the "Source" section and select "Display Capture". Then, assign a suitable name. A "Properties" window will appear, allowing you to set the "Capture Method" as Windows 10, choose your primary monitor under "Display", and adjust the "Capture Cursor" setting as per your preference.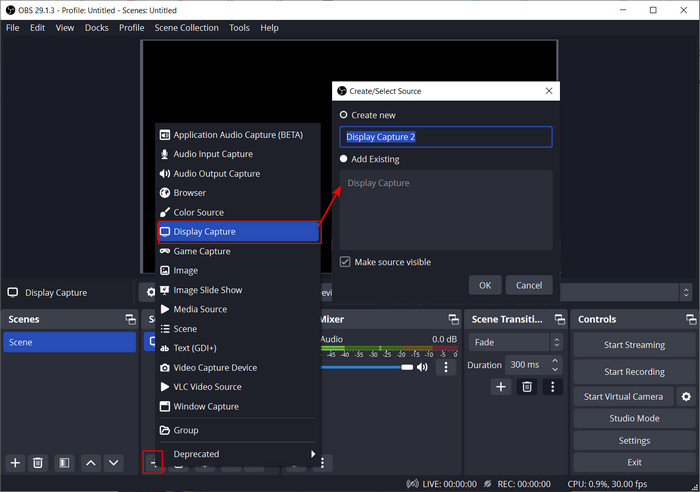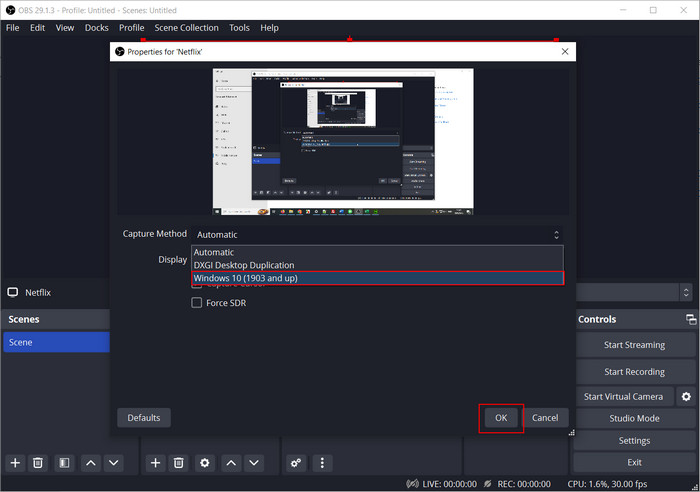 Step 3. Return to OBS Studio and click on the "Start Recording" button to initiate the recording process. Play the Netflix content in the browser source window, and OBS Studio will capture the playback. When you've finished recording, click on the "Stop Recording" button in OBS Studio.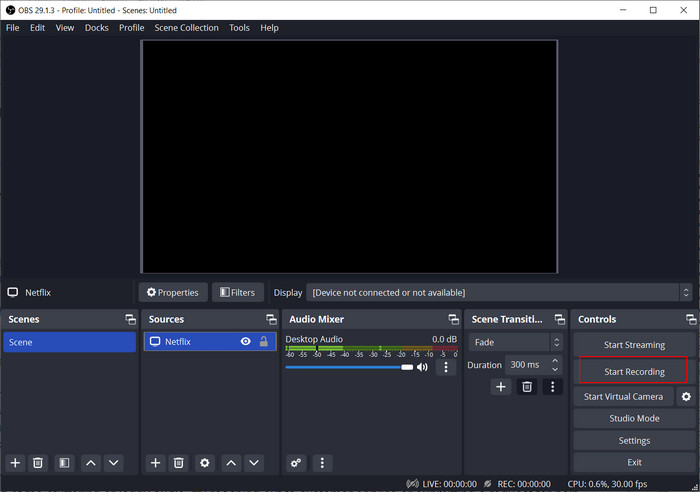 4. Using FlixiCam to Get Netflix Downloads on PC
IIf you prefer not to wait for the recording process to finish, a reliable Netflix downloader becomes essential. Here you are recommended to use FlixiCam, a top-rated Netflix video downloader for Windows and Mac users. Compare to those original recording tools which can only record lower quality video, FlixiCam performs well since its inception. It is integrated with a unique downloading core, capable of helping users download any video from Netflix at HD quality with 5.1 surround sound kept.
What's more, this is a pretty user-friendly program. It will locate the video from the Netflix library rapidly after entering its name to the search dialog. Then, all you need is to click the Download icon and go enjoy a coffee to wait for its success.
Fully compatible with Windows 7, 8, 10, 11, and Mac computers, FlixiCam grants you the ability to watch Netflix offline anywhere anytime!

Learn more about FlixiCam >>
Please download FlixiCam program first before getting started.
Tutorial: How to Download Netflix Video with FlixiCam
Step 1. Run FlixiCam and Log in to Netflix Account
Run FlixiCam on Windows PC and log in to your Netflix account.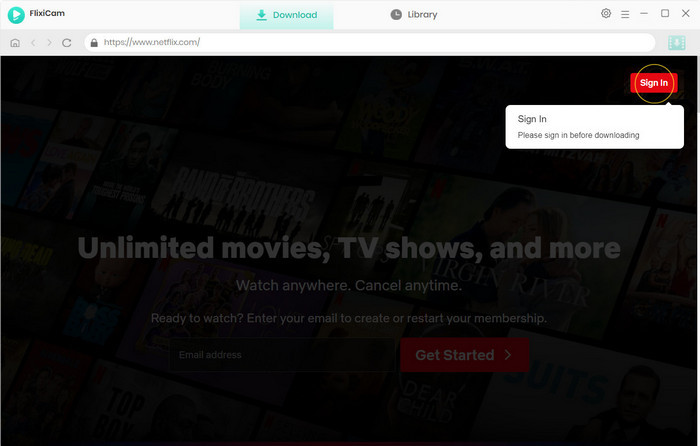 Step 2. Customize the Output Settings
Click the Setting button on the upper right corner to customize the output format (MP4 or MKV), output quality, output path, audio and subtitles language, etc.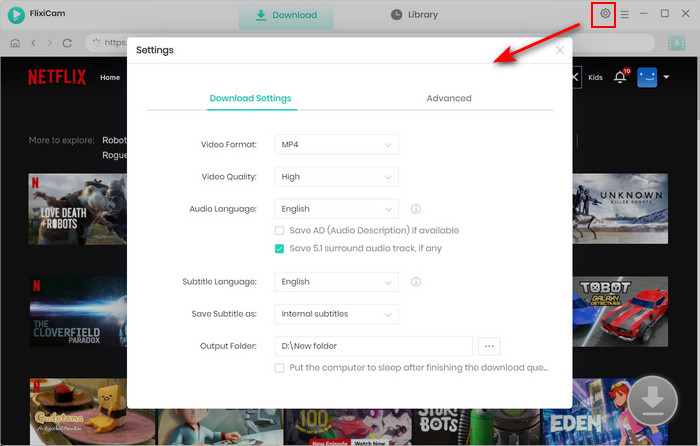 Step 3. Search Videos on FlixiCam
By incorporating the Netflix official site, FlixiCam enables you to effortlessly browse through its video library. You have the option to manually navigate through the library or utilize the search box, where you can input video keywords or titles for a more specific search.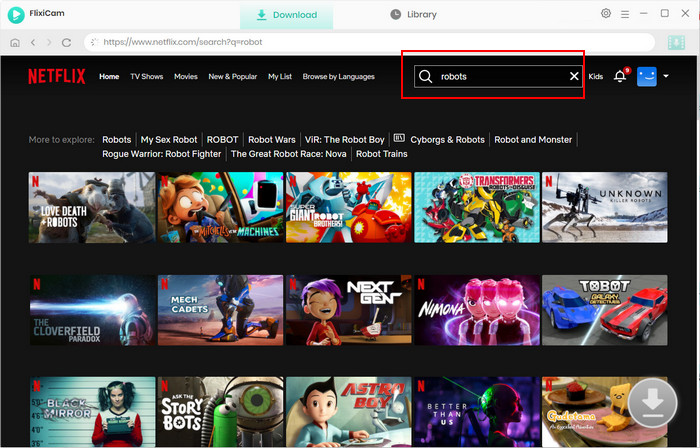 Step 4. Select Audio Track and Subtitle
Next, just click on the video you want. In response, the gray Download icon at the bottom right will convert to green. Tap on the green icon and you'll have the freedom to choose the season, titles, video quality, audio track, and subtitles.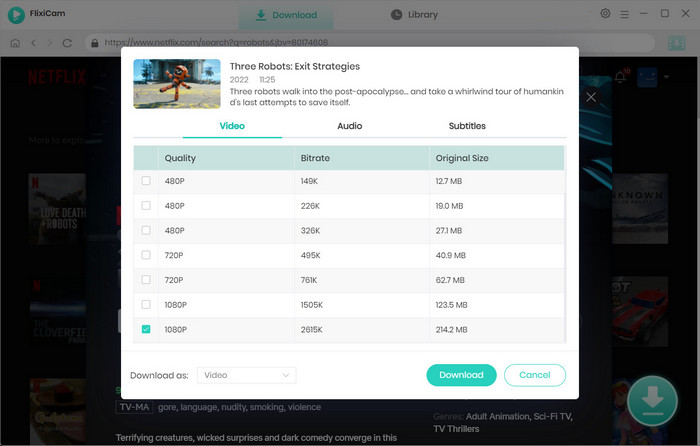 Step 5. Start to Download Netflix Videos
Simply click the Download icon, the program will start downloading the Netflix videos to the output folder you've chosen in the previous step. After downloading, you can click on Library to find the well-downloaded Netflix videos on local drive.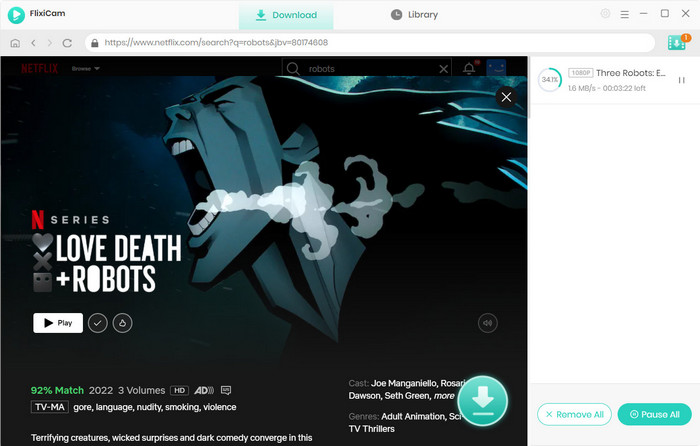 5. Record Netflix on iOS and Android Phone
For iPhone:
Open Netflix and play the video you want to record.
Swipe down from the top-right corner of the screen (or swipe up from the bottom if you have an iPhone with a Home button) to open Control Center.
Tap the "Screen Recording" button - it looks like a dot inside a circle.

A countdown will begin, and then the recording will start. You'll see a red status bar at the top of your screen to indicate that the screen is being recorded.
To stop the recording, open Control Center again and tap the "Screen Recording" button once more.
For Android Phone:

From the various options present in the notification drawer, look for and tap the "Screen Recorder" icon. If you don't see it, you may need to edit your Quick Settings to add the "Screen Recorder" option.
Once you tap the "Screen Recorder" button, the recording will start after a brief countdown.

To stop the recording, tap the stop button in the notification shade or simply press the stop button in the screen recording controls.
You may also want to know: 5 ways to screen record Disney+ videos.
Conclusion
We've listed five ways for you to record Netflis on Windows, Mac, Linux, iPhone and Android devices. If you want to save time and effort, then never miss out FlixiCam Netflix Downloader. The unique technology, fast speed, HD quality, etc. all of these features make FlixiCam stand out from the market of recording tools. By using it, you won't be suffered from low video quality and slow download speed anymore.