[6 Ways] Share Netflix Videos with Friend or Family
Hey, have you ever wanted to show your friends your rad collection of videos and tunes? Or maybe you want to introduce them to the latest Netflix series that's been keeping you up at night? Well, good news, it's super easy!
First off, if you're sharing a Netflix video on mobile, just hit the "Share" button on the video's detail page. But if you're like most of us, you'll want to watch together on the same screen. How do you do it?
We've got you covered with six methods to make it happen!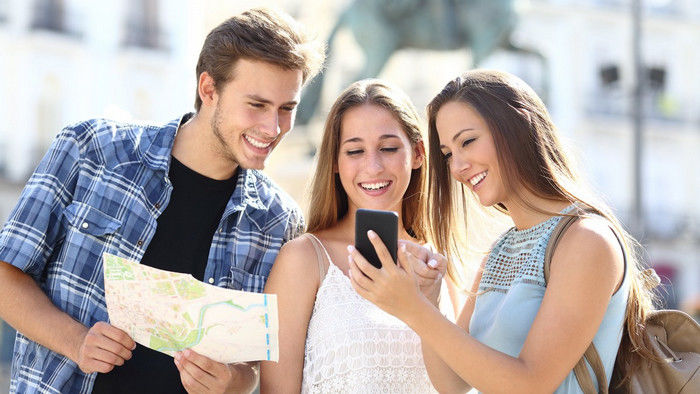 1. Teleparty
Teleparty, also known as Netflix Party, is a super cool browser extension that lets you and your pals sync up your video playback and have real-time chats while watching Netflix. It's as simple as adding the Teleparty extension to your web browser, picking a video, and inviting your friend to join the fun. For a step-by-step guide, check out: How to Join Teleparty and Watch Netflix with Friends.
This extension is very easy to use, but it requires both of you to have a valid Netflix account.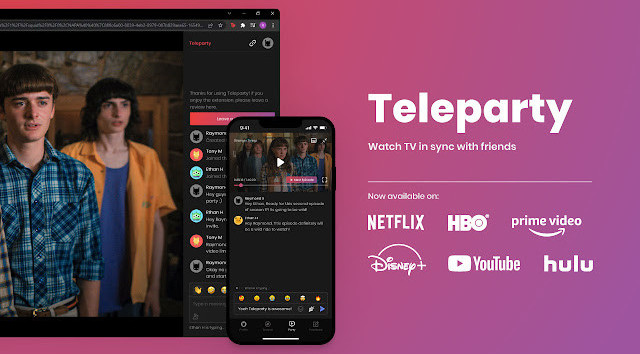 2. Screen-sharing Apps
Various screen-sharing apps, such as Zoom, Skype, and Discord, provide an excellent platform for watching Netflix shows together. Simply launch your favorite app, start a call with your friends, and share your screen while playing the desired show or movie on Netflix. This way, everyone can enjoy the content simultaneously and engage in lively conversations.
This guide will list the steps to install Discord and watch Netflix together with your friends: [2023 Latest] How to Stream Netflix Video on Discord
3. Watch2Gether
Watch2Gether is a popular online platform designed specifically for synchronized video watching. Create a virtual room, share the room link with your friends, and start watching Netflix videos together. The interface offers a chat feature, allowing you to interact with your friends while enjoying the show. Watch2Gether supports various streaming platforms, like YouTube, Dailymotion, Vimeo. Netflix is excluded, but you can use the W2gSync feature to stream it.
The W2gSync feature lets you paste a Netflix URL right into a special window in your private room. It'll give you a heads-up that Netflix isn't affiliated with the platform but asks if you still want to open the link. Just hit that Open button again, and when you start the video, everyone else will see it too. Check out the detailed steps here: How to use W2gSync
4. Watch Netflix Together
If you loved Teleparty, you'll dig Watch Netflix Together too! It's another awesome browser extension that lets you and your pals watch Netflix together. You can grab the extension right here. And the cherry on top? It comes with built-in chat and emojis! Your videos will automatically sync, even if you switch between different ones while watching. Install the extension and start sharing those special moments, no matter how many miles separate you.

5. Organize Virtual Watch Parties
Take advantage of video conferencing tools like Google Meet, Microsoft Teams, or even Facebook Rooms to organize virtual watch parties. Coordinate a specific date and time with your friends, choose a popular show or movie, and enjoy watching it together while having a video call side by side. This method offers a shared viewing experience akin to a movie night while allowing for interaction and reaction in real-time.
6. Offline Downloads with FlixiCam
Besides virtual sharing, there's another way to share your Netflix downloads with friends. Netflix offers an offline download feature for certain shows and movies. However, please note that Netflix doesn't endorse transferring the downloaded file to USB or other cloud storage and sharing it with others. The downloaded videos are stored in a proprietary format and can only be viewed within the Netflix app.
But don't worry, there's a solution! Meet FlixiCam, a fantastic tool that lets you download Netflix videos. With its user-friendly interface, FlixiCam offers precise and easy-to-use features for downloading various Netflix videos. Not only does it provide basic functions, but it also surprises users with fast performance and excellent output quality. This advanced tool uses cutting-edge technology to download MP4-format Netflix videos in high definition. It even preserves multiple audio tracks and subtitles, allowing you to freely switch between languages as needed.
Watch Netflix titles offline on more devices by using FlixiCam to download them in a widely-accepted format - MP4!

Learn more about FlixiCam >>
The following is the detailed tutorial to guide you to download movies and TV shows from Netflix with FlixiCam. Please download FlixiCam program first before getting started.
Tutorial: How to Download Netflix Video with FlixiCam
Step 1. Run FlixiCam and Log in to Netflix Account
Run FlixiCam on Windows PC and log in to your Netflix account. Simply tap on Sign In, you can open the login window and enter your Netflix account info.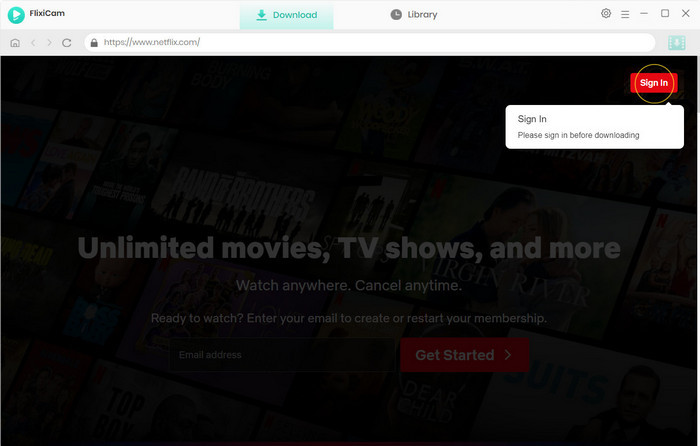 Step 2. Customize the Output Settings
Tap the Setting icon on the upper right corner and customize the output settings, including the output format (MP4 or MKV), output quality (High, Medium, Low), output path and so on.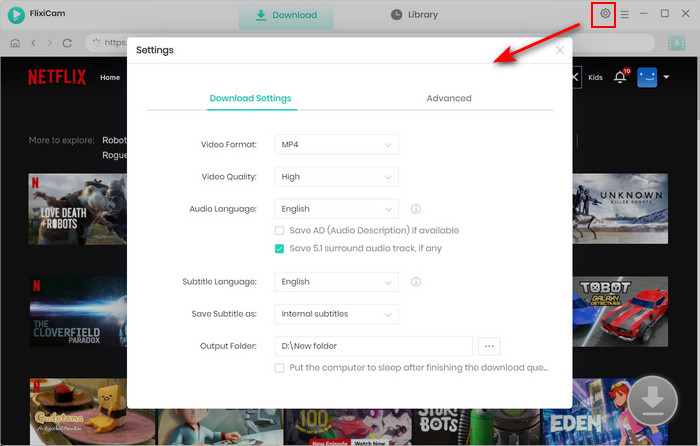 Step 3. Search Videos on FlixiCam
To find the videos you're looking for, simply type the name of the video into the search box located at the top right corner. The search results will display all the related videos accordingly. Additionally, you can browse through Netflix's library to discover content that you want to download.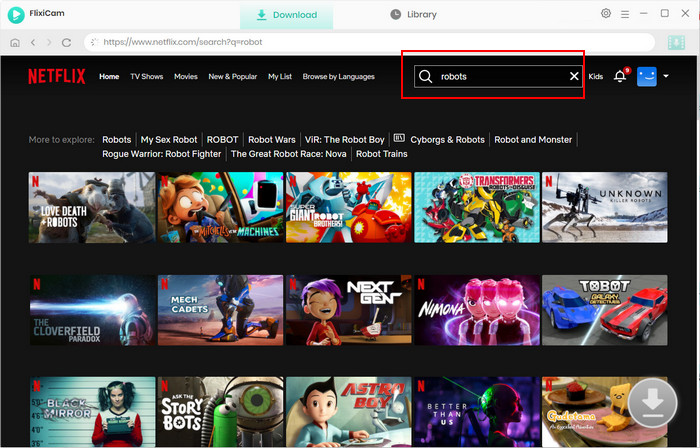 Step 4. Select Audio Track and Subtitle
Once you've found the desired video, click on it to activate the Download button situated at the bottom right corner, which will turn green. By clicking the green Download button, a window will appear. If you're downloading a series, this window will list all the seasons and episodes for you to choose from. For movies, the window will allow you to select different audio tracks, video quality options, file sizes, and more.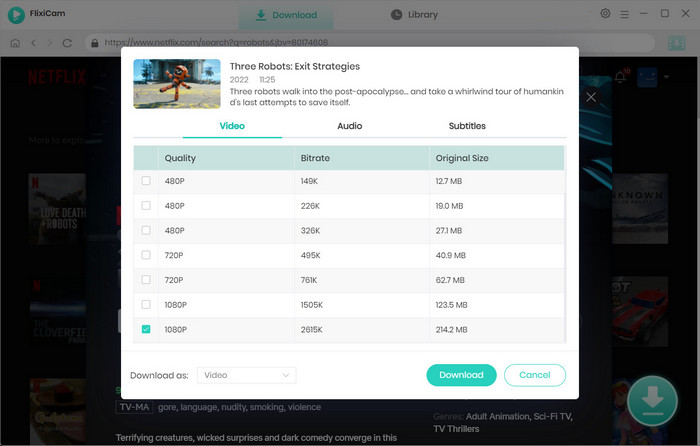 Step 5. Start to Download Netflix Videos
Finally, please hit the Download button to start downloading the Netflix videos to the output folder you've chosen in the previous step. After downloading, you can click on Library to find the well-downloaded Netflix videos on local drive.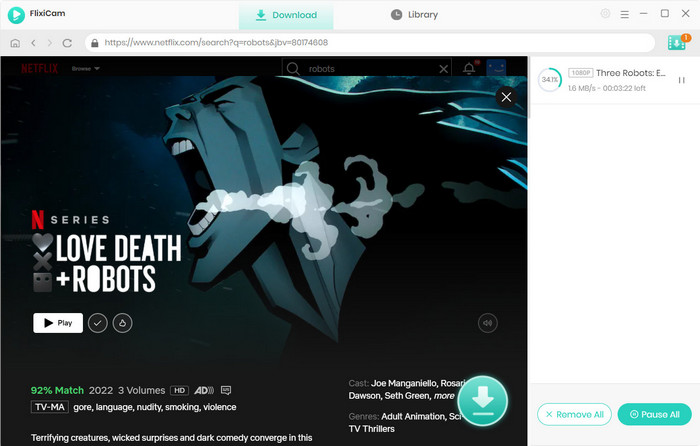 Now you can transfer the downloaded files to USB or upload to Google Drive/ OneDrive/ Dropbox and share with your friends.
Netflix Account Sharing New Rules
When it comes to sharing Netflix accounts, some may consider sharing their account with friends. However, it's important to note that Netflix has implemented stricter restrictions on account sharing. As per their revised policy, sharing an account is only permitted within a single household among family members who live together. About the new rules:
Device Detection and Verification Method:
Netflix employs various techniques to ensure that only authorized devices are accessing a user's account. These include monitoring the user's IP address, device ID, and account activity. When a new device logs in from a different location, Netflix sends a verification link to the registered email address or phone number of the primary account holder. This link provides a 4-digit verification code that the user must enter on the new device to allow login and usage for a continuous period of 7 days.
Continuous Usage and Traveling:
In order to maintain continuous usage of Netflix, each device must connect to the primary location's Wi-Fi at least once every 31 days, and stream content through the Netflix app or website. This action ensures that the device is added to the trusted device list and eliminates the need for frequent verification. However, if the user is unable to connect to the primary location's Wi-Fi for an extended period or has multiple places of residence, the system will prompt for a 4-digit verification code to prove membership identity. The primary account owner does not require verification in this scenario.
Extra Member Add-On:
Netflix allows members on its Standard or Premium plan in many countries to add up to two people they don't live with to their account for an extra $7.99 a month per person. Each member gets their own sub-account with a unique profile, personalized recommendations, login credentials, and password. You can have up to 5 profiles on a single Netflix account.
| Plan | Features |
| --- | --- |
| Standard | Option to add 1 extra member who doesn't live with you |
| Premium | Option to add up to 2 extra members who don't live with you |
If you want to share Netflix content with friends without purchasing an extra member, then the method six above - Offline downloads with FlixiCam is a great option. Simply download your favorite content with FlixiCam, and you can share it without any limits.
Conclusion
Watching Netflix with friends doesn't have to be a lonely affair anymore! Thanks to a range of platforms and tools, you can now have virtual movie nights, chat about your favorite shows, and enjoy the latest movies together, no matter where you are. Happy binge-watching!
---