How to Play Netflix Videos on PS4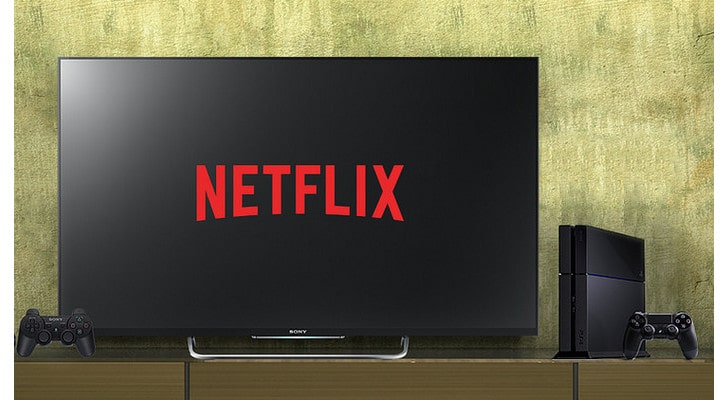 Gone are the days of using your game console exclusively for playing games and watching videos. Now the PS4, offering media content for streaming from Netflix, Spotify, Hulu, YouTube, Amazon, and other services, has been an all-powerful multimedia entertainment device. For Netflix subscribers, you can easily find the pre-installed Netflix app on your PS4, log in, and start watching. If it's not on your device, though, Netflix is just a quick download away. Read on to learn everything you need to download Netflix app and watch Netflix videos on PS4. What's more, you will also get another more efficient way to download Netflix videos as local MP4 or MKV files and play on PS4.
Part 1: Watch Netflix Video on PS4 Directly
Please follow the steps below to directly watch your favorite Netflix content on PS4 without any hassle.
Step 1. From the content area of your home screen, navigate to the section TV & Video, it will display all video-related apps here, you should see "Netflix" among them, please select the icon.
Note: You must be signed in to the PlayStation Network to access the TV & Video section.
Step 2. If Netflix is already installed, the app will start after being selected. If it's not installed, please click "Download" on the screen.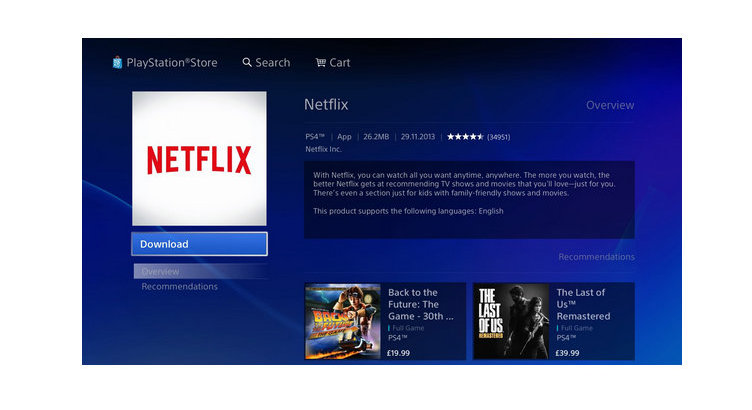 If you don't see the Netflix icon at all, you need to install it from the PlayStation Store. Please press the PS button on your controller and go to "PlayStation Store", then select "Apps" > "All Apps" , find "Netflix" and click "Download".
Step 3. Once the installation is complete, you will be able to use the App. select "Netflix" and "Sign in" on the Netflix home screen. And then enter your Netflix email address and password.
Step 4. Now, you can play a video and enjoy your time.
Part 2: Download Netflix Videos to PC and Play on PS4
It is really not that hard to watch Netflix videos on PS4, but you should keep in mind that it is required to keep Netflix subscription in order to get access to Netflix videos library at any time. If you want to keep Netflix downloads so as to play them on PS4 even after the subscription ends, then be sure not to miss this solution. Here you will get a professional Netflix video downloader to help you download Netflix videos as local MP4 or MKV files, meaning that you can easily transfer the downloaded content to any of your devices including PS4 for playback without any limit.
The smart tool mentioned above is FlixiCam. Keep reading the following text to learn how it works.
An impressive downloader that is well-designed to help Netflix users download Netflix movies, TV shows, or more in MP4 or MKV format!

Learn more about FlixiCam >>
The following is the detailed tutorial to guide you to download Netflix videos with FlixiCam and play on PS4. Please download FlixiCam program first before getting started.
Tutorial: Download Netflix Video with FlixiCam and Play Them on PS4
Step 1. Run FlixiCam on PC and Log into Netflix Account
Run FlixiCam on Windows PC and enter any word in the search box to open the Netflix login window for logging into your Netflix account.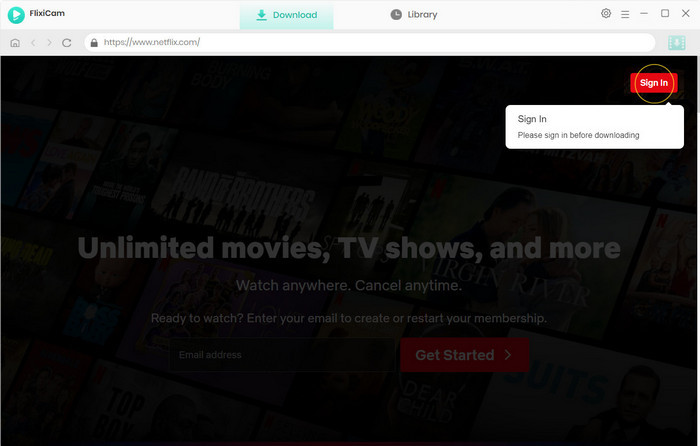 Step 2. Customize the Output Settings
Click the Setting button on the upper right corner to customize the output format (MP4 or MKV), output quality (High, Medium, Low), output path, audio and subtitles language, etc.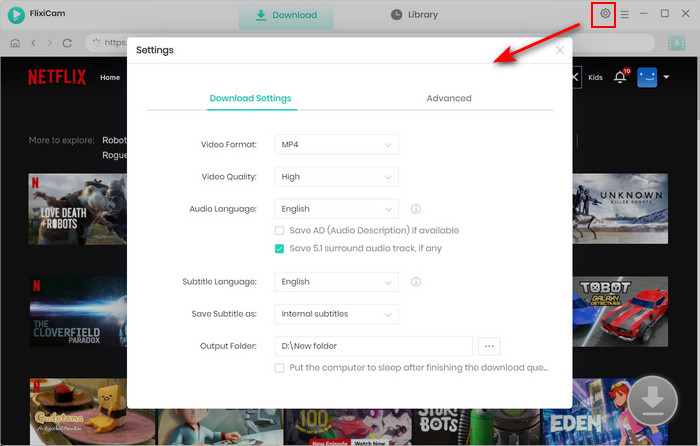 Step 3. Search Videos on FlixiCam
FlixiCam enables you to import videos by entering the name of movies & TV shows or copying and pasting the link of videos from Netflix Web Player to it. After inputting the video's name or link, simply press "Enter" button on your keyboard, followed that the program will list the video or all of the related videos.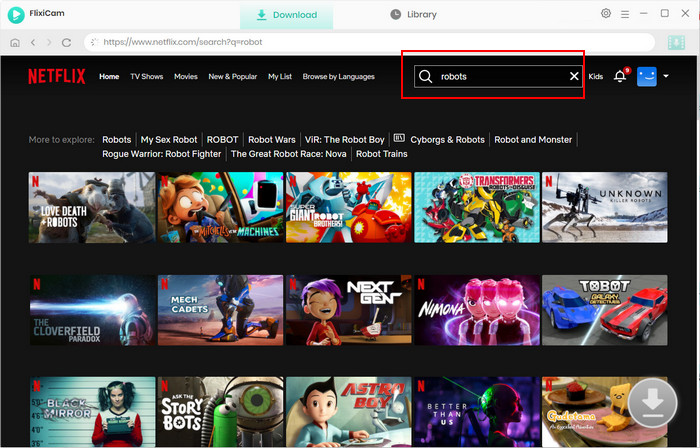 Step 4. Select Audio Track and Subtitle
FlixiCam added advanced download settings to allow you to select the audio track and subtitle as needed. If you are trying to download a TV show, simply click the Download icon, followed that a window will pop up allowing you to select titles as well as seasons, and to choose audio track and subtitles by clicking "Advanced Download" in the bottom left corner. If you try to download a movie, please click the "Advanced Download" icon beside "Download" to open the window.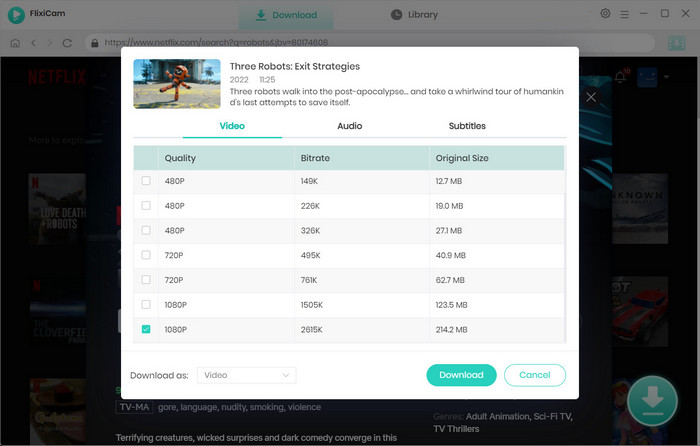 Step 5. Start to Download Netflix Videos
Simply click the Download icon, the program will start downloading the Netflix videos to the output folder. After downloading, you can click on Library to find the well-downloaded Netflix videos on local drive.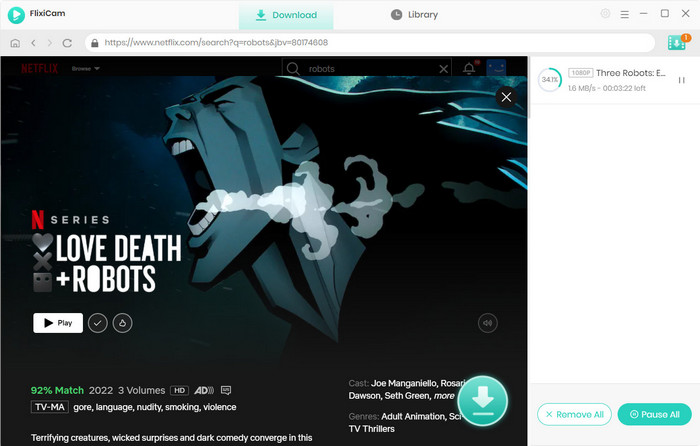 Now all the videos from Netflix are stored as common MP4 or MKV files, you can transfer them on USB drive, and then plug the USB drive to the USB ports on your PS4 and then play your video on PS4 via the "Media Player" app.
Conclusion
PS4 offers Netflix app for streaming its large library featuring award-winning Netflix originals, films, TV shows and more. But if you want to keep Netflix downloads so as to play them on PS4 even after the subscription is over, FlixiCam should be your standing tool. It is capable of downloading any video from Netflix as an HD MP4 or MKV file. With its help, you can easily get Netflix videos in MP4 or MKV format and play them on PS4. And FlixiCam provides the free trial version. If you don't believe it, simply give it a try. Of course, the trial version only allows you to download the first 5 mins of each video in HD quality. To get the full video, please purchase a license.